© DENNIS SILVES/SHUTTERSTOCK
Winter 2020
Branching Out
Is there more than one species of Joshua Tree?
Mounting evidence indicates that the warming climate will significantly reduce the range of Joshua trees, but that didn't sway the U.S. Fish and Wildlife Service. In August, the agency denied a petition seeking the listing of the trees as a threatened species, a decision that disappointed environmental activists but didn't exactly surprise them. "There is definitely a history in this administration of climate change denial," said Taylor Jones, endangered species advocate for WildEarth Guardians, the group that filed the petition.
More unexpected was the Fish and Wildlife Service's other pronouncement that day: The agency had concluded that there was not one species of Joshua tree but two — Yucca brevifolia and Yucca jaegeriana.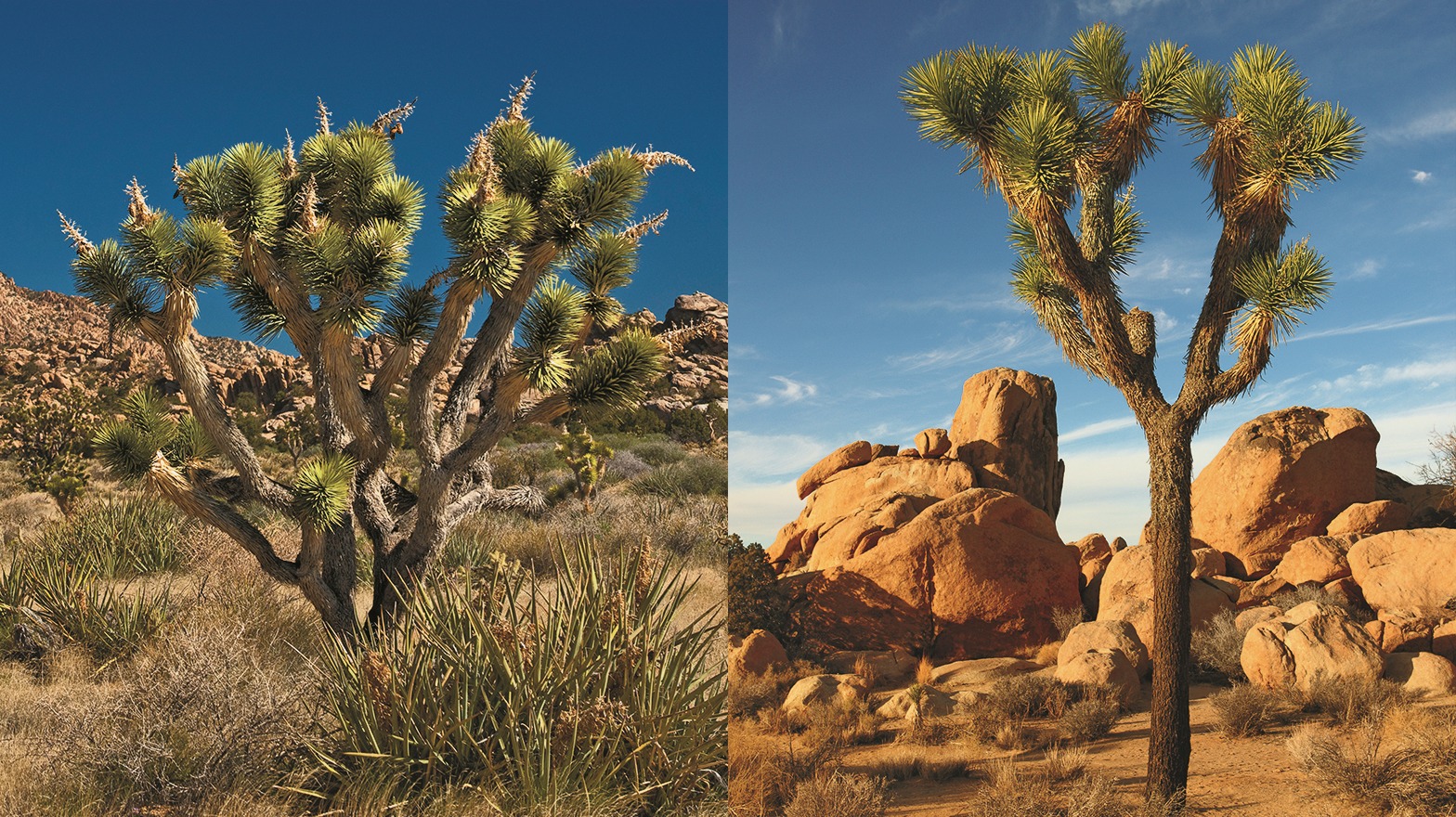 The Fish and Wildlife Service now says there are two species of Joshua trees: the bushlike Yucca jaegeriana (left), pictured at Mojave National Preserve, and the treelike Yucca brevifolia (right), pictured at Joshua Tree National Park. © MAREK ZUK/ALAMY STOCK PHOTO, PIXELITE/DREAMSTIME.COM
The idea that there are different kinds of Joshua trees isn't new. By the mid-20th century, some botanists — who were drawn to the Joshua tree despite John Charles Frémont's 1844 description of it as "the most repulsive tree in the vegetable kingdom" — claimed to have identified separate varieties of Y. brevifolia based on traits such as the length of leaves and branching patterns. In 2007, botanist Lee W. Lenz made the case for two distinct species based on these differences.
Not everyone was convinced, and botanists have continued to debate the issue, said Chris Clarke, NPCA's program manager for the California desert, who himself has written about the trees. He argued that the government should have left the conversation to the scientific community. "The Fish and Wildlife Service is not really the authority that could declare them as separate species," he said.
Chris Smith, an associate professor of biology at Willamette University in Oregon, has been studying Joshua trees for more than a decade, and much of his research has taken place in the Tikaboo Valley of central Nevada — the only place where the ranges of Y. brevifolia and Y. jaegeriana overlap. That means the differences between the trees there can't be attributed to different environments.
Y. jaegeriana tends to be smaller, with branches radiating close to the ground. "More like a bush," Smith said. Y. brevifolia's trunk is typically longer. "It looks much more like a stereotypical tree," he said. "I mean, it's still a very odd-looking tree." Y. brevifolia and Y. jaegeriana rely on separate yucca moth species for pollination. The flowers of each kind of Joshua tree have distinct shapes that fit the egg-laying organ of their respective moth. ("We think of them as shaped like a wine bottle and a milk jug," Smith said.) It's not a foolproof arrangement. Moths occasionally pollinate the wrong kind of tree, and Smith and his team have identified a few hybrids in the valley.
The distinct pollinator species, the barely overlapping distributions and the fact that the hybrids don't seem to reproduce well are all potential indicators of separate Joshua tree species, but Smith's team also used DNA sequencing to figure out how genetically distinct the two kinds of Joshua trees actually are. In a peer-reviewed paper published in 2016, they found that Y. brevifolia and Y. jaegeriana are "moderately to greatly genetically different from one another," Smith said. "The genetic differences we found in that paper are about as great as those in wolves and coyotes."
Debra Hughson, the chief of science and resource stewardship at California's Mojave National Preserve, which is home to one of the world's largest Joshua tree forests, said the Joshua tree debate is unlikely to affect the way park staff protect the trees or talk to visitors about them. "For most people, a Joshua tree is a Joshua tree." (For anyone keeping track, Mojave's Joshua trees are of the jaegeriana variety.)
If the two species stick, the issue of what to call them will remain. Brevifolia, which means short leaf, is a misnomer because Y. brevifolia actually has the longer leaves of the two. Eastern Joshua tree (Y. jaegeriana) and Western Joshua tree (Y. brevifolia) are emerging as leading options, but they don't exactly roll off the tongue. "U2's album was not titled 'The Western Joshua Tree,'" said Brendan Cummings, the conservation director at the Center for Biological Diversity.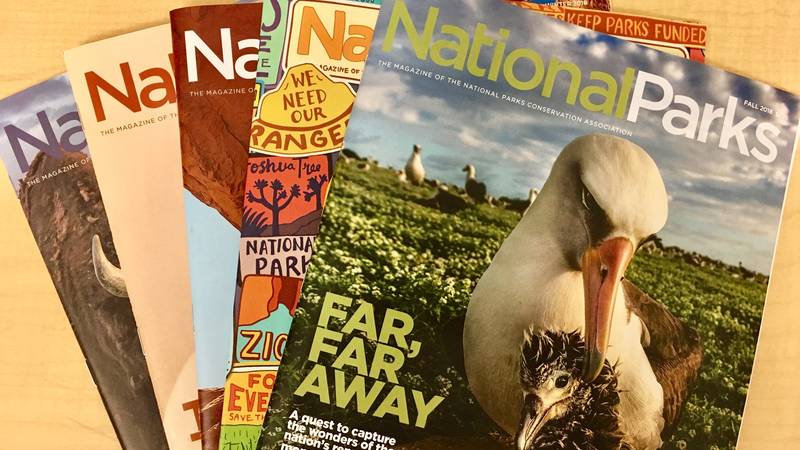 Subscribe to
You can read this and other stories about history, nature, culture, art, conservation, travel, science and more in National Parks magazine. Your tax-deductible membership donation of $25 or more entitles…
See more ›
After WildEarth Guardians' petition was denied (the group has since sued the administration over the decision), the Center for Biological Diversity filed its own petition in October to list the Western Joshua tree under the California Endangered Species Act. Cummings, who is a lawyer, said whether there are two species or two varieties of Joshua trees doesn't matter much legally speaking, but it does matter from an emotional standpoint. "The more unique a plant is, the more urgency there is to protect it," he said. "Losing a full species leaves a bigger hole."
Smith, the biology professor, said the evidence he's uncovered justifies the two-species distinction, but he's not personally invested in the outcome. "Whether they are two different species is up to you to decide, depending on how you personally define species," he said, "but they're definitely two different things."
About the author
Nicolas Brulliard

Senior Editor

Nicolas is a journalist and former geologist who joined NPCA in November 2015. He writes and edits online content for NPCA and serves as senior editor of National Parks magazine.