A growing body of research shows that noise can be harmful to humans and animals. Can natural quiet be saved?
"Only by going alone in silence … can one truly get into the heart of the wilderness," naturalist John Muir wrote in 1888. One of the country's earliest conservation advocates, Muir understood the power of quiet to connect people to nature and calm the anxious mind. But could he have foreseen how rare such silence would be 130 years later?
For humans, finding natural quiet — periods of natural sounds without the intrusion of human-made noise — has become increasingly difficult. Today, around 80% of land area in the contiguous U.S. is less than a mile from a road. Tens of thousands of flights hum across the skies each day. In oceans, ships drone, and military sonar pulses. Our phones won't stop pinging.
Research has shown that the modern whir not only affects the behavior of wild animals, it's also making us sick. High noise levels have been linked to heart disease, stroke, sleep disturbance and reduced workplace productivity. A 2011 World Health Organization report suggested that traffic noise significantly cut healthy life expectancy among Western Europeans.
In recent decades, concerns over the loss of quiet have spurred a growing coalition of ecologists, technicians, researchers and advocates to push for change. Among them is Gordon Hempton, an activist and natural sound expert, who has been sounding alarms about the toll of noise for more than a dozen years. In 2005, to help raise awareness, he created "One Square Inch of Silence," an independent project in Olympic National Park that designated a mossy grove in the Hoh Rain Forest as the least noise-polluted spot in the lower 48 states. There, Hempton's sound meters hit 26 decibels (quieter than rustling leaves), one of the lowest readings he'd seen in decades of recording soundscapes around the world in places from Hawaii to Sri Lanka.
With the launch of Quiet Parks International in 2019, Hempton's advocacy efforts have expanded well beyond One Square Inch of Silence, which he'd come to view as too regional. "Our goal is to make quiet a choice for most of the world's population," he said. In April, the new organization named its first official Wilderness Quiet Park: Zabalo River in the Ecuadorian Amazon. The indigenous Cofán people, who own the land, welcomed the certification.
The QPI team — a volunteer force of experts in various sound-related fields — has flagged 262 parks across the globe that could qualify for quiet status. It hopes to send audio crews to each park to do a series of standardized tests and officially certify sites that meet minimum desired levels of natural quiet. (The QPI benchmark is a 15-minute, noise-free interval of pristine natural sound on three consecutive mornings.)
The quiet places identified by QPI include more than 30 sites within the U.S. National Park System. In the fall, the group sent Matt Mikkelsen, an audio engineer, to Great Sand Dunes National Park & Preserve in Colorado for four days to begin testing. Promising early results suggest the park could become the country's first official quiet park — Mikkelsen recorded noise-free intervals in the park of nearly one hour, a remarkable span of quiet — though QPI hit a bump a few weeks later, when park staff abruptly switched course and backed out of the project. "Great Sand Dunes is not pursuing the 'quiet' designation at this time in order to focus our efforts on other park priorities," spokesperson Katherine Faz said in an email. The QPI team was disappointed but plans to move ahead anyway with further testing that could lead to certification, Mikkelsen said.
The Park Service's reasoning behind the Great Sand Dunes decision remains hazy, but the agency — whose Natural Sounds and Night Skies Division has been monitoring soundscapes in parks for nearly two decades — has long considered quiet a resource worth protecting. Congress has explicitly declared the importance of managing noise in parks in multiple pieces of legislation, and many park planning projects incorporate evaluation of noise and soundscape conservation. In addition, data collected by the natural sounds division since the early 2000s — including 1.5 million hours of field recordings in nearly 500 locations in park sites — have helped bring the problem of noise into sharper focus.
A joint study by the Park Service and Colorado State University, published in "Science" in 2017, found that manmade noise doubled background sound levels in a majority of U.S. protected lands and caused a tenfold increase in 21% of those lands. Also, in 12% of wilderness areas — which make up 53% of the park system and are the most protected public lands in America — noise pollution doubled natural ambient sound levels.
"That was especially surprising," said Rachel Buxton, an ecologist formerly at Colorado State who led the research. "Wild areas have no development — by legislation, they can't. That's telling you there are impacts from noise coming from outside those areas." Along with road and air traffic, she said, oil and gas extraction are pumping noise into wilderness areas.
Jesse Barber, a Boise State University researcher whose lab studies how humans affect ecosystems, said that noise could be contributing to the world's tumbling biodiversity, though further study is needed. "It's likely that noise is another stressor on wildlife, on top of everything else, that is changing distributions of populations," he said. His team's research suggests that highway and gas field noise can drive songbirds away from crucial habitats, and that noise could interfere with the hunting success of bats and owls.
Even simple changes can alter people's thinking about sound, Barber said. He pointed to a 2015 study at Muir Woods National Monument, where his team posted library-style "quiet" placards in the redwood forest. The signs succeeded in reducing noise, leading to higher visitor enjoyment linked, in part, to the increased presence of birds and birdsong.
"The heart of it is that noise is a problem we know we can solve," Barber said.
Buxton's team, which concluded in a recent follow-up study that U.S. national park lands are much quieter overall than other types of protected areas, suggested that shuttle systems, speed limits and spatial planning — including "quiet zones" like the one in Barber's experiment — could help parks directly manage noise. Technology may offer additional solutions. Kurt Fristrup, a senior Park Service acoustician who contributed to the research, cited the climbing sales of electric vehicles, which are nearly silent at low speeds. Buxton said that noise-absorbing pavement is being tested on roads in some protected areas, including Death Valley National Park.
But noise emanating from outside of parks, from sources such as jets and industrial equipment, is harder to curb. And Fristrup worries that humans are being conditioned to expect a constant flow of sounds. "We've developed a culture of supplying our own soundscape," he said, noting the prevalence of earbuds on hiking trails. "It's important to put away those things we use in urban environments and learn to listen attentively again."
At the four national park sites below, all noted by QPI and others for the depths of quiet there, visitors can experience a wide array of natural sounds, from the wailing of coyotes to the surge of surf. Even at these refuges, however, quiet can be elusive, and preserving the soundscapes within them is far from simple.
Olympic National Park, Washington
Brandon Kuehn first experienced deep quiet on a big rock in the middle of a stream. He'd come to Olympic National Park to get away, after six years of active duty in the U.S. Army. "For the first time in a long time, there was just no noise," he said. "I ate my lunch, lay back, and next thing I know an hour and a half had gone by."
That same day, as he hiked back to his car, his calm was shattered when a Navy jet blasted overhead. "It was so disturbing and annoying, the fact that it was in a park, where you're not expecting anything like that," he said.
Since the 1940s, the naval air station on Whidbey Island, just northeast of the Olympic Peninsula, has run training exercises, but activity has ramped up in recent years. In the mid-2000s, Hempton hoped Olympic would become the first U.S. quiet park. But since then, commercial and military overflights have surged, making the designation less certain. And with the Navy's switch to new "Growler" fighter jets, which produce a low-frequency rumble, the noise has only intensified.
"It's like a baritone," said Shele Kinkead, an activist who tracks the flyovers for local anti-noise groups. "It travels and bounces. Over my house, we hear it rumbling up and down the riverbed." In her community of Forks, she has taken readings of jet noise as high as 93.7 decibels — like standing next to a running lawnmower.
Federal plans to expand the region's Growler numbers from 82 to as many as 118 have caused an outcry. Though the Navy took public comments and released an environmental impact statement, critics say that report, which claims there are no significant harmful effects from the noise, omits obvious facts. "They use a lot of averages, saying there's only a small percentage of the day when anyone will hear them," said Rob Smith, NPCA's Northwest regional director. "But that ignores people's real experience. People are coming to find nature, and it sounds like an airport." In 2019, NPCA filed a lawsuit under the Freedom of Information Act to compel the Navy to release documents relating to its training flights near and above Olympic.
Overall, parts of the park are still "exceptionally quiet," Mikkelsen said. Hempton has made noise-free sound recordings in spots beyond the Hoh Rain Forest, including inside giant, hollowed-out Sitka spruce logs on the park's beaches. But though visitors might enjoy lengthy spans without disruption, many say a single high-level noise event can be rattling.
"It takes a little while to leave the city behind," Smith said. "When that's interrupted, it's like going back to reset again."
Larry Morrell, executive director of Sound Defense Alliance, a citizens group, said many of those affected by the noise respect the Navy's interests but are looking for compromise. Training could be moved farther from protected lands to an air base in Idaho, for instance. "We're trying to get folks back in Washington, D.C., to look at the issue a little differently and give us all some relief," Morrell said.
Another 2019 lawsuit may force the issue: The state's attorney general is alleging that the Navy violated the National Environmental Policy Act by failing to gather adequate data on public health and wildlife impacts from noise.
Mike Welding, a Navy public affairs officer, said the cost and logistics of training elsewhere are prohibitive, and that no other locations in the Pacific Northwest offer comparable geography or airspace. The Navy is currently reviewing public comments on a draft supplemental environmental impact statement that will be released in summer of 2020, he added.
Locals are divided over the jets: Some cite the importance of the military, or say local economies benefit from Navy jobs. But Kuehn, who still hikes often in Olympic and also runs outdoor programs for fellow veterans, said the public dialogue has softened. "People are realizing that being against training in these areas isn't anti-American," he said. "We're trying to preserve what we fought for."
Rainbow Bridge National Monument, Utah
The pink sandstone arch at Rainbow Bridge National Monument, which spans 275 feet, is among the largest known natural bridges in the world. And like all rock formations, it turns out, the bridge has a voice.
Jeff Moore, a geophysicist, and his team from the University of Utah have used seismometers to "listen" to rock features in several parks, including Bryce Canyon and Arches National Parks, and found that each feature has a distinct set of low-frequency tones. "They're constantly humming and rumbling," Moore explained, comparing the landforms to guitar strings. The vibrations are caused by the subtle quivering, bending and twisting of the arch; with high-tech assistance, humans can hear and experience the sounds those movements produce.
In 2015, Moore and his team used the same seismic methods at Rainbow Bridge to study the effects of vibrations from sources such as wind and aircraft. Moore described a multitude of minor stressors, from truck traffic to distant gas drilling to wave activity on nearby Lake Powell, that could potentially act on the giant arch. "What's the effect of one hundred of those events? One thousand?" he wondered.
Moore was asked to do the vibration risk assessment after the Native American Consultation Committee, a group that's been advising Rainbow Bridge managers since the early 1990s, raised concerns about damage from noise emitted by helicopter tours. Since long before it was claimed by white explorers in 1909, the bridge has been a sacred site for the Paiute, Navajo, Hopi, Ute, Zuni and other tribes, who frequently hold ceremonies and events there.
Moore's data showed that Rainbow Bridge, due to its massive size, has a natural frequency of around 1 hertz, which is well below frequencies that would resonate — or vibrate in tandem — with a helicopter. But the flights might affect smaller slabs or columns, which have higher frequencies, Moore said, and the bridge's integrity could potentially be harmed over time. He suggested that the Park Service pursue the creation of a no-fly zone around the arch; local air tour operators agreed to the restriction in 2018.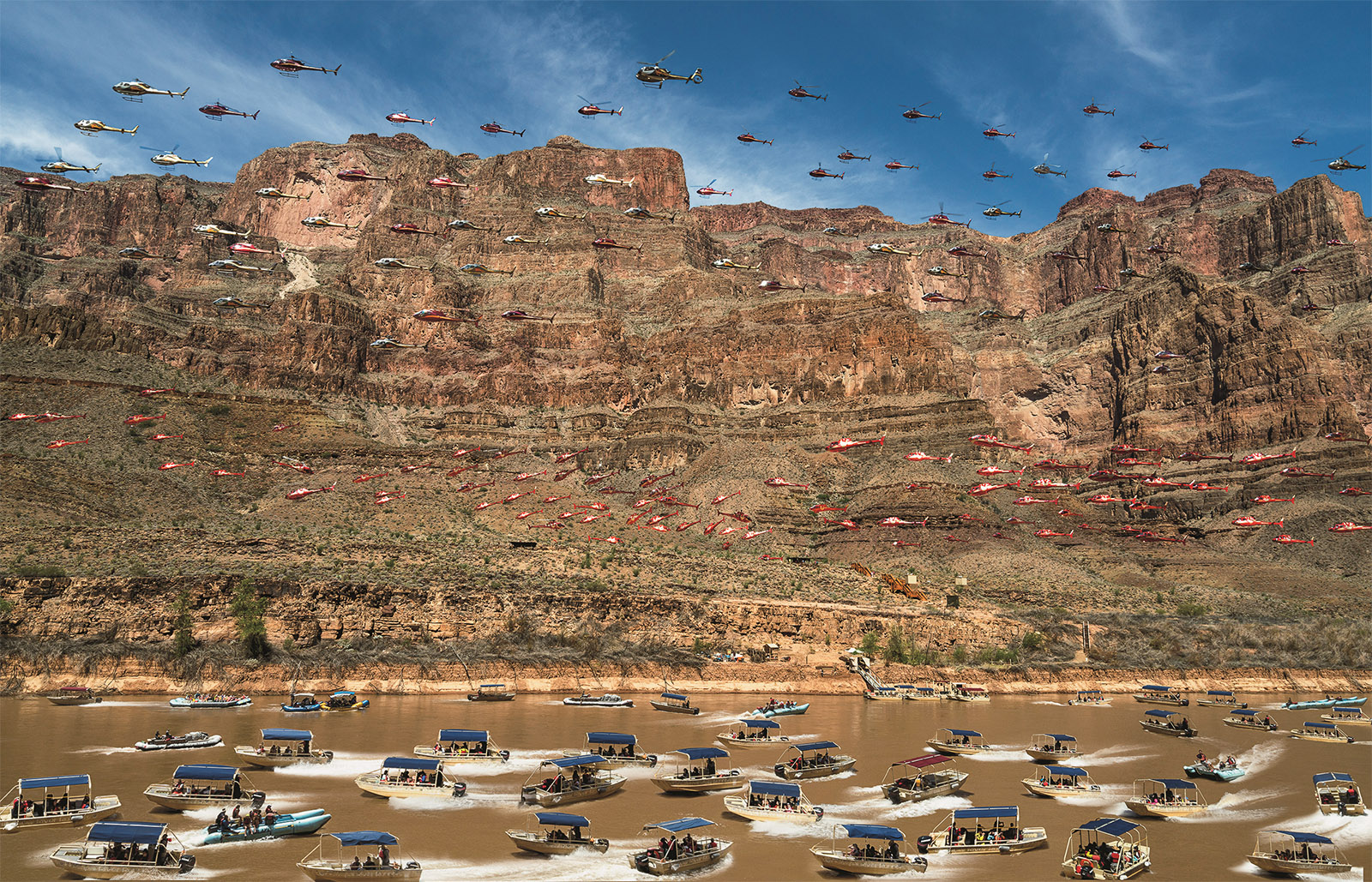 Pete Mcbride's time-lapse composite photograph shows what a day of traffic looks like inside the Grand Canyon. He captured 160 individual flights during an eight-hour period. © PETE MCBRIDE PHOTOGRAPHY
Such voluntary agreements are rare; commercial air tours are a sticky issue in parks, since the Park Service doesn't control the skies over park lands. Although the National Parks Air Tour Management Act of 2000 requires park officials to draw up joint plans with the Federal Aviation Administration, only four park sites have managed to settle details with the agency. More than 100,000 air tours buzzed over the Grand Canyon in 2017, according to a Park Service report the following year. Rainbow Bridge recorded around 1,500 tours in 2018.
Fristrup, of the natural sounds division, suggested electric aircraft, which are up to a thousand times quieter than conventional planes, could help solve the problem. "Electric propulsion could make our cities, not just our parks, much quieter," he said. "And parks could be a principal driver for those benefits."
Haleakalā National Park, Hawaii
Rising 10,000 feet above sea level, the Haleakalā volcano has special significance in Hawaiian culture as "wao akua," a realm of the gods. "All tall mountains are sacred," said Hōkūlani Holt, a hula master and director of Ka Hikina O Ka Lā (a culture and science program) at University of Hawaiʻi Maui College. Accordingly, Native Hawaiian practices dictate that humans shouldn't linger at the volcano's summit or be loud or disruptive. Quietly experiencing the "majesty of the place" shows respect, Holt said.
Unfortunately, honoring those practices is complicated at a busy national park. Every year, many thousands of visitors drive up the steep, winding Crater Road to watch the sunrise from the volcano rim. Such crowds, of course, can be noisy. "Modern man sometimes has a real difficulty with silence," Holt said.
In a park survey, visitors cited the desire to avoid loud park-goers and aircraft as their two main reasons for embarking on an overnight backcountry trip, and they often find what they are looking for in the park's remote areas. Relatively few people venture far down into the 3,000-foot depression (though often called a crater, it was formed by erosion, not an eruption), which is rumored to be one of the quietest places on Earth.
Linette King, the park's environmental protection specialist, explained that the crater's shape insulates hikers from wind and disturbances. "It's a natural barrier to protect the sounds people experience," she said. Elevation plays a role, too, and some believe the ashy, lunar-like volcanic soil dampens sound. A 2012 acoustical monitoring report by the Park Service noted ambient sound levels on Sliding Sands Trail as low as 10 decibels, quiet enough to hear breathing from 3 meters away.
King has camped overnight in the crater several times. "You can see the Milky Way," she said. "You hear nothing or a slight wind sound, and birds that are active at night. It's a unique and calming experience."
Nearly 75% of the roughly 33,000-acre park, including the volcano and parts of the coastal Kīpahulu rainforest area, is designated wilderness. Construction and use of mechanical equipment are strictly limited in those places, which means less noise and fewer noise management challenges. "At the Summit District, we have one road in, one road out," said Jin Prugsawan, the chief of interpretation.
Mikkelsen will record the silence firsthand when he visits the park for initial QPI testing at the end of the year. As always, air traffic may interfere; helicopters and tour planes are not permitted to go over the crater, but they often fly close to the rim. A report by the Park Service using data from 2013 noted aircraft noise in the park 25% of the time during three hours of testing spread out over eight days.
Holt said that the relationship between the Park Service and Native Hawaiians is sometimes tense, but she is grateful for the park's efforts to monitor commercial air tours, which have resulted in longer stretches of silence despite the absence of an official agreement."You are now able to enjoy and be moved by Haleakalā," she said, "when it's not being affronted by that sound."
Katahdin Woods and Waters National Monument, Maine
As my research into quiet deepened, so did my listening: I was struck by noise I wasn't used to noticing — car horns from blocks away or the hum of the fridge — and soon I was seeking natural quiet myself. On the QPI map, I chose a site relatively close to my home in Boston: Katahdin Woods and Waters National Monument, an 87,500-acre park in northern Maine that was designated in 2016.
I knew I'd be following in the wake of Henry David Thoreau, whose route along the East Branch of the Penobscot River is largely preserved within the monument. When the author paddled through Maine in 1846, sounds marked his entry into the wild. "The roar of the rapids," he wrote, "the note of a whistler duck on the river, of the jay and chickadee around us, and of the pigeon woodpecker in the openings, were the sounds that we heard. This was what you might call a bran-new country. …"
Northern Maine's population has grown relatively slowly since the late 1800s. With limited residential development and few roads, over 3 million acres of the state's forestland — the biggest such swath in the region — have remained largely unfragmented, even though logging is commonplace. The forest is a breeding ground for songbirds and home to a large population of Canada lynx. It also provides people chances to escape into untrammeled nature.
When I arrived at the monument with my wife in August, the quiet was a welcome shock for both of us. Driving on rutted logging roads, our crunching wheels spooked owls, spruce grouse and rabbits from the road edge. For 10 miles, we didn't pass another car.
Near one of Thoreau's campsites at the northern tip of the monument, where the Old River ran dark and translucent like tea, I opened the decibel meter app on my phone. Around 33 decibels — fairly quiet, but not much more than our apartment on a tranquil day. Within 10 minutes, I heard a commercial airliner.
Farther down a wooded trail, though, my wife grabbed my arm. The cicadas had stopped humming, and even the murmur of water suddenly died down. On my phone, the readings flickered around 28 decibels. We looked at each other wide-eyed. Our own square inch of silence. Later, readings I took by Sandbank Stream campground, at the edge of a marsh, were almost as low.
On our way back from Barnard Mountain, a woman showed us photos she had just taken of a moose. We crossed our fingers, and half a mile down the trail, there he was — chocolate brown and huge, with velvet antlers. As we watched him, I had to wonder: If the area were noisier — with more cars or more chatting hikers — would the bull have lingered on the exposed trail in mid-afternoon? He nosed toward us, seemingly curious. Then he turned his bulk toward the trees and, improbably, vanished without a sound.
---
Quiet Parks International has flagged 262 parks across the globe that could potentially qualify for certification as official quiet parks. The organization's list includes the U.S. national park sites on this map. Please click to hear recordings provided by quiet activist Gordon Hempton.