© KARL NIELSEN PHOTOGRAPHY
Fall 2019
The Last Wild One
After the chance discovery of a Franciscan manzanita, the rare plant was carefully relocated to a secret location in San Francisco's Presidio. Can it survive in the wild?
One October evening 10 years ago, Dan Gluesenkamp was driving on the busy stretch of freeway between downtown San Francisco and the Golden Gate Bridge when something on the shoulder caught his eye. It wasn't much to look at — a waist-high bush growing amid litter and rusted car parts. "That plant was fairly ugly," he said. "It was not photogenic."
At least that's how it must have appeared to other commuters, but Gluesenkamp is a botanist who has dedicated his life to protecting California's flora, and he had a hunch the ordinary-looking plant was by no means ordinary. It was impossible to park safely and walk over, so Gluesenkamp looped around to get another look. By the third pass, he was pretty sure he'd found a rare kind of manzanita, an evergreen shrub named for its berries, which resemble small apples. ("Manzanita" is the diminutive form of the word "apple" in Spanish.) He didn't know exactly which manzanita he had discovered, but he immediately left an excited voicemail message for Lew Stringer, a biologist at the Presidio Trust.
Before long, Stringer and two colleagues found themselves sprinting across six lanes of traffic. Michael Chassé, an ecologist with the National Park Service, took out his plant guide. At the time, Chassé was working on a master's thesis about San Francisco's manzanitas, but when his guide pointed to the Franciscan manzanita, he still had doubts. "I thought it was impossible because it was extinct in the wild," he said. They recruited two additional experts to weigh in, and within a few days, the biologists from San Francisco State University confirmed that the plant was indeed the first wild specimen of the Franciscan manzanita identified in more than six decades.
The discovery was a stroke of good luck in more ways than one. That section of Highway 101, which cuts through the Presidio of San Francisco, was undergoing a major renovation project. Shortly before the manzanita finding, Chassé had looked at that very island in his effort to identify plants worth saving from bulldozers, but all he had seen was an overgrowth of ornamental shrubs. Highway workers later chopped down those bushes but somehow spared the manzanita. It was only after the plant was exposed that Gluesenkamp was able to spot it.
ONE IS THE LONELIEST NUMBER
The Presidio is also home to the only wild specimen of the Raven's manzanita, a species rediscovered in 1952 by biologist Peter Raven. Biologists have planted cuttings from the original bush, but they all share the same DNA. "Currently, the Raven's manzanita is incapable of producing offspring," Stringer said. "It's virtually an extinct species."
The project managers for the California Department of Transportation and representatives of several agencies including the Park Service and the Presidio Trust looked at alternatives for saving the plant. It was not feasible to build the new highway around the bush, which was already suffering after having lost its cover, and moving it to a botanical garden would have meant that the plant would again be extinct in the wild. So they decided to relocate the manzanita to a natural location in the Presidio, away from roadside trash and exhaust gases.
Before the move, biologists collected soil from around the plant, stem cuttings and seeds. Workers placed a tent over the plant in the days ahead of the transplantation to keep the dirt dry, and one dedicated fellow stayed overnight in the tent during a rainstorm to make sure it didn't blow away. Finally, one early morning in January 2010, more than three months after the manzanita's discovery, the team used a crane to lift a 10-ton ball of plant and soil and deposit it onto a flat-bed truck. The manzanita was taken on a short drive to a secret location in the Presidio, a vast park that has undergone major habitat restoration since the military transferred the land to the Park Service in 1994. Operators used another crane to lower the manzanita carefully in a pre-dug hole. CalTrans workers, contractors and biologists cheered.
The plant's fame increased significantly when a conservative media outlet highlighted the relocation as a waste of taxpayer money. Right-wing talk show hosts picked up the story and ran with it. Gluesenkamp said he was dismayed to see the rescue of the manzanita turned into a divisive issue, especially because it had been the result of a collective effort. Gluesenkamp said the construction workers, who told their kids how they helped relocate the manzanita at the end of their workday, understood the value of the plant. "We do things because of how we feel," he said, "and that's the strongest argument for saving biodiversity: We feel it's important."
The Franciscan manzanita's distribution likely never extended much beyond the limits of present-day San Francisco, but urbanization drastically reduced the plant's range. By the late 1930s it was known to exist only in a city cemetery slated for destruction. Some local botanists would not let the Franciscan manzanita plants blink out without a last-ditch effort, though. "These biologists saved them in the middle of the night, threw them in a gunnysack and took them to a local botanical garden," said Stringer, now the Presidio Trust's associate director of natural resources.
Those pilfered plants are now crucial to the manzanita's recovery efforts. Biologists believe the plants held in botanical gardens come from at least three genetically distinct shrubs. Last year, they started planting cuttings from those plants near the rescued manzanita, and they hope pollinators will play their role as matchmakers to produce a crop of viable seeds.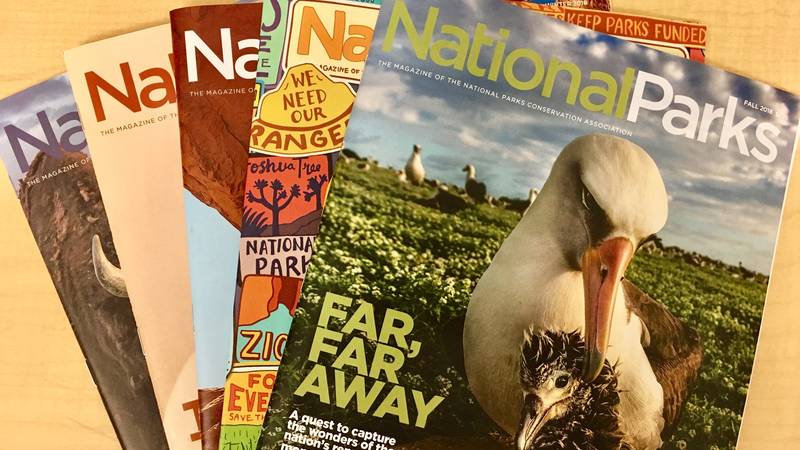 Subscribe to
You can read this and other stories about history, nature, culture, art, conservation, travel, science and more in National Parks magazine. Your tax-deductible membership donation of $25 or more entitles…
See more ›
They're hopeful the manzanita will thrive, but plenty of threats remain, and Chassé, Stringer and their colleagues are not taking any chances. When handling cuttings, they disinfect their tools to avoid contaminating the manzanitas with phytophtora, a potentially devastating plant pathogen. They remove invasive plants by hand and refrain from using herbicide within 100 feet of a Franciscan manzanita. They monitor manzanita predators such as voles, which eat the plant but also could help it by dispersing the seeds, and they water cuttings, especially in periods of drought.
The last wild manzanita — "Francie," as Stringer affectionately refers to it — gets even more attention. Biologists are studying the plant's pollinators and are researching a fungus that might help the plant grow. They are also collecting the manzanita's pollen and storing it as a long-term insurance policy. By all accounts, Francie is doing well. Gluesenkamp, who is now the executive director of the California Native Plant Society, focuses his energy on trying to make California a zero-extinction state, but recently he found the time to pay a visit to the "ugly" bush he spotted all those years ago.
"It had all these little pink flowers," Gluesenkamp said. "It was beautiful."
About the author
Nicolas Brulliard

Senior Editor

Nicolas is a journalist and former geologist who joined NPCA in November 2015. He writes and edits online content for NPCA and serves as senior editor of National Parks magazine.