Winter 2019
When Your Toddler Meets a Crocodile
How wise is it to bring a kid on a canoe trip through the watery wilds of the Everglades?
Two strokes into our seven-day paddling trip through Everglades National Park in Florida, a huge snaggle-toothed crocodile slid into the black water 10 feet away from us.
"I think maybe I'm scared," murmured Talon, our 3-year-old son. Next to our family's canoe, his 5-year-old friend, Willow, nodded in agreement from the front of her dad's kayak.
I knew I was scared — and not just of crocodiles. As my husband, Rob, steered us through a maze of mangroves, I kept an eye out for pythons, spiders and potential storms. My body buzzed with adrenaline.
We emerged from the narrow canal into Whitewater Bay, the park's largest inland body of water. The afternoon wind picked up, and the aptly named bay filled with choppy waves that rocked our canoe. It would have been worse without our outriggers; we had attached the small plastic stabilizers, figuring they would keep a squirmy toddler from tipping the boat. Pulling the brim of my hat low against the sun and stiff breeze, I dug my paddle deeper in the murky water and cursed myself for agreeing with Rob's suggestion that it would be "fun" to spend a week in the remote backwaters of the largest subtropical wilderness in the U.S.
In my nervousness, I barked constant commands to our son, who was perched on the cooler behind me: "Sit on your bottom!" "Hands inside the boat!" "Don't you dare take off that life jacket!" Talon, who already had dozens of family boating expeditions under his belt, yawned in response, lulled by the warm sun.
Rob and I were intrepid travelers before we had Talon, and we decided to integrate him into our adventures from the get-go. He'd already been backpacking, sailing, rafting and skiing in several states and a handful of countries. When my friends ask if it's hard traveling with a tiny tot, I tell them that, for me, it's easier than staying home and sacrificing the lifestyle I love. Though it's certainly more complicated to bring our son along on outdoor escapades, Talon always learns and thrives during our trips. Once we're out in the wilderness, it feels as if it's totally worth the effort.
Even though I was a seasoned adventure mom, the Everglades were foreign territory to me. In our home state of Montana, nothing with giant teeth lives in the water. I'd struggled mightily over whether it was wise to bring a toddler into the swamps, wavering on whether the potential risks would be worth the possible rewards.
Rob had been trying to convince me to join him on a trip through Florida's sinuous waterways for nearly a decade. The Everglades are one of his favorite places on the planet — which says a lot because he's traveled around much of the globe. I was intrigued, but I told him I preferred monster-free waters, thank you.
Then I picked up Peter Matthiessen's "Shadow Country." The fascinating historical novel had me reading late into the night, swept up in the drama of the rough-and-tumble pioneers who lived in one of the last true American outbacks at the turn of the 20th century. Matthiessen painted the Everglades as a place lush with mystery, its exotic foliage hiding beautiful birds, rich cultural heritage and shady-but-charismatic outlaws.
The book tipped the scales, and soon we began planning our route through the national park. We decided to visit in December to avoid the worst of the mosquitoes and to escape Montana's cold winter, and we opted for a loop through Whitewater Bay, rather than paddling the popular Wilderness Waterway route. That way we'd dodge some of the crowds during one of the busiest weeks of the year in the park. Plus, a loop would simplify logistics because we wouldn't have to shuttle our car and gear.
Our friend Kevin and his daughter, Willow, drove down from Asheville, North Carolina, with a bright yellow sea kayak strapped on top of their minivan and met us in Homestead, the town near the eastern entrance to the park. Because we couldn't bring our own trusty canoe on the plane, Rob and I bought a used one in Florida. For just $200, the sturdy Grumman came with paddles and life jackets and cost half as much as renting a canoe for a week.
NPCA at 100
In 1920, just one year after what was then known as the National Parks Association was formed, the organization called for the creation of a national park that would protect the pinelands, wetlands, mangroves and bays at the southern tip of Florida. The preservation of this unique ecosystem has been at the core of NPCA's work ever since.
Everglades National Park came into existence thanks to many groups and people, including naturalist Ernest F. Coe, and NPCA played a crucial role by assembling a Washington, D.C.-based coalition that lobbied for the proposed national park. That campaign eventually paid off, and in 1934, Congress passed the Everglades Act, which authorized a park covering some 2,000 square miles. At that point, the site existed only on paper, and NPCA and others advocated for funds to buy land for the park. Everglades National Park was finally dedicated by President Harry Truman in 1947. Over the following decades, Florida's population increased dramatically, and the associated development boom threatened the larger Everglades ecosystem and the park itself. In the late 1960s, NPCA joined other conservationists to fight plans to build a massive airport just north of the park. The airport project was abandoned, but fierce battles about the Everglades continue to this day.
The chief debate has been over water: The construction of canals, levees and roads has reduced the flow of freshwater to the Everglades by 70 percent. The "river of grass," as environmentalist Marjory Stoneman Douglas eloquently described it, remains at risk, and so do countless species of plants, fish and wading birds, said Cara Capp, NPCA's Everglades restoration program manager.
In 2000, Congress passed the Comprehensive Everglades Restoration Plan to improve the flow of water from Lake Okeechobee south to Everglades National Park and other protected areas while preserving enough water for residential, agricultural and commercial needs. The $16.4 billion plan outlined dozens of projects to be executed over more than three decades, but the plan has fallen far behind schedule, in large part because of funding shortfalls. Florida's precipitation varies from year to year, but overall, "Florida doesn't have a water supply issue," Capp said. "We have a water storage issue." Thankfully, President Donald Trump signed America's Water Infrastructure Act of 2018 in October. The law, which NPCA supported, provides for the creation of a reservoir south of Lake Okeechobee that will collect excess water and treat it before sending clean water toward the Everglades and Florida Bay. The reservoir also will help reduce the alarmingly high concentration of agricultural nutrients in water that flows toward the coasts. Those nutrients exacerbate recurring algae blooms known as red tides, and this year, Florida is experiencing its worst bloom in recent memory. As a result, many coastal residents have suffered respiratory ailments, and thousands of fish and other marine animals have died.
"The health of the Everglades is the health of our drinking water," Capp said. "It's the health of our communities." Increasing the flow of vital freshwater to the Everglades also requires removing barriers. A major one is the Tamiami Trail, a 1920s highway that connects Tampa to Miami. For years, NPCA has been pushing for the construction of bridges that would allow the water to flow underneath the road. The first 1-mile section was finished in 2013, and a 2.6-mile section is close to completion.
None of these accomplishments would have happened without strong local support, which is why NPCA has long cultivated advocates in the area. A few years ago, the organization helped establish a trolley service that makes it easier for residents of the nearby city of Homestead to visit Everglades and Biscayne. NPCA also has enlisted local veterans and youth to work on park maintenance projects or simply discover the parks in their backyard. "We want people to visit this special place and feel empowered to speak up for its protection," Capp said.
We caravanned into the park, driving 38 miles alongside slash pines, mangroves and orange-tinted ponds before the road dead-ended at the ocean. I stretched out travel kinks, smiling at the sun-splashed Atlantic. Talon and Willow played tag in the crunchy grass between the parking lot and the water. As we walked toward the Flamingo Visitor Center, I reached down to take the kids' hands, wary of the prehistoric crocs sunning themselves on the banks of Buttonwood Canal.
The pink walls of the visitor center were missing chunks of stucco, evidence of the damage wrought by several hurricanes, from Katrina in 2005 to Irma in 2017. The building was still lacking electricity and running water. We had to write our names in a three-ring binder to claim backcountry campsites called chickees, a Seminole Indian word for an open wooden shelter built over water. Sites could be reserved only in person 24 hours before camping, on a first-come, first-served basis.
The kids played with squirt guns on the dock as the adults jigsawed gear into the boats. Fresh water took up most of the space and was the limiting factor for how long we could stay out in the brackish Everglades. We had to carry one gallon per person per day — a hefty 160 pounds of water in our canoe. It was hot, so before we launched I asked the children to squirt me, too. It seemed we'd lucked out with the weather — the forecast promised sunny skies and highs in the 80s all week. Then we buckled our life jackets, wedged ourselves into the two small crafts and pushed off the dock.
Talon grabbed his small orange paddle, banging my head in his eagerness to propel the boat. I distracted him from "helping" by starting a game of "I Spy." Because Talon preferred sitting closer to me and Rob was steering and navigating, it was my job to keep Talon both safe and entertained.
Amusing Talon was easy at first: He exclaimed over the cormorants diving for fish, searched the protruding mangrove roots for turtles and asked me the name of the "flat-top islands" we saw dotting the horizon. I did my best to answer his constant questions, which also helped me ease into our new surroundings.
Whitewater Bay was much more open than I'd pictured the Everglades to be. Distant layers of green looked hazy in the humid heat, and the water was a slate gray. We passed a small sailboat and waved at a couple of speedboats zooming past.
Even though the backdrop was beautiful, after two hours of paddling through the chop while playing games with a toddler, my patience was frayed. My arms were aching, and I rolled my neck and shoulders. Not only did we have to carry the heaviest load on our first day, we also had the farthest distance to travel. The chickees closest to the visitor center had already been nabbed, so we had to paddle 12 miles to reach our campsite.
"Only 4 more miles to go, and the tide is with us!" Rob said. "Let's head closer to shore to avoid some of this wind."
Kevin gave a thumbs-up from his kayak a few yards away. We hadn't seen any sign of snakes or alligators, and both kids were safe, but my anxiety was still high. I was relieved when we veered right into the Joe River less than an hour later. The wind abated, and I could hear the "screee" of circling seagulls overhead and the "shhhush" of our boat's aluminum hull sliding over sediment.
The kids let out whoops when they spotted the human-made island tucked back inside a pocket of the bay. Our chickee consisted of two 10-by-12 wooden platforms, just big enough for one tent each and a couple of chairs. They were connected by a dock with a portable toilet in the middle, its bright blue plastic incongruous with the infinite greens and browns of the surrounding bay.
We docked the canoe and sea kayak, stretching our cramped legs and weary arms. But before I could relax, the kids started running full-tilt across the narrow planks while daring each other to touch the spiderwebs suspended above the water. I groaned as I realized that falling in the water was just as likely on the chickee as on the boat. Exhausted, we coaxed Talon and Willow back into life jackets and sat them down for a serious safety lesson.
Because it was the winter solstice, we knew sunset would come early, but we weren't prepared for the mosquitoes that came along with it. We all dove into the bigger of the two tents, frantically searching for bug spray and head nets. Rob braved the bugs to make dinner — canned chicken and vegetables over rice — while Kevin and I entertained the kids with a game of close-quarter charades.
We ate inside the tent, and I made everyone hunt down several pesky intruders each time the door was zipped open. The kids, at least, thought it was fun. They gave each other points for each mosquito killed, smearing blood across the tent's interior.
Though everyone else fell asleep instantly, I tossed and turned on the too-thin sleeping pad, sweating in the heat while trying to ignore the itchy welts covering my legs. I finally gave in to the tears that I'd been holding back much of the day. I was at the end of my rope, and I simply couldn't imagine mustering the energy to repeat the same arduous routine through six more days.
The next morning, sensing my sour mood, Rob asked me if we should turn back. The loop we'd planned was based on keeping the wind and tides in our favor. It would be tough, if not impossible, to get back quickly if we paddled north one more day.
Winter 2019 - TODDLER meets a CROCODILE Dolphin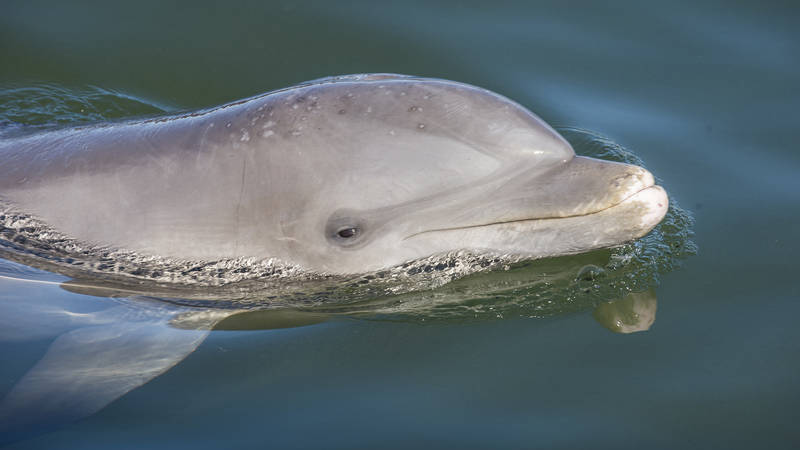 © ROBERT HARDING PICTURE LIBRARY/ NATIONAL GEOGRAPHIC IMAGE COLLECTION
I sipped my coffee and stayed quiet while I weighed the pros and cons. Giving up now would feel horrible. It had taken several days of preparation to get to where we all sat that morning. But was continuing the safest — or sanest — option?
The rising sun spread gold across the bay, and the heat chased away the remaining mosquitoes. I watched a flock of white ibises soar across the cloudless sky, their flight mirrored in the still water. Talon chattered to Willow as they practiced casting from the dock.
"Dolphins!" Rob shouted, suddenly. We all oohed and aahed as a pair of bottlenose dolphins breached and breathed, circling the chickee in search of fish. It seemed like a good omen. I decided to keep going.
The second day was much easier, partly because we were all better adapted to our new water world. After a smooth, sheltered paddle to the Joe River chickee, I did yoga while the guys and kids went fishing in the canoe. Then I strung up a hammock, dozing off to the sound of chattering birds.
TRAVEL ESSENTIALS
The main entrance to Everglades National Park lies 50 miles southwest of Miami near the gateway city of Homestead. Once you drive to the Flamingo Visitor Center at the end of the road, head to the lobby to self-register for backcountry campsites. You can reserve all of your sites at once, so come with a rough itinerary in mind but be prepared to change your plans if certain chickees are already reserved.
Although the visitor center's lobby is open 24 hours for self-registration, park staff are available to answer questions only from 8 a.m. to 4 p.m. mid-November through mid-April and intermittently the rest of the year. Flamingo Campground and Long Key Pine Campground are both great options (with shower facilities!) for before or after your backcountry expedition. Sites can be reserved at flamingoeverglades.com or 877.444.6777. Canoes and kayaks are available for rent at Flamingo through Everglades Guest Services at 305.501.2852, or from a variety of outfits in Homestead, just outside the park. Another option is to buy a used boat on the local Craigslist and resell it after your trip, as we did.
Other than a watercraft, you'll need to bring a full camping setup, along with fresh water and food. We found it was helpful to plan out meals ahead of time and package our food into separate bins for breakfast, lunch, snacks and dinner. Minimize perishables because ice in coolers doesn't last long in the heat. Our favorite "luxury" items in the backcountry included a hammock, a solar lantern, an umbrella for shade in the boat, water guns and a solar shower.
Back from their fishing trip, Talon and Willow squealed in glee as they doused themselves with water from a bucket and created make-believe games in their "swinging fort." This time we donned head nets and bug spray before the biters swooped in at sunset. And we didn't start cooking dinner until dark, when the mosquito swarms started to dissipate.
Just before bed we heard a rustling on the shore. "Raccoon!" yelled Willow, pointing at the mangrove 10 feet from our chickee. The animal's black-and-white tail was just visible in the fading light. We watched the raccoon forage for shellfish in the mud at the water's edge, its human-like hands making easy work of oysters and mussels.
By day three, we had found our rhythm. We kept the kids happy on the boats with snack bags and fishing rods and took frequent breaks to chill in the shade after tying the boats to mangrove roots. Once we docked at the night's chickee, we insisted on a half-hour of "quiet time" for everyone, which actually worked — for the most part.
On the fourth night, we stayed at Watson River chickee, named for Edgar Watson, the main character in Matthiessen's "Shadow Country." Over dinner, I shared the story of Watson's string of alleged crimes and his untimely death at the hands of his suspicious neighbors. We also explained how Calusa Indians turned the remnants of their seafood meals into mini-islands of shells that they could live upon, but we stopped short of telling the children how drug runners used the park's waterways from the 1960s through the 1980s to bring cocaine and other illegal substances into the country.
I could see why the Everglades' marshes and swamps attracted bandits and desperados. They swallowed secrets whole and kept them buried in the muck.
The next morning, we saw the snout of an alligator — the only one we saw all week — as we paddled through a shallow cut. We later learned from a park ranger that Hurricane Irma had affected the water's temperature and salinity, which may have caused some alligators to move inland. We thought that might also explain why we didn't catch many fish, but that probably had more to do with insufficient freshwater flow, which harms seagrass and other fish habitats (see "NPCA at 100" below). On previous trips, Rob had hooked heaps of redfish and snook, but this time he was able to catch only a few ladyfish and mangrove snapper. Willow was the one who caught the biggest fish of the trip, a lovely ladyfish that jumped high as she reeled it to the kayak. Willow's grin was brighter than the fish's silver scales.
We ended our loop at Lane Bay and Hells Bay chickees, where the channels were narrower and felt more like rivers. The water also became clearer as we paddled away from salt water. Willow and Talon kept a tally of the bird species they spotted from the boats: great egrets, tricolored herons, roseate spoonbills, their plumage vivid against the Everglades' earth tones.
My fears did indeed fade away, and awe had set in. Except for that rough first night, I fell asleep easily all week under diamond-bright stars. We went days without seeing another boat, but we saw dolphins up close almost every day. The "huff" from their blowholes served as background music while we relaxed on the chickees. My whole world felt simple, comprising only four other people, two hand-powered boats, our little wooden islands, and endless water and sky.
On the last day we opted to take the shorter route along the Hells Bay Canoe Trail instead of traversing windy Whitewater Bay again. It turned out to be the most challenging 4 miles of paddling I've ever done. The waterway was overgrown with a thicket of spiderweb-laden mangroves and barely wide enough for our boats. Instead of trying to paddle through the tight knot of roots, I used my hands to grab branches to pull the canoe forward while Rob pivoted our stern around hundreds of hairpin turns. Talon learned to move quickly when I yelled "Duck!"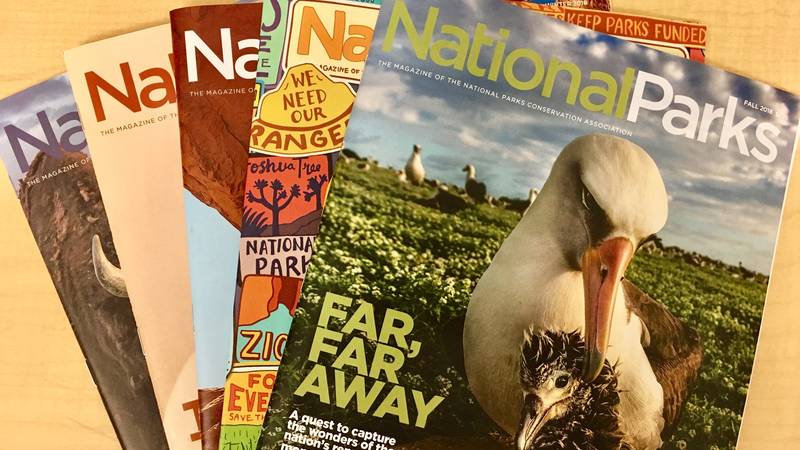 Subscribe to
You can read this and other stories about history, nature, culture, art, conservation, travel, science and more in National Parks magazine. Your tax-deductible membership donation of $25 or more entitles…
See more ›
After an exhausting two hours of muscling our boats through the dense mangroves, we stopped to rest and check our progress on the GPS. "Guess what?" Kevin said. "Our dock is just around the next bend!" The kids cheered at the news, and we all toasted graham crackers to celebrate the end of the trip.
As we packed up the snacks, I saw something rocketing toward us in the narrow channel. The V of its wake was longer than our canoe. I strained to make out the shape beneath the murky water. Shark? Crocodile? A school of fish?
"Hold on!" I called, adrenaline pumping. Talon grabbed the gunwale. Willow squealed.
A big dolphin raced beside our boat, its powerful tail pumping. It was so close, I could see its smile. I laughed aloud, half in relief, half in wonder. We watched the dolphin race away toward Whitewater Bay, then picked up our paddles to head back to land.
About the author
Brianna Randall

Brianna Randall is a writer, communications specialist and adventurer based in Missoula, Montana. She and her family explore mountains, rivers, oceans and deserts as often as they can.