Fall 2018
Living Monuments
Ian Shive traveled to the corners of the sea to document the watery wonders of the nation's marine monuments.
Before leaving for a dream assignment to Rose Atoll Marine National Monument, a 13,000-square-mile swath of protected waters in the far reaches of the Pacific Ocean, photographer and filmmaker Ian Shive had to go through a litany of tests. Because the area is so remote, the U.S. Fish and Wildlife Service requires visitors — typically scientists and volunteers — to be in sound health to reduce the chances of a medical emergency. Shive underwent a full physical including blood work and urine analysis; lung capacity, hearing and colorblindness exams; a mental health study; and a lifeguard swim test. Because he had permission to fly a drone, Shive also became licensed as a commercial drone pilot. And before he set foot on any of the monument's tiny islets, his clothes had to be cleaned, frozen and quarantined.
Then came the actual journey to Rose, in late March of 2017. Shive, then 38, flew from his home in Los Angeles to Honolulu, where he caught one of two weekly flights to American Samoa. From there, he hitched a ride on a small vessel chartered by a crew of USFWS researchers. For 10 hours, they lay down on the deck while the boat bucked and corkscrewed through turbulent seas. Their destination was Rose Atoll itself, a ring of coral reefs just beneath the ocean's surface, the last remnants of a long-extinct volcano. Two slivers of white sand poke above the water, one topped with a mane of greenery.
From the moment he arrived, Shive was awed. On and around Rose, species that are endangered or extirpated elsewhere thrive. Thousands of seabirds rocket into the sky. On beaches, tiny sea turtle hatchlings squiggle their way to the sea. Naturally occurring crustose coralline algae fringe the reefs, lending them a surreal orangey-red glow, and in deeper waters, sharks and schools of snappers and jacks swirl in the currents. So far removed from any sign of humanity, Shive was overwhelmed with a heady and profound feeling of solitude.
"I've been fortunate to be on assignment in more than 40 countries," said Shive, "but Rose was among the most pristine and most beautiful places I've seen."
After working for several years as a contract photographer and videographer for the USFWS, Shive agreed to an ambitious undertaking at the agency's request: to produce videos and photographs showcasing the country's five far-flung marine national monuments — Rose Atoll, Papahanaumokuakea, Marianas Trench, Pacific Remote Islands, all in the Pacific Ocean; and Northeast Canyons and Seamounts, the only one in the Atlantic Ocean.
"They're some of the largest areas of protected lands and waters that exist, but they're so far away from the continent, it's hard for people to establish a connection with them," said Alice Garrett, special assistant in the Pacific Region and project lead for USFWS. "Most people will not ever be able to travel to them in their lifetimes, so we wanted to bring the virtual experience to the public."
By prohibiting development and commercial fishing, the marine national monuments protect more than a million square miles of ocean — which include submerged lands, seamounts, islands and atolls — helping to keep fish stocks healthy and preserving habitat for millions of nesting seabirds. Because marine plants produce the majority of the oxygen in the atmosphere, healthy oceans safeguard the quality of the air. The monuments also are essential to the health of dozens of coastal national park sites, including National Park of American Samoa, which is close to the waters of Rose Atoll Marine National Monument.
These monuments, however, face threats. After President Donald Trump ordered a review of the national monuments last year, Interior Secretary Ryan Zinke recommended shrinking the sites or altering fishing rules in Rose Atoll, Pacific Remote Islands, and Northeast Canyons and Seamounts, a plan NPCA strongly opposes.
"Healthy parks need healthy oceans," said Sarah Gaines Barmeyer, senior managing director of conservation programs for NPCA. "And marine conservation is just so behind land-based conservation." About 12 percent of land area across the globe is under some form of protection compared with only around 4 percent of the oceans.
NPCA submitted detailed comments in response to the monuments review and commissioned legal white papers arguing that although the president has the authority under the Antiquities Act to create new national monuments, he does not have the authority to rescind or reduce them. The paper also argues that the act permits the president to designate both terrestrial areas and underwater "lands." It is still unclear when the Department of the Interior will release a final proposal.
Shive's intention was to showcase the wild beauty of these largely unseen protected areas, and in several cases, he was the first professional photographer or filmmaker to document them. Sometimes accompanied by cinematographer James Scott and an assistant, Dante Fernandez, (along with USFWS staff), he traveled to Rose, Wake, Palmyra and Midway Atolls — all specks of land within these marine monuments. Over the course of a year, the team spent 75 days filming and produced 130 hours of footage and a library of photographs, including the selection here.
Using additional footage of Marianas Trench and Northeast Canyons and Seamounts from the National Oceanic and Atmospheric Administration, Shive and his team made a 20-minute video, "Living Monuments," for USFWS, which plans to use it in presentations and at visitor centers. The team also created an IMAX film, "Hidden Pacific," which will debut this fall across the country. With spectacular scenes of the islands' steamy jungles, prehistoric-looking coconut crabs, coral gardens and colorful fish, the film imparts a sense of the remote, wild nature of these protected areas.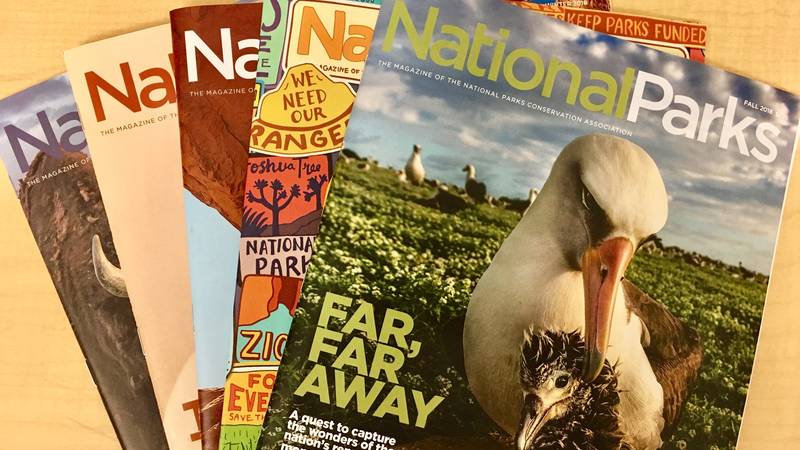 Subscribe to
You can read this and other stories about history, nature, culture, art, conservation, travel, science and more in National Parks magazine. Your tax-deductible membership donation of $25 or more entitles…
See more ›
"There are no planes overhead, no ships offshore," Shive said of Rose. "You look out in any direction as far as you can see and you will not see a light. There's just nothing." Except wildlife, of course. Curious boobies landed right in front of Shive's tent, and albatrosses pulled the zipper of his camera bag, looking at him quizzically. In shallow water, baby sharks swam circles around his feet. And in the sparkling lagoon of Midway, Shive and Scott swam for an hour with 250 friendly spinner dolphins, their squeaks and clicks echoing through the ultra-clear water.
Visiting locales this remote brings numerous challenges. They're hot, humid, sandy and salty, and it often rains every few hours — nerve-wracking conditions for documentarians operating expensive cameras. On Shive's second trip to Rose, the tail end of a cyclone struck, blasting cold rain and wind for three hours. And every so often, a shark showed an alarming amount of interest in Scott or Shive. One unexpected challenge was something more quotidian: bird droppings, which could turn unattended camera gear into a goopy mess.
As distant and pristine as these atolls appear, even with protected status, they are vulnerable to the touch of humankind. Bullets from World War II dot the shores of Midway, eerie reminders of the island's brutal past as a battlefield where American and Japanese forces clashed. And thousands of pounds of trash litter that island's beaches, washed up by unfavorable ocean currents.
About the Photographer
Ian Shive is an award-winning photographer, author, educator, film producer and environmental advocate. For more information about Tandem Film and "Hidden Pacific," please visit Tandem Film and hiddenpacific.com. 
A lot of the native Hawaiians and Samoans whom Shive encountered would refer to the ocean as the blue continent. "It's a very different way of looking at things," Shive said. "They see the islands as something that break the ocean apart, not the other way around. In that sense, the ocean is really one big ecosystem."
It's an idea that deeply touched Shive, one that he still contemplates back home in Los Angeles. "Now when I stand at the edge of the water, my ankles just barely in the ocean," he said, "I feel that, in a way, I'm connected to those places I had the incredible opportunity to visit."
About the author
Kate Siber

Kate Siber, a freelance writer and correspondent for Outside magazine, is based in Durango, Colorado. Her writing has appeared in National Geographic Traveler and The New York Times. She is also the author of "National Parks of the U.S.A.," a children's book.