NPCA recently worked with Defenders of Wildlife to determine how many endangered species have critical habitats that include national park sites. One park has significantly more of these rare plants and animals than any other.
National parks provide important habitat for plants and animals and are some of the most biodiverse places in the country. Even among these nationally significant lands and waters, Hawaii's parks stand out as special. Dubbed the "endangered species capital of the world," this tropical archipelago is home to a vibrant and unique array of plant and animal life — and a shocking number of species that are in danger of becoming extinct.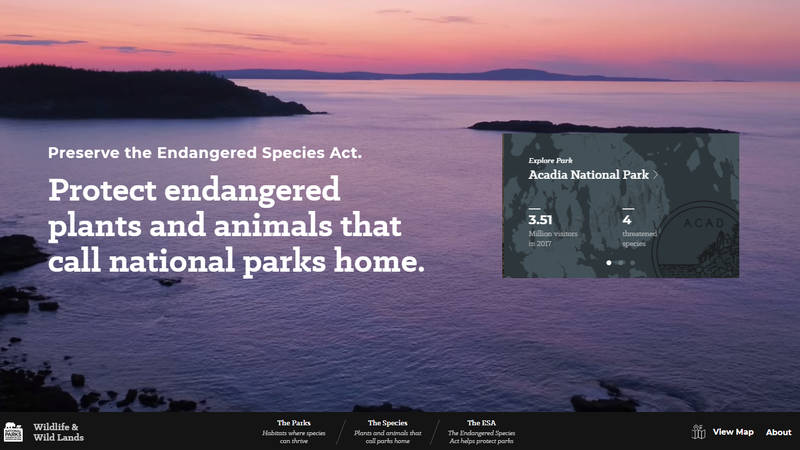 Online Database
Access species-specific information as well as an interactive map, quantifying ESA-protected species in our national parks.
See more ›
Island ecosystems by their nature provide isolated environments where species can evolve with fewer competitors than plants and animals experience on the mainland. As a result, a high percentage of living things in Hawaii, from geraniums to geese to snails, exist nowhere else in the world.
Because these species are adapted to a single remote environment, however, they are often extremely sensitive to new threats — invasive species, climate change, the loss of forested land and other factors can have devastating effects on their survival. Although Hawaii makes up less than 1 percent of the country's total area, it is home to more than 30 percent of the federally listed threatened and endangered species in the United States.
The numbers are even more dramatic when looking at plants alone. According to Hawaii's Division of Forestry and Wildlife, nearly 90 percent of the state's 1,400 plant species are unique to Hawaii, the state is home to 44 percent of the country's total endangered plant species, and more than 200 of these species have 50 or fewer individual plants remaining. Even worse: More than 100 of the state's plant species have already gone extinct.
What Are Endangered and Threatened Species?
According to the Endangered Species Act, an endangered species is an animal or plant in danger of extinction within the foreseeable future throughout all or a significant portion of its range. A threatened species is a species likely to become an endangered species within the foreseeable future throughout all or a significant portion of its range.
Over the past year, NPCA has partnered with Defenders of Wildlife to analyze data from the U.S. Fish and Wildlife Service on where America's most vulnerable plants and animals live. After carefully comparing hundreds of habitat ranges and park boundaries, our researchers found that Haleakalā National Park topped the list of national parks with the most endangered species by a wide margin.
Based on our analysis, Haleakalā, on the island of Maui, hosts a total of 103 endangered species: 81 flowering plants, 10 birds, six non-flowering plants (such as ferns), three insects, two mammals and one reptile. The park with the second-largest number is also a Hawaiian park, Kalaupapa National Historical Park on the island of Molokai, with 88 species; Hawai'i Volcanoes National Park on Hawaii's Big Island rounds out the top three with 53 species. By comparison, the mainland park with the largest number of endangered species is Everglades National Park in Florida with 44 species.
Some of the threatened and endangered species in Hawaii's parks include the Hawaiian monk seals that give birth on Kalaupapa's beaches, the flowering silversword plants that only live on top of the Haleakalā volcano, and two varieties of tiny, colorful Hawaiian picture-wing flies that perform elaborate courtship rituals at Hawai'i Volcanoes National Park.
What these vulnerable creatures have in common with each other and with rare species on the mainland such as the grizzly bear, Florida panther and California condor is that they all need the Endangered Species Act to thrive. This landmark legislation, which President Richard Nixon signed into law in 1973, has kept thousands of plants and animals from going extinct in the past four-plus decades. In fact, the federal government has had a 99 percent success rate at preventing the extinction of the species on the Endangered Species List.
Stay On Top of News
Our email newsletter shares the latest on parks.
Yet federal lawmakers continually attempt to undermine this legislation. In the current Congress alone, members of the House and Senate have introduced more than 75 bills and amendments that would weaken or dismantle various portions of the act. Sen. John Barrasso of Wyoming introduced an especially drastic bill earlier this month that would radically weaken the act, effectively eliminating the protections it affords threatened species.
NPCA recently launched its Wildlife and Wild Lands website with profiles on a selection of imperiled plants and animals, the importance of the Endangered Species Act, and how to take action to protect it. Learn more at https://esa.npca.org/ and see an interactive map of all the endangered species in national parks at https://esa.npca.org/map/.
About the author
Jennifer Errick

Managing Editor of Online Communications

Jennifer co-produces NPCA's award-winning podcast, The Secret Lives of Parks, writes and edits a wide variety of online content, and manages NPCA's style guide.