Yellowstone: It's one of the most remarkable and revered travel destinations in the world and the place that defined the very concept of public land conservation. Get a taste of why this park and the larger ecosystem that surrounds it are so special — and how to plan an extraordinary trip.
This guide is part of NPCA's partnership with National Geographic. Learn more about National Geographic's Yellowstone Live series, which aired August 5-8, 2018.
Yellowstone's 2 million acres offer bustling tourist attractions as well as a surprising amount of wilderness and solitude. NPCA's expert staff help explain some of the features that make this storied place unique and wondrous — though it is impossible to truly appreciate this park without going there. We have plenty of tips for planning that once-in-a-lifetime trip, too.
The fire beneath your feet
Yellowstone is home to more than half of the world's geysers and an exceptional concentration of geothermal energy. This extreme heat comes from an active "supervolcano" — a volcano that has erupted at a magnitude of 8, one of the largest values on the scientific scale for explosivity. Yellowstone's eruptions have been so powerful, they did not form a mountain like smaller explosions often do, but a large caldera, a depression in the earth formed from the upheaval and collapse of all this force. Very few active supervolcanoes are known to exist in the world, and these extreme geological forces have shaped Yellowstone's larger ecosystem over the course of millennia, forming the mountains, canyons, lakes and other features and determining which plants and wildlife could live there.
An accessible safari
Yellowstone is world-renowned for its wildlife and has the largest concentration of mammals in the contiguous United States. These include everything from river otters and pikas to moose and bighorn sheep, as well as seven large predators: black bears, Canada lynx, coyotes, grizzly bears, mountain lions, wolverines and wolves. Few other places in the country offer enough space for some of these species to roam, earning Yellowstone the nickname "the Serengeti of North America."
A place to question reality
When one member of the Lewis and Clark Expedition, John Colter, separated from the rest of the party in 1809 and came across a colorful landscape of "fire and brimstone" in the area now known as Yellowstone, people refused to believe such a place existed. Retelling the story later, listeners assumed he was hallucinating. Modern-day visitors may well feel the same.
Plan ahead
If you decide to visit Yellowstone, plan more than just your lodging in advance. If you hope to have a meal at the park's famous Old Faithful Inn — a recommended part of the park experience — make your reservation as soon as you know your travel dates. (If you are unable to get a reservation, however, you can still enjoy the historic building. The real charm is in its spacious, classic architecture. Bring a book and relax in the comfy sitting areas. In colder temperatures, staff light the fireplace, making it a cozy place to wait out a few hours of inclement weather.)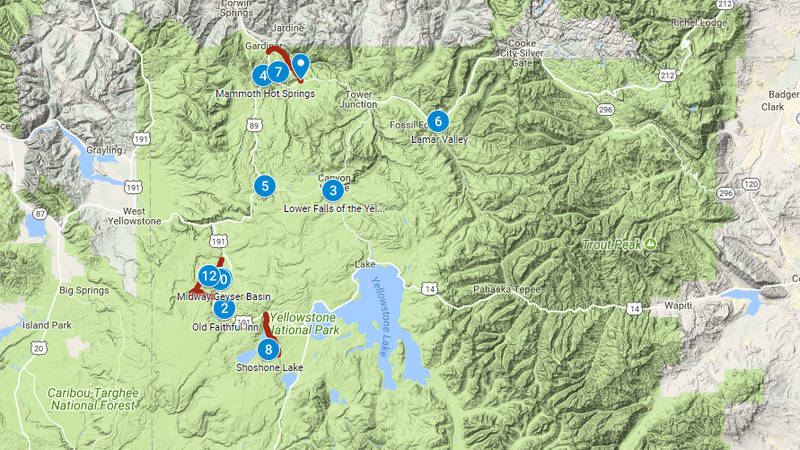 See a Map
See some of our favorite places at Yellowstone listed in this article.
See more ›
Likewise, it's helpful to consult the Park Service website to plan ranger tours in advance; also consider booking any tours through private companies as soon as you know your travel dates. Nothing beats learning about Yellowstone from the expert interpreters and storytellers who live and work there, and tours give you a chance to ask questions and get a deeper understanding of what you're seeing and how to customize your explorations.
The majority of tourists visit the park between June and August. To avoid the worst of the crowds, you don't need to visit very far off-season. In mid- to late May, visitors can see baby animals such as bison calves and wolf cubs. September is mating season, when elk are bugling and leaves are changing. Roads are closed during much of the off-season, but the park has spectacular offerings year-round and is considerably calmer from September to May.
If you enjoy cold-weather travel, winter offers a truly different, and quieter, Yellowstone experience. The Grand Loop Road is completely closed, but tour operators offer transportation by snowcoach, and lodges rent snowshoes and cross-country skis to explore at a slower pace. The park's Snow Lodge is cozy and comfortable, many kinds of wildlife still roam the park, and the snow and ice give the park a magical, glittery feel. During cold weather, clouds of steam billow around many geothermal features, providing a more mysterious and even mystical experience.
Where to go: on and off the beaten path
Yellowstone hosted more than 4 million visitors in 2017, making it one of the most popular parks in the country. All of the major attractions will have significant crowds during peak season from June to August — but the crowds are there for a reason. Allow plenty of time to see Old Faithful, the Lower Falls of the Yellowstone, the Grand Prismatic Spring, Mammoth Hot Springs and the other top sights at the park, which are worth the hustle and bustle.
Despite the throngs of people at the best-known attractions, visitors can get away from the crowds by hiking a mile from just about any trailhead in the park — just be sure to travel with a buddy, a can of bear spray and plenty of water. When visiting some of the more popular sights, consider budgeting an extra hour or two to enjoy a side trail. If you're unsure of which trail to pick, ask a ranger to help choose something appropriate for your fitness level.
No matter how far in advance you plan, it's always smart to start the day's adventures at a visitor center. Park rangers are in constant communication and can relay recent wildlife sightings, the timing of geyser eruptions, unexpected road closures or changes in the weather forecast, among many other things.
Before you see the various geysers, mudpots and thermal pools at Yellowstone, visit the Norris Museum near the Norris Geyser Basin. The exhibits explain the science behind the geothermal features at the park, allowing a deeper appreciation of these popular attractions. This geyser basin is also less crowded than Old Faithful with excellent features. The Echinus Geyser offers less frequent but spectacular eruptions.
See the reason Yellowstone got its name. The observation deck at the Lower Falls of the Yellowstone is one of the best viewing areas in the park. Visitors can take a steep but short path to the top of this legendary waterfall and observe the full force of the rushing water — and see the golden, mustard-colored canyon walls up-close that the Yellowstone River, and later the park, were named after.
Don't skip Lamar Valley. This may seem obvious, but because this wildlife mecca is just beyond the Grand Loop Road, a surprising number of visitors miss this attraction. That would be a mistake. This valley is simply one of the best places in the country to see all kinds of animals, and one of the best spots to view wolves. Its serpentine river and lush, flat terrain also offer a beautiful contrast to the mountains, canyons and thermal pools in other parts of the park, giving visitors another view into the region's diverse landscapes.
Staff favorite hikes
NPCA organizes a popular pronghorn program, working with volunteers to modify fencing on private lands near the park so that these animals can migrate safely in search of food. For years, staff have led day hikes with many of these volunteers near Mount Everts in the Gallatin Range where you can see pronghorn herds and other wildlife such as elk and bison. The hike is eight miles each way, but relatively flat and easy. You can arrange a shuttle by parking a second car at the Rescue Creek Trailhead near the park's north entrance or plan an out-and-back trip for the distance you are comfortable hiking. Start at the Blacktail Deer Creek trailhead near the Mammoth Hot Springs area and take the left fork to the Rescue Creek Trail. Walk through aspens, open meadows and sagebrush flats with plenty of wildlife-viewing opportunities. The trail crosses into Montana and leads to a scenic footbridge over the Gardner River. Allow at least four hours each way for the point-to-point hike.
Shoshone Lake is the largest backcountry lake in the Lower 48 that cannot be reached by a road. The lake itself offers clear waters, beautiful views and an ideal spot to picnic, though the real reason to experience this hike is the beauty of the landscape as the flat, easy trail wanders through the forest and past open meadows. If you're lucky, you might even see sandhill cranes or moose enjoying the lake's peaceful shores. The trail is about six miles round-trip. Take the DeLacy Creek trailhead on the south side of the park, west of Gallatin Village. Allow at least two and a half hours for the trip out and back.
The Fairy Falls Trail is an excellent way to experience some the park's hydrothermal features and one of its many stunning waterfalls. Take the Fairy Falls trailhead at the parking lot one mile south of the Midway Geyser Basin (consider starting early, as the lot fills quickly during peak season). From the main Geyser Basin Trail, hike to the overlook offering excellent views of the Grand Prismatic Spring. Then, continue on the easy 1.6-mile hike through pine trees to the delicate 200-foot cascades. Be on the lookout for yellow-bellied marmots, which frequent the rocky sections of the trail. You could turn back once you reach the falls, but we recommend the additional 1.2-mile round trip to see Imperial and Spray Geysers. Spray Geyser is small but very active; Imperial Geyser is larger but less frequent. The area features a colorful steaming pool with mudpots and sinter formations. Allow at least three hours for the full 4.4-mile out-and-back hike.
More wonders beyond the park boundary
No trip to Yellowstone is complete without a visit to Grand Teton National Park to the south. Visitors will be able to see one of the most spectacular mountain ranges in the world. These distinctive jagged peaks formed on a fault line with no foothills, offering dramatic, postcard-perfect views. The park also boasts an excellent bike trail, scenic alpine lakes, chances to see moose grazing in the Willow Flats area, historic barns on Mormon Row and a comfortable lodge with cabins at Jenny Lake. Visitors can opt to fly in to Jackson, Wyoming — a fun tourist town with Old West charm — and start their journey here before heading north on the John D. Rockefeller, Jr. Memorial Parkway to Yellowstone.
Visitors exploring the north side of Yellowstone should consider a drive on the Beartooth Highway (route 212), one of the most scenic byways in the country. The road starts in the park at Tower Junction and travels northeast into Montana through three national forests, offering spectacular views of the Absaroka and Beartooth Mountains, alpine tundra, glacial lakes, expansive plateaus, wildflowers and wildlife. Note that the road closes in winter or when weather makes it impassable; it is generally open from Memorial Day weekend to mid-October.
Chico Hot Springs is a private resort about 30 miles north of Yellowstone that uses thermally heated water to fill its outdoor pool and hot tub. The resort, which is listed on the National Register of Historic Places, offers day passes to the pools as well as a variety of overnight accommodations. A soak in the naturally heated water is a safe way to enjoy the area's geothermal energy while relaxing after a day of adventures.
If you're heading north of Bozeman, consider stopping at two recommended state parks. The Missouri Headwaters State Park offers access to the beautiful and historically significant setting where three rivers converge to form the Missouri. And the Madison Buffalo Jump State Park preserves one of the limestone cliffs used for thousands of years by Native Americans to stampede bison, a traditional hunting method.
Stay safe
The altitude and geography at Yellowstone can contribute to extreme variations in weather. Be prepared for a range of temperatures and weather conditions. The altitude can also make visitors feel dizzy and short of breath. Drink plenty of water and avoid strenuous adventures for the first day or two while your body adjusts.
Though you may want to avoid the "beaten path," never actually go off-trail at Yellowstone. Visitors can accidentally step in thermal pools and severely, even fatally, burn themselves.
Stay On Top of News
Our email newsletter shares the latest on parks.
Never approach wildlife. Animals that seem calm and gentle can become aggravated and unpredictable at a moment's notice. You are a guest in their home, so remember to give them plenty of space.
Some of the features that make Yellowstone special, including its hot springs and large, charismatic wildlife, also make it dangerous for very young children. Consider waiting until the kids are old enough that they do not need constant supervision — they'll be able to remember the experience better, too.
Have you taken a trip to Yellowstone? Tell us about your adventures and share your photos and videos at MyParkStory.