© DAVID MUENCH, MUENCH PHOTOGRAPHY INC.
Summer 2018
The Flower Shot
Photographers' 'Holy Grail': catching the peak of the rhododendron bloom in Redwood National Park.
Redwood photography is hard. Despite your best efforts, photos often capture only a small fraction of the gigantic trees. At the foot of the towering trunks, light is especially dim on cloudy days, making images a grainy blur of grays, browns and greens; on clear days, sunlight casts chaotic, visually confusing shadows. Add to this intermittent drizzle and fog, and you've got the makings of photographic frustration.
Enter our hero: the rhododendron. Deep in the old-growth forests of Redwood National and State Parks in California, spring is heralded by pale pink blossoms of native rhododendrons. From about mid-May to mid-June, branches draped in cotton candy-like puffs of petals provide both a touch of color and a focal point that help photographers nail the redwood photo challenge.
"To get the shot, you have to have everything come together," ranger Mike Poole said. "You have to have a blooming rhododendron lined up with redwood trees in an eye-appealing way."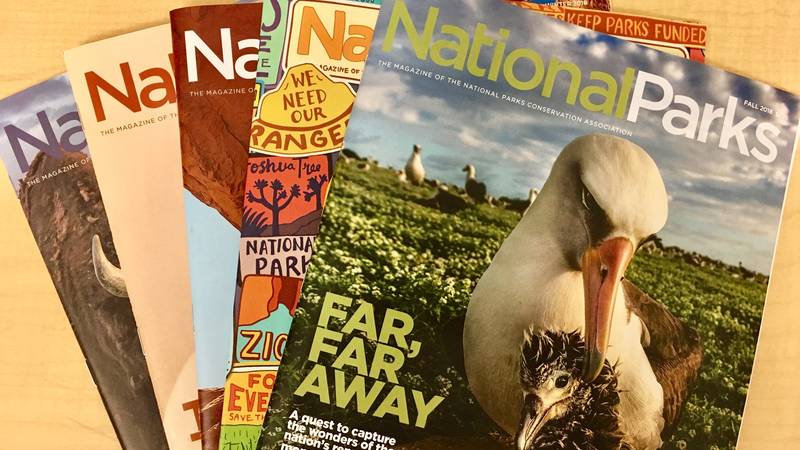 Subscribe to
You can read this and other stories about history, nature, culture, art, conservation, travel, science and more in National Parks magazine. Your tax-deductible membership donation of $25 or more entitles…
See more ›
Photographers from around the world hoping to catch the peak bloom call the park to ask when they should book their plane tickets. "Ranger Mike" tells them nature doesn't run on a calendar and warns that a single rainstorm can knock off all the flowers.
Undeterred, hundreds make an annual spring trip to Redwood. Some wait for weeks to see the flowers. Others hike the same trails every day, marking locations of rhododendron buds on a map so they can monitor their bloom status. Occasionally, patience and preparations are rewarded with the kind of colors and mystical light photographers dream about.
"If you're lucky enough to get low fog and sun rays lighting up the fog, that's kind of the holy grail of redwood and rhododendron photos," Ranger Mike said. "That's a difficult thing to catch."
About the author
Emily Mount

Emily Mount worked as a national park ranger at 10 national parks across the West. Today she is a naturalist and photography instructor for Lindblad Expeditions/National Geographic and a freelance environmental writer and photographer.