More than four thousand acres of mineral-rich private land will now become part of Petrified Forest National Park thanks to a generous donor
The first time NPCA's Arizona Program Manager Kevin Dahl saw the McCauley Ranch at Petrified Forest National Park, he was with a group of scientists and park enthusiasts exploring private lands identified for eventual addition to the park. The spacious McCauley piece of high-elevation desert covers 4,265 acres near the famous fossilized trees that draw some 630,000 visitors each year to this dusty, quiet area an hour east of Winslow, Arizona.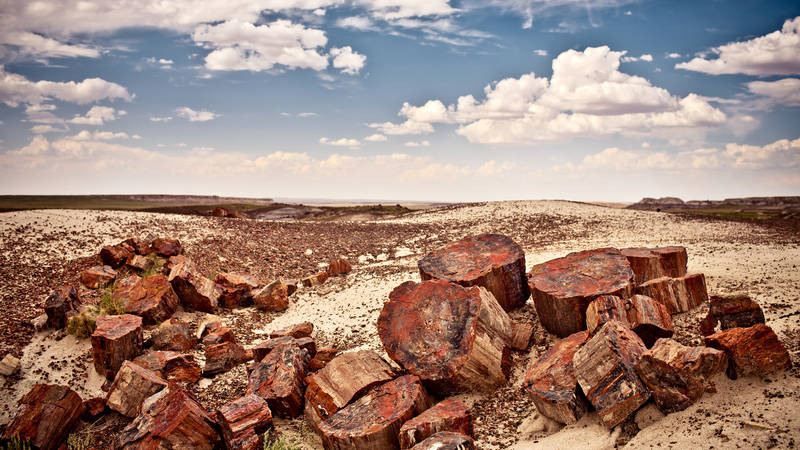 Park
Petrified Forest is best known for its ancient trees that have crystallized over 225 million years into rainbow colors. The park also features fossils from huge 18-foot crocodile-like creatures known…
See more ›
Kevin was familiar enough with the wide-open skies of the Petrified Forest and the breathtaking views of its Painted Desert—how the captivating pinks and purples and all manner of blues, greens, and grays, seem to shift and brighten with every subtle change of sunlight. He was struck by the size of the ranch, though he wasn't shocked; forage is so sparse in the desert, any cowhand needs a lot of land to graze just one or two steer.
What Kevin wasn't expecting to see came at the end of the tour, when the group gathered in the waning daylight under a group of cottonwood trees. There, he spotted what at first glance appeared to be a large bird hunched quietly in a high branch. Kevin did a double-take as the lithe creature slowly uncurled and looked down at the group below. It was the first time he had ever seen a porcupine in the wild—a magical moment. The glimpse of a desert animal coming into view after a hot, dusty day is just one of those little surprises that makes this part of the country so special.
Fortunately, after years of private ownership, more people will soon be able to experience the McCauley Ranch. Shortly, the property will officially become part of Petrified National Park, thanks to an elaborate deal brokered between the family who owned the land, The Conservation Fund (an essential partner that now temporarily owns the ranch), and a generous anonymous donor. Oh, and Kevin, of course, who was there throughout the process as negotiations went back and forth, and back and forth again, over the value of this irreplaceable and mineral-rich slice of desert.
The Park Service has been waiting nearly nine years for the opportunity to acquire privately held pieces of land like the McCauley Ranch that are surrounded by the national park boundary, to fully incorporate them into the park. NPCA refers to these pockets of private land as "inholdings." Inholdings often become sites for trophy homes and other incompatible development that can change the whole character of the surrounding parkland. In 2004, Congress voted to expand the boundaries of Petrified Forest National Park, but didn't put any funding behind the expansion. As a result, some landowners have given up on future government funding, and have hitched their hopes for sale or lease to potash mining companies and other mineral development operations.
Stay On Top of News
Our email newsletter shares the latest on parks.
In this context, the effort to save the McCauley Ranch is a major victory. "The work I do is often about fighting battles that seem to never end, and even hard-earned victories can prove to be temporary," Kevin told me. "It is just so satisfying to know we could come up with an agreement that worked for everyone, so that this land will be added to the park system forever."
About the author
Jennifer Errick

Managing Editor of Online Communications

Jennifer co-produces NPCA's podcast, The Secret Lives of Parks, and writes, edits and moderates online content.