National parks continued to serve as popular tourist destinations in 2017, with dozens of sites seeing all-time highs in numbers of recreational visits. Here are the 10 most-visited places in the National Park System.
The National Park Service released its recreational visitation statistics for last year, and while the overall tally of nearly 331 million visits was a bit below the agency's record-breaking numbers in 2016, many individual parks continued to see all-time highs in visits. Visitors also spent more time in national parks in 2017 than they did in 2016, racking up 1.44 billion hours at their destinations, up about 19 million hours from the previous year.
Here are the 10 most-visited sites in the National Park System, all of which saw more than 5 million visitors last year.
| Park | Recreational Visits |
| --- | --- |
| 1. Blue Ridge Parkway | 16,093,765 |
| 2. Golden Gate National Recreation Area | 14,981,897 |
| 3. Great Smoky Mountains National Park | 11,388,893 |
| 4. Gateway National Recreation Area | 9,190,610 |
| 5. Lincoln Memorial | 7,956,117 |
| 6. Lake Mead National Recreation Area | 7,882,339 |
| 7. George Washington Memorial Parkway | 7,562,793 |
| 8. Natchez Trace Parkway | 6,326,062 |
| 9. Grand Canyon National Park | 6,254,238 |
| 10. Vietnam Veterans Memorial | 5,072,589 |
A few other interesting facts from the National Park Service: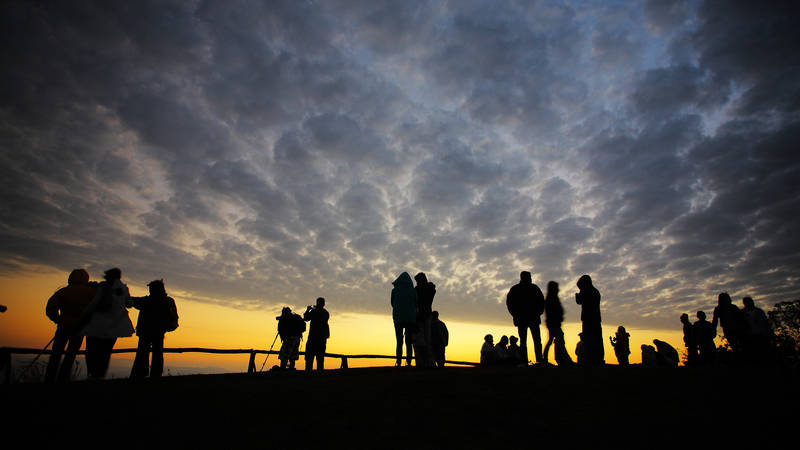 Blog Post
Every year, the Park Service releases its official statistics on visitation at national park sites around the country. How does the agency come up with these numbers? With vehicle multipliers,…
See more ›
Just 27 park sites were responsible for half of all the recreational visits across the park system.
Of the 385 national park sites that count their recreational visits, 61 set records for all-time highs. These parks include landmark historic sites like Little Rock Central High School National Historic Site, which topped more than 170,000 visits for the first time, as well as high-traffic destinations like Grand Canyon National Park, which topped 6 million visits for the first time.
Great Smoky Mountains continued to be the most-visited of all national parks (versus park sites with other designations, such as national battlefields, national historic sites, national monuments and national seashores). This overwhelmingly popular destination saw 5 million more visitors than Grand Canyon, the second-most-visited national park, and both set visitation records in 2017.
Read a statement from NPCA President and CEO Theresa Pierno on the significance of these statistics, an NPCA explainer on the methodology behind how the Park Service tracks these numbers, and the official Park Service press release with other interesting facts about visitation in 2017.
Stay On Top of News
Want more great national park stories and news? Join our email list and get them delivered to your inbox.
About the author
Jennifer Errick

Managing Editor of Online Communications

Jennifer co-produces NPCA's award-winning podcast, The Secret Lives of Parks, writes and edits a wide variety of online content, and manages NPCA's style guide.