© ALEX MESSENGER/TANDEMSTOCK
Spring 2018
500 Islands, 2 Paddlers, 1 Scrabble Board
The writer and his wife's aunt pack up their gear and grub, hop into a canoe, and venture into Minnesota's Voyageurs National Park.
Is "vinings" a word?
Jane and I pondered the question as she considered placing her tiles on the Scrabble board. If the word stood, Jane, who is my wife's aunt, would play all seven letters on her rack, and she would collect an extra 50 points that would all but ensure her victory.
Playing words that don't exist is a perfectly acceptable tactic in Scrabble, and the onus was on me to challenge her move. The problem: Who would play the role of arbiter? We hadn't packed a dictionary in our canoe, and in all likelihood, we were alone on this heavily forested island, one of the largest in northern Minnesota's Voyageurs National Park. With no cell service, we couldn't call anyone or check the word online. But we weren't exactly complaining: After all, experiencing this complete isolation was one of the reasons we had been drawn to this place. A Scrabble impasse seemed a very small price to pay.
As the wind shook pollen-laden white pine branches and deposited golden dust on the calm waters of Namakan Lake, Jane mused playfully: "The vinings on the wall … The wonderful vinings of the leaves … The vinings throughout their home were exquisite." Amused by her deliberations, I looked on as Jane placed the word on the board. She went on to win the game — one of many we played over the course of our four-day trip — by nearly 100 points.
Voyageurs appealed to me the moment I saw it on a map years ago. The name itself sounded like a personal invitation to this native French speaker, and the park's patchwork of islands and lakes and near-total absence of roads offered a promise of rare wilderness. When I later learned of Voyageurs' wolves, northern lights and rocks that are half as old as the Earth, I was sold. I knew my chances of spotting wolves and northern lights would be slim, but I figured the ancient rocks wouldn't get away.
My first inclination was to visit by myself. The park's vast expanses of water and boreal forests seemed to lend themselves to solitude and introspection. But then I started picturing what it would be like to paddle solo across a large body of frigid water. What if I capsized? Did I actually want to be alone with my thoughts for four days?
I realized that I didn't, and I had a particular travel companion in mind. Jane, a retired teacher, lives within driving distance of the park, and for years, we had talked about paddling Minnesota's lakes together. I also really enjoy spending time with Jane. I have always found it easy to talk to her about important matters and trivial ones, and many of these conversations have taken place over late-night Scrabble games. When my wife and I lived in Jerusalem several years ago, Jane and I traveled together in nearby Jordan (she won the Scrabble game we played in front of Petra's ruins). She kept her sense of humor as we drove around barricades of smoldering tires that had been erected during nationwide protests the previous day. And she stayed calm when our rental car's clutch started to give out and it looked as if we might get stuck in the countryside.
We have grown even closer in the years since. My two young daughters no longer have maternal grandparents, and "Auntie Jane" has become a de facto grandmother to them, sending letters and traveling to Washington, D.C., for birthdays and holidays. Once, when she was visiting, she spent hours helping me assemble a 400-screw playhouse.
I knew Jane was adventurous — and I figured her snow-shoveling skills would translate well to paddling — but I wasn't sure what she'd make of my offer. So I was excited when she accepted seemingly without a hint of hesitation. Jane had paddled in northern Minnesota's Boundary Waters Canoe Area Wilderness long ago but had never been to the state's only national park, so it would be a discovery for both of us. I booked a canoe from a local outfitter and reserved our campsites online.
As our trip approached, I began to get nervous. International Falls, the gateway town to Voyageurs, calls itself the "Icebox of the Nation," and Voyageurs' lakes are often frozen until May. By picking an early June departure date, I thought I had ensured we'd be able to paddle rather than skate, but would we be miserably cold? I also started to second-guess the route I had devised. The distances between campsites looked small enough on the map, but would they still look that way when winds and currents conspired against us? Was I overestimating the paddling abilities of a 44- and 70-year-old duo? My wife half-jokingly said that I should review CPR procedures ahead of the trip. I shrugged off her suggestion at first, but after she went to bed, I looked for our first-aid handbook.
Bringing the Scrabble board was always a given, but it turned out that Jane and I have different philosophies when it comes to preparing for a camping trip. I considered my work done once I had gathered two backpacks, pads, sleeping bags and a couple of small tents. I figured we would stop by a grocery store in International Falls and load up on food and water there. Jane had other ideas. She bought four days' worth of breakfasts, lunches and dinners ("We're going to have some interesting ones," she said) and stopped by a friend's house to collect what she considered backcountry essentials, including a portable water filtration system, waterproof canoe packs, tethers to keep bags from moving around and inflatable canoe seats.
Jane picked me up at the Minneapolis airport, and the next morning we loaded everything into her car for the four-and-a-half-hour drive to Voyageurs. It was a sunny, warm spring morning, and my fears about the weather started to evaporate.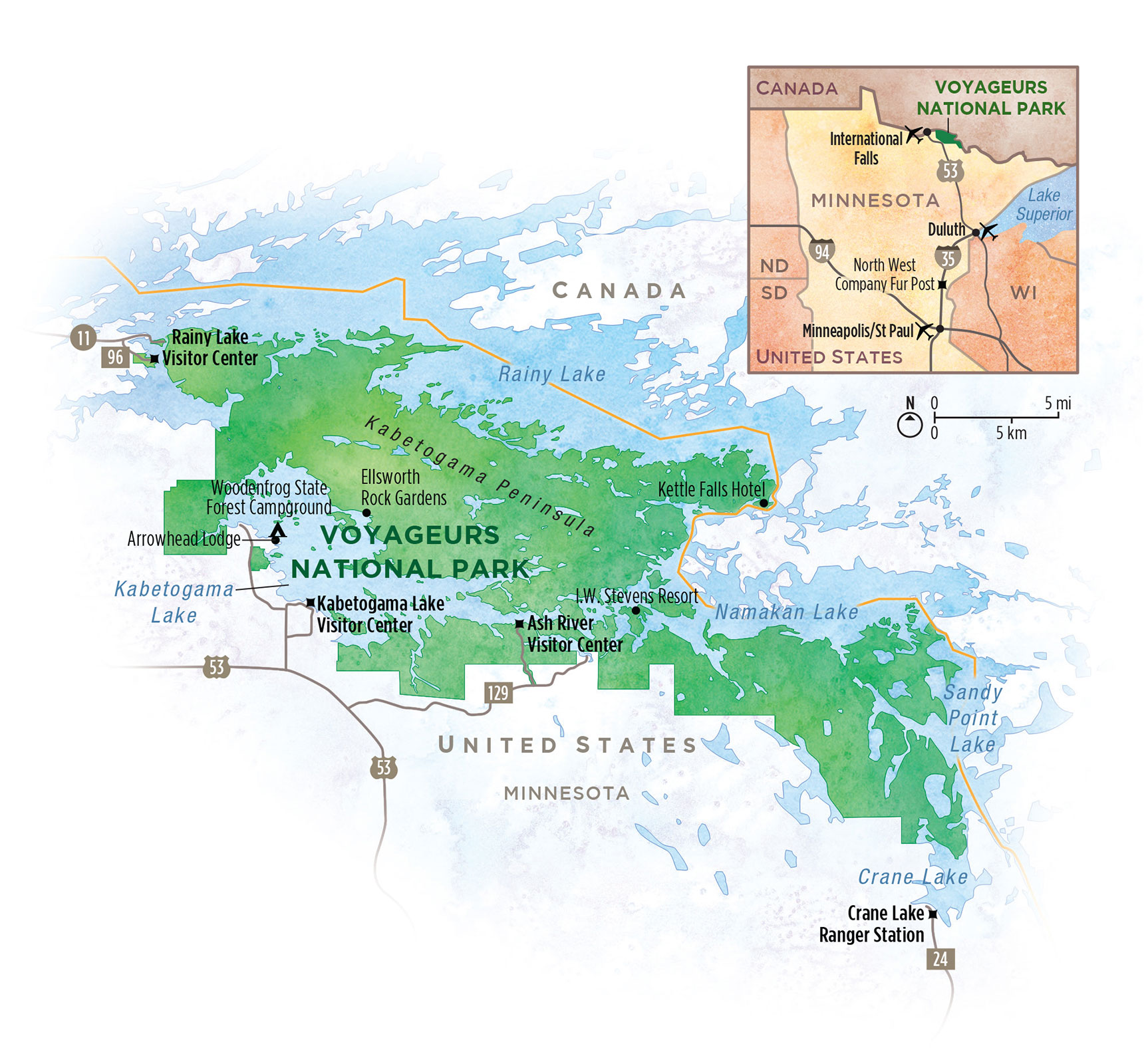 When we filled up on gas and coffee outside Duluth, the gas station attendant told me that despite living two hours away from Voyageurs, he had never been there. A pattern started emerging: On a previous trip to Minneapolis, I had found just one book about Voyageurs in one of the city's largest bookstores and none at the local library. My Minnesota guidebook didn't even include Voyageurs as one of the highlights of the state's northeastern region. I began to wonder why this national park seemed like an afterthought to the people who live here.
When I met Mary Graves, Voyageurs' chief of cultural and natural resources, later that day, I asked her why the park is not more popular. One reason is the appeal of Boundary Waters, which is nearby but larger; another is the context surrounding the birth of the park, Graves explained. The idea of creating Voyageurs first emerged in the late 19th century, and the proposal later gained some big-name supporters such as conservationist Aldo Leopold and aviator Charles Lindbergh. Still, Graves told me, many locals opposed the creation of a park that would restrict hunting and force some people to sell and eventually leave cabins that had been built within park boundaries. At one point, when tensions were running high, someone left a wolf carcass outside a park office. "There was a lot of anger in the early years, but that has changed a lot," said Graves, whose late husband's family had owned one of the cabins in the park.
While the hordes of tourists the park's creators promised have failed to materialize (only a little more than 215,000 visit each year on average), people who do venture here often get hooked. "It has something that really takes you," said Graves, who has worked in the park for nearly four decades.
That night, we stayed at the Arrowhead Lodge on the shore of Lake Kabetogama. As Jane and I played a game of Scrabble on the screened porch of one of the lodge's cabins, a pod of white pelicans alighted in a quiet cove. The discovery of a tick on Jane's leg was not enough to dampen her spirits. A lopsided defeat did not make a dent in mine. We both felt ready to take in Voyageurs' wildness.
The next morning, our canoe was waiting for us when we arrived at the Ash River Visitor Center parking lot, and I carried it to a small bay under the gaze of a bald eagle perched high on a pine. Graves had told me how the park had worked hard to boost the eagle's population, and we took the bird's presence as a good omen for the trip. We loaded up our packs and cooler, donned our lifejackets, and at 10:42 a.m. we were off, gliding on smooth water scintillating in the morning sun. "I think we make an early-on pact that we won't tip over," Jane said.
TRAVEL ESSENTIALS
A camping trip in Voyageurs National Park leaves little room for improvisation. Reservations are required for the park's 154 tent sites and 94 houseboat sites, and the prime spots are snatched up quickly during the summer months. Campers should either bring in all their water or use a combination of treatment options, because simply boiling or filtering lake water will not eliminate all algal toxins. Besides stunning views, campsites include picnic tables, bear-proof food lockers and fire rings with metal grates.
Kettle Falls Hotel on the Canadian border is the only lodging available inside the park. The hotel, which is accessible by boat or float plane, offers a boat shuttle service from Ash River Visitor Center. Several outfitters and lodges near the park rent canoes, motorboats and houseboats; visitors also can join a guided boat tour during the summer season. Anglers are welcome to fish in the park's waters, which are teeming with walleye, smallmouth bass and crappie, but they must pick up a Minnesota fishing license first.
In the winter, Voyageurs turns into a snow and ice wonderland. Visitors can pick up snowshoes and cross-country skis, boots and poles for free at the Rainy Lake Visitor Center. Park staff maintain snowmobile trails and — depending on conditions — two ice roads for access to ski trails, ice fishing and a sledding hill on Sphunge Island.
Few books about the park exist, but prospective visitors will find lots of useful information at voyageurs.org, the website of Voyageurs National Park Association.
Voyageurs' 218,000 acres include four major lakes, 26 smaller ones, 655 miles of coastline and more than 500 islands. A few trails are accessible from the three visitor centers, but most of the park can be reached only by boat once the lakes thaw (in the winter, park staff maintain ice roads for cars on two of the lakes, as well as more than 100 miles of snowmobile trails). I was nervous about paddling across a large, open lake, so after some research, I had settled on exploring the western part of Namakan Lake, where the maze of islands between Ash River Visitor Center and Kettle Falls would shelter us from winds and waves.
Navigating Voyageurs' lakes is not exactly difficult — numbered buoys ensure that paddlers don't get lost — but it can be unnerving at first. From a distance, forested islands and coastline blend together into a wall of green, and time and again, we thought we were headed for a dead end, when suddenly a small passageway materialized before us. Every now and then a motorboat passed us by, and our canoe keeled sideways in the boat's wake. After a while, though, I got the hang of paddling and was able to lift my gaze to the scenery unfurling on either side. The brand-new leaves of isolated birch and aspens created patches of vivid light green amid large stands of darker spruce and pine. In sheltered coves, the water surface was so smooth that the reflection was as crisp as the original. As we found our rhythm, we spoke less and less, and stretches of comfortable, contemplative silence grew longer.
After a couple of hours of steady paddling, we arrived at our campsite on Williams Island. I had originally thought the canoe pads were an unnecessary luxury, but my back begged to differ, and I had to admit Jane's foresight was already paying dividends.
The voyageurs who gave the park its name were French Canadians who came to the region in the 18th century in search of beaver skins and other pelts to satisfy Europe's appetite for fur coats and hats. The local Ojibwe people traded furs of the animals they trapped for the voyageurs' manufactured goods, including knives, blankets, guns, kettles and glass beads. The trading partners had a mutually respectful relationship, by and large: Intermarriage was common, and the voyageurs adopted the Indians' birch bark canoes and accepted that the Ojibwe controlled the price of pelts. "They were very strong business folks," Graves said. "They very much knew what they were doing." The fur trade fizzled out as beavers became scarce and European fashion tastes moved on to silk. The voyageurs left no structures behind, but Graves said glass beads have been found at Native American archaeological sites throughout the park, including locations that are now campsites or picnic sites. I spotted plenty of pistachio shells and a total of $1.78 in change at our campsite, but not a single bead.
NPCA AT WORK
Fishing is one of the most popular activities at Voyageurs, so it makes sense for fishermen and park advocates to work together to protect the park's natural resources. Over the past five years, the Rainy Lake Sportfishing Club and NPCA — with the help of youth crews from the Conservation Corps — have planted more than 1,000 hardwood trees just outside the park on the banks of the Rat Root River, a tributary of Rainy Lake, one of the park's major lakes. In the process, the crew stabilized nearly 80,000 square feet of shoreline. Walleye prefer spawning along rocky or gravelly river banks; preventing erosion ensures that freshly deposited eggs are not covered with silt. Christine Goepfert, NPCA's senior program manager for the Midwest, said the collaboration has been a great success. "It benefits the river, the walleye and the water quality of the park," she said, "but it also benefits the landowners who don't end up losing land to erosion."
After a lunch of hummus, radishes, snap peas, salami, brie and baguette, we got back in the canoe to head for Ingvald Walter Stevens' "resort." Stevens, a Norwegian immigrant who lived on the island that bears his name from 1932 until he left in 1979 at the age of 94, spent the vast majority of his time alone, but occasionally rented out a couple of cabins to visitors. (See Stevens' photo on page 60.)
For the 47 years of his stay on the island, Stevens kept a meticulous record of his days, which displayed his dry humor and creative use of capitalization. Among his favorite subjects were insects ("The poet tells us that, in the spring a young man's fancy turns to the thought of love. Mine turned to the thoughts of mosquitoes."), animals he considered pests ("The hunting season opened with a great big bang! In fact, two bangs. Shot two squirrels before breakfast.") and the weather ("the time has come to say goodby to you, miss may. you may think of yourself as a svelte lady, but my opinion of you, weatherwise, is that you were a great big louse."). Our June afternoon was no louse, and I was sweating in my T-shirt and shorts as we reached Stevens' dock. We were alone, and the doors of the buildings were unlocked, so the visit felt voyeuristic and vaguely illicit. As a gentle breeze blew through the cattails lining the shore, I pictured Stevens facing west and enjoying the same warm late afternoon sun after a hard day's work tending his vegetable garden.
Later that night, a descendant of one of the few beavers that evaded capture a couple of centuries ago swam right by our campsite. After Jane retired to her tent, I sat on a 2-billion-year-old slab of granite facing the water. Stars lit up one by one, and wood frogs began their serenade. The wings of a large moth vibrated near my ear, and a loon called in the distance. The night was both quiet and full of sounds, serene and exhilarating. I stayed a little while longer, hoping to catch sight of the northern lights. Seeing none and yawning, I walked over to my tent.
The next day, our destination was the Kettle Falls Hotel, which held the promise of a proper hot meal and a beverage tastier than filtered lake water. Our route there followed an invisible line separating the United States on our left from Canada on our right. At times, the pathway was so narrow that we might have ventured inadvertently into foreign waters. "That way it's an international trip!" Jane said.
The Kettle Falls Hotel is the only lodging in the park, and from the hotel's docks, people have the rare opportunity to look south into Canada. The interior decor of the century-old hotel, which features mounted walleye and bass trophies, reflects the tastes of the clientele and staff, many of whom are fishing enthusiasts. We grabbed a drink at the bar whose sloping floor earned the hotel the nickname "Tiltin' Hilton" and learned from the owner that he doubles up as a safety patrol, having rescued people whose boats had capsized or who suffered heart attacks on the water.
Both reassured and alarmed by this bit of knowledge, we walked back to our canoe under a scorching late afternoon sun and cirrus clouds gathering in the west. The hotel was hardly crowded, but I felt myself looking forward to the calm of our campsite.
SIDE TRIP
On our way back from Voyageurs, Jane and I stopped at the North West Company Fur Post, a reconstructed trading post located a couple of hours north of Minneapolis. We were still beaming with pride over our paddling accomplishments when we learned that the voyageurs could cover up to 100 miles in a single day — more than three times the distance we had paddled over a four-day trip. "They were at Olympic level," a costumed re-enactor told us when he stepped out of character. Voyageurs frequently carried two 90-pound packs on their backs, and hernias were a common occupational hazard. And they did it all on a meager diet of wild rice, corn and grease, with smoking breaks every few hours.
I woke up in the middle of the night to the faint sound of distant thunder. Jane had also heard the rumbling and was already wearing her pink rain poncho when I emerged from my tent the next morning. The horizon was lined with dark, gray clouds apparently coming our way. I favored leaving before the weather deteriorated further, but Jane, who had been caught in a storm on a large lake once before, preferred to wait. Ultimately, we compromised: After two hours without rain or thunder, we decided to give it a go.
By the time we got to our last campsite of the trip on Namakan Island, skies had cleared. A hummingbird zoomed by, and a swallowtail fluttered around the picnic table. The breeze picked up and whisked away mosquitoes and black flies, and we both tried to take it all in. "The scenery doesn't vary much," Jane said. "You go around one bend, and another bend, and it continues. But I'm going to miss looking at what I'm looking at."
We left the next morning under cloudy skies and were soon facing headwinds and waves. Paddling was harder and the going slower. We hugged the coast to find calmer waters, and we picked short-distance goals to feel as if we were making progress. "So I'm heading for that pine that looks like a toilet brush?" Jane asked.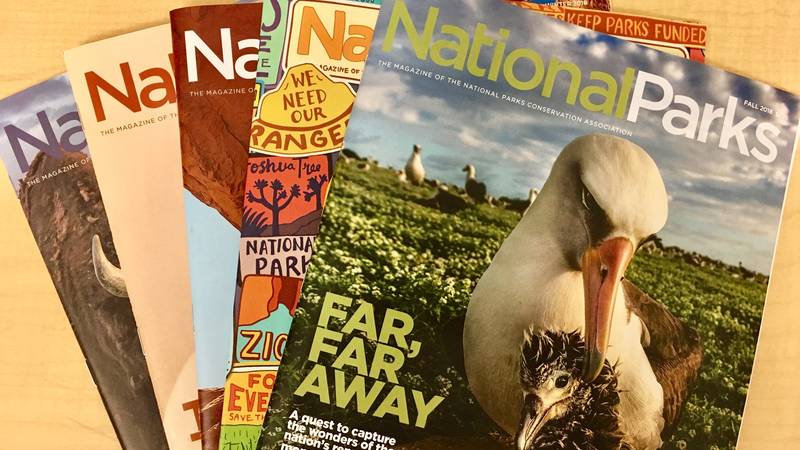 Subscribe to
You can read this and other stories about history, nature, culture, art, conservation, travel, science and more in National Parks magazine. Your tax-deductible membership donation of $25 or more entitles…
See more ›
Finally, after two and a half hours of paddling, we arrived at the cove near Ash River. We stepped on the shore, muscles aching, and, still sporting our lifejackets, we embraced. "We did it!" we exclaimed in unison. We checked for ticks one last time and were back in the car just before raindrops the size of silver dollars splashed on the windshield.
We hadn't seen any moose, bears, wolves or northern lights, but Voyageurs' landscape of water, trees and sky had "taken" us, as Graves would say, and I started to understand why Stevens had endured harsh weather and bugs for so long. I was sad to leave, but I also felt relieved and triumphant. I had worried that the weather would spoil our trip and that Voyageurs' lakes were just too big for our paddling abilities, but we had canoed confidently under sunny skies for the better part of four days. We hadn't capsized even once.
About the Photographer
ALEX MESSENGER is a Minnesota-based photographer and writer. He's currently writing a survival memoir chronicling a grizzly bear attack in the Canadian tundra.
I learned the next day over lunch in Minneapolis that I wasn't the only one who had had doubts. Jane told me that about 20 minutes before she picked me up at the airport, she briefly considered backing out, and that in the car, she was asking herself: "Can I do this?" After paddling for more than 30 miles, she had found the answer.
"I'm proud of what we accomplished," she said. "It feels good for where I am in my life right now."
As for "vinings": Once we had cell service, Jane looked it up on her phone. "Oops," she said, as we sped along the highway back to civilization. "Not a word!"
About the author
Nicolas Brulliard

Senior Editor

Nicolas is a journalist and former geologist who joined NPCA in November 2015. He writes and edits online content for NPCA and serves as senior editor of National Parks magazine.