National parks benefit from Georgia's Plastic Pollution Awareness Day
Single-use plastic products are inescapable—from drinking straws to grocery bags to water bottles. The vast majority of these items do not get recycled. They end up in landfills and waterways where they don't degrade. In other words, they will outlive us and cause a lot of environmental, health and financial problems along the way.
While addressing the rampant use of these plastics can be a daunting task, I'm inspired by people who are tackling this problem head-on, especially younger generations who will be dealing with these problems longer than most of us.
Meet Hannah Testa, a 15 year-old environmental motivator from Georgia and founder of Hannah4Change. Testa has worked with the Georgia General Assembly for the past two years to recognize today, February 15, as Plastic Pollution Awareness Day in Georgia. The goal of the day is to educate Georgians about excessive plastic use and waste so they can make simple changes to reduce plastic pollution.
"The earth is what we all have in common," says Hannah Testa in this 2017 video on her passion for reducing plastic waste.
"This day will make Georgians aware of the impact plastic pollution has on our environment," said Testa in a statement. "The average American uses 500 plastic bags each year, and the U.S. uses 500 million plastic straws each day that end up polluting our oceans. By 2050, plastics in the ocean will outweigh the fish, and plastic pollution kills countless birds and sea animals, contributes to coral reef decline and shows up in our food chain."
From a young age, Hannah recognized that animals need a healthy environment and has sought to make the world better for those who don't have a voice, such as rhinos, elephants and marine wildlife. She has spoken to thousands of people about reducing their plastic footprint.
Among the many reasons why Hannah's actions inspire me is because my love for the environment is also rooted in Georgia. I participated in river clean-ups along the Chattahoochee River, which anchors the Chattahoochee River National Recreation Area in Atlanta. I have worked along the Georgia barrier islands and helped rescue marine wildlife trapped in monofilament fishing line and examined sea turtles post-mortem to find plastic objects they had ingested. And while places like Cumberland Island National Seashore are remote, they also suffer from plastic pollution. Volunteers collected more than 1,100 pounds of plastic there at a Clean Coast beach cleanup in 2009, showing that plastic pollution doesn't stay in one place and gets carried from inland to the coast.
Georgia is not unique. National parks around the country are suffering from plastic pollution — ranging from large pieces of litter to microplastics from synthetic materials. Cleaning up trail and waterway litter, reducing wildlife hazards, and hauling waste to landfills cost parks money and takes away from the visitor experience.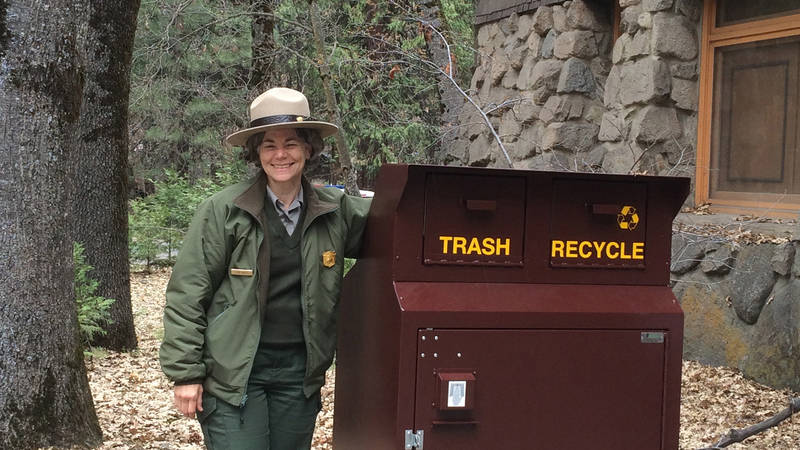 Blog Post
NPCA recently studied the waste at three national parks as a first step toward implementing zero-landfill initiatives under the leadership of corporate partner Subaru. Here's what we found, how visitors…
See more ›
To raise public awareness about the trash problem at our parks and to better educate park visitors on how to lessen their environmental footprint, the National Parks Conservation Association is partnering with Subaru of America, Inc. and the National Park Service to reduce the amount of visitor-generated waste that national parks send to landfills at Denali, Grand Teton and Yosemite.
A 2016 survey conducted by Subaru and NPCA found that a majority of Americans (59 percent) were not aware of the waste management challenges facing national parks. It also found that while more than one-third (35 percent) of park visitors use disposable water bottles, nearly four out of five (79 percent) visitors would support removing single-use bottles in parks to help reduce waste.
Thanks to park visitors becoming more aware and bringing their own reusable bottles, there is a trend at national parks to install refillable water stations, and increasingly park concessioners have been dropping the sales of disposable bottled water.
Stay On Top of News
Our email newsletter shares the latest on parks.
There are many ways you can reduce your plastic footprint, such as buying fewer single-use plastic items, bringing your own bags with you when you shop, and joining beach cleanups to help collect the trash that ends up in our oceans and waterways. Get more tips and information on the Park Service and the National Oceanic and Atmospheric Administration's interactive map on microplastic pollution‪‬‪‬.
Testa is doing her part to leave the world better than she found it and is inspiring others with her knowledge, passion and tools to get it done. Find out how you can start a Plastic Pollution Awareness Day in your state by visiting Hannah4Change.
About the author
Sarah Gaines Barmeyer

Deputy Vice President, Conservation Programs

Sarah Barmeyer is Deputy Vice President for NPCA's Conservation Programs where she coordinates priority initiatives for water restoration, landscape conservation, wildlife, and clean air.