Winter 2018
In the Balance
In his 1968 book about Arches, "Desert Solitaire," Edward Abbey warned that tourists and cars would destroy the park he loved. Was he right?
I arrive at Arches National Park before sundown, lured by something that's no longer there. Nine miles from the entrance, on a gentle crest near the heart of the park, I turn down an inconspicuous gravel road. Moments later, the shoulder widens and a simple ramada flanked by picnic tables rises from the red rock and brush. I park, grab my pack and settle onto a patch of nearby slickrock.
The gravity-defying figure of Balanced Rock — a 3,600-ton boulder atop a narrow pedestal — blushes in the waning sunlight. The La Sal Mountains, still snow-capped at the peak of summer, line the far horizon. An evening breeze picks up and swirls. Remarkably, and for the moment, I am alone, basking in serenity amid sandstone, juniper and limitless sky.
This peaceful spot is the site of the little National Park Service trailer where Edward Abbey spent two years as the lone seasonal ranger in what was, at the time, Arches National Monument. The trailer itself is long gone, but the book that was born here lives on. First published 50 years ago in 1968, "Desert Solitaire: A Season in the Wilderness" is a raw, spirited paean to canyon country, the kind of work that attracts not just readers but devoted followers.
I already loved the desert before reading Abbey, drawn by the landscape's extremes and captivated by its golden light and blue skies. But to read "Desert Solitaire" was to revel in a different aspect of a seemingly inhospitable place: the profound sense of freedom it affords us. It was a reaction, I would come to find, that I shared with many others.
If the desert is a beautiful but unforgiving land of contrasts, perhaps Abbey was its perfect scribe. Guided by his belief that a writer should be "fueled in equal parts by anger and love," he was a hopeful contrarian whose prose was as lyrical as it was irascible. "He was the Mark Twain of the American desert; he was bad behavior and big-hearted ideas," wrote conservationist and author Terry Tempest Williams. Through dozens of books and essays, "Cactus Ed" espoused an anarchistic brand of environmental advocacy that makes him a polarizing figure to this day — and one can't help but feel that's the way he'd like it. (In a final act of subversion, he got his closest friends to secretly bury him in Arizona's Cabeza Prieta Wilderness, in a grave marked by a simple stone bearing this inscription: Edward Paul Abbey / 1927 - 1989 / NO COMMENT.)
Over the course of two languid seasons at Arches — beginning in 1956, 15 years before Congress changed its designation from national monument to national park — Abbey looked after the park and its visitors. But he also roamed and communed with the high desert of the Colorado Plateau, chronicling his experiences with a naturalist's eye, a philosopher's mind and a rebel's heart. The result was "Desert Solitaire," his most enduring work, which, despite tepid early sales, went on to garner critical acclaim and a place in the canon of American nature writing. It's not just a love letter to the land; Abbey's physically and psychologically vivid portrait of the desert became a rallying cry for its preservation against the forces of development. "Most of what I write about in this book is already gone or going under fast," he lamented in the preface. "This is not a travel guide but an elegy. A memorial."
In the case of Glen Canyon, the meaning is literal; not long after Abbey explored it by rubber boat, it was flooded by the Glen Canyon Dam and now lies beneath Lake Powell. But in a larger sense, he means the desert itself, whose future he saw hanging in the balance, threatened by everything from mining to the automobile-fueled growth of what he called "industrial tourism." In one of the book's most memorable passages, he described his futile effort to stave off the inevitable by pulling up the stakes driven by the survey crew planning the park's first paved road. As ever, he didn't mince words: "No more cars in national parks."
All of this is easy for Abbey to say — he had Arches, while it was still primitive and idyllic, practically to himself. It's also as frustrating as it is compelling: He inspires us to experience the wonder of the desert as he had even as he warns us not to bother, tantalizing us with a glimpse of paradise but proclaiming it already lost. So I've come here on the occasion of the 50th anniversary of "Desert Solitaire" to trace Abbey's footsteps and to see for myself if his paradise can still be found, whether his spirit remains and how Arches has been affected by the soaring number of motorized tourists he feared.
I RISE EARLY THE NEXT MORNING and find the park aglow in the wake of sunrise. Spanning nearly 77,000 acres of southeastern Utah desert, Arches boasts the greatest density of natural arches on the planet — more than 2,000 in all — making it hard to decide where to start. I settle on the easy trails of the Windows Section, where the features are almost architectural: the stout citadel of Turret Arch, the flying buttresses of Double Arch, and the namesake North and South Windows.
Although it's early, the main trails are already crowded, so I take the more scenic primitive loop and pass only one other hiker along the way. Stones stacked into cairns mark the path, and wooden signs urge hikers to stay on the trail; even a single footstep can mean decades of damage to the delicate biological soil crust that covers much of the park.
I catch a whiff of diesel exhaust as I return to the parking area; the first of the day's tour buses is rolling up, my cue to roll out. I make my way to the Park Avenue trailhead and spend the rest of the morning among the towering walls and spires there. It's midday by the time I climb out of the mile-long canyon, and it's getting hot.
"Noontime here is like a drug," Abbey wrote. "The light is psychedelic, the dry electric air narcotic." It's also a good time for a bit of shelter from the sun, not to mention lunch, so I head to Moab.
The identity — and the fortunes — of this gritty, free-spirited little town remain closely tied to the park just beyond its borders. Depictions of the arches are everywhere. The chalkboard menu at the cafe where I grab a bite features both a Fiery Furnace (spicy quesadilla) and a Delicate Arch (turkey and avocado served, as you might guess, on a croissant).
During the 1950s, thanks mostly to the uranium mining boom, Moab's population approached 5,000; today, after falling and resurging, it's just a bit over that figure, but the number of people passing through town has skyrocketed. During Abbey's seasons in Arches, the park's annual visitor count was less than 30,000. In 2016, the official tally was nearly 1.6 million. Those visitors (and the 800,000 who go to nearby Canyonlands National Park every year) pump more than $300 million into the local economy and support over 3,800 tourism-related jobs. For the most part, travelers stay in Moab, tripling — even quadrupling — the population on the busiest weekends.
The Park Service has always faced the challenge of reconciling its mandates to provide for both the protection of the parks and visitors' enjoyment, but the record-shattering attendance has put Arches staff between slickrock and a hard place: helping people to know and love this place while keeping them from loving it to death. In May 2015, traffic headed into Arches became so heavy that it spilled onto Highway 191 and backed up for several miles toward Moab, prompting the Utah Highway Patrol to take the unprecedented step of closing the park entrance. A year later, a teenage girl from Texas was killed at the same intersection in a traffic accident. Now, a new traffic light and expanded inbound lanes help to manage the relentless flow into the park.
But there's more to be done inside the gates. "A part of the park experience these days is finding a parking spot," says David Nimkin, senior director of NPCA's Southwest Regional Office. During the busiest months (usually between March and October) all the major parking areas at Arches reach — or exceed — capacity for several hours a day, leading to backups, conflicts, and damage from visitors parking and walking in unsuitable areas.
In response, the Park Service began rolling out a Traffic Congestion Management Plan for Arches and Canyonlands in 2015, soliciting public comment and undertaking improvement projects like the expansion of entry lanes. Some growing pains are inevitable. Most of 2017 was consumed by roadwork — resurfacing all 26 miles of paved roads in Arches — that shut down the lone campground for the season, took sections of the park offline for weeks at a time and forced the park to close most nights.
Most of the roads and parking areas in Arches date back more than 50 years, when today's levels of traffic were inconceivable, and this most recent project will rehabilitate them and increase their capacity. And to ease crowding, Arches is weighing options that range from admission-fee increases to visitor reservations through a timed-entry system that could begin in 2019, a plan supported by NPCA. "We think it's the most reasonable and sensible approach that will go a long way toward helping visitors to experience the beauty, quiet and solitude celebrated by Ed Abbey half a century ago," Nimkin says.
AFTER LUNCH, I VENTURE OFF THE MAIN DRAG to meet Michael Rupp. The district interpreter for Canyonlands' Island in the Sky District, Rupp has agreed to meet me in Moab's Swanny City Park. He tells me he has always been at peace in desert landscapes and now, as a ranger in canyon country, he's found a touchstone in "Desert Solitaire." "Abbey was able to articulate magnificently thoughts that I could barely come up with," he says. "I read it, and I said, 'Yes. That's it. That's what I'm trying to tell everybody about.' He just perfectly encapsulated all that the desert is."
At the same time, "the whole book is a very prickly, uncompromising, purist sort of diatribe on how the desert should be experienced," he says. "There's little wiggle room there for opposing views." But Rupp welcomes the challenge: "Purists," he points out, "always force us to examine our own beliefs."
Like many of Abbey's readers, Rupp often wonders what he would make of things today. "If he were to come to the parks now and see not just the pavement and the motorized vehicles but the RVs, the visitors with the selfie sticks. … What would Edward Abbey think of a selfie stick? Or going back to town to get Wi-Fi to post things on Instagram?"
The question is rhetorical; the prevailing wisdom is that he'd be turning over in his clandestine grave somewhere in the Arizona desert. For Abbey, this place was Eden, sacrosanct. And though Rupp generally regards an abundance of visitors as a good problem to have, he's also been moved by Abbey's battle cry.
"I think a lot of us try to carry on his spirit here," he says, "and probably have on repeat in our minds, 'What would Edward Abbey do?' I like to think I've got him on my shoulder. I don't know if he's the angel or the devil, but I think he's there."
Two blocks away, Abbey's literary spirit is alive and well at Back of Beyond Books, a cozy, eclectic bookstore named after a phrase from his novel, "The Monkey Wrench Gang." A bookcase devoted to works by and about the author is positioned prominently, just inside the front door. Proprietor Andy Nettell notes my punctuality — by Moab standards — and invites me in.
"Back of Beyond Books' inception truly came out of Edward Abbey's death," he says, recounting the memorial held just outside Arches in May 1989, where those close to Abbey celebrated him, then sought a way to further his work. The bookstore opened the following year. Nettell, who previously had been a ranger in both Canyonlands and Arches, became the owner in 2005.
To celebrate the 50th anniversary of "Desert Solitaire," Nettell is working with Clarke Abbey, the author's widow and fifth wife, on reprinting as a chapbook one of the book's most notable — and contentious — chapters, "Polemic: Industrial Tourism and the National Parks," in which Abbey prophesies and decries a future where the parks are overrun by motorized tourists and reduced to little more than theme parks.
NPCA at Work
In the spring of 2016, NPCA staff, along with several partners, brought a group of teenagers from Salt Lake City to Arches. The participants, many of whom had never been to a national park before, explored, heard talks about the park's natural features and history, slept in teepees, met environmental activists, and learned about public lands careers. When one boy didn't show up at bedtime, a trip leader went searching, only to find the teen staring up at the sky. "To see a night sky when you've never seen one before in a dark-sky park is mind-blowing," said NPCA's David Nimkin, who dreamed up the trip.
The coalition — including YouthWorks of Salt Lake City and Friends of Arches and Canyonlands — has since led similar trips to Canyonlands National Park, Hovenweep National Monument and Natural Bridges National Monument and hopes to expand the program. "We want to expose youth to this richness, but also to help them recognize their power and their potential influence in protecting these places," Nimkin said.
Young people interested in understanding how environmentalists can make a difference could take a look at NPCA's role in the creation of an oil and gas lease plan for lands near Arches and Canyonlands. The idea was to bring together conservationists, energy industry executives, business owners and others to devise a blueprint that would allow energy development and also protect wild places and animals. The Moab Master Leasing Plan was finalized in December 2016 and has been lauded as a national model. "We advocated, we got our members to weigh in and I'm delighted to say, as it stands now, it's being implemented," Nimkin said. "It's the most comprehensive and successful master leasing plan in the country."
LEARN MORE ABOUT:
YouthWorks in the parks:
npca.org/youthworks
The Moab Master
Leasing Plan:
npca.org/moabmlp
NPCA's position on visitor management:
npca.org/visitormgmt
Its subject clearly strikes a chord with Nettell. "The parks are facing tremendous pressures, and, politically, it's very difficult for a superintendent to say 'Enough's enough,'" he says. "We just can't keep allowing as many people in as possible. Solitude is one of the reasons people come to these parks, and I'd hate to see that disappear."
The sentiment is pure Abbey, who continues to find an audience here. "Year in and year out, 'Desert Solitaire' is our No. 1 seller," Nettell says. "And we sell probably 600 to 700 copies of that book — so, a couple a day — and that's to people from throughout the world."
THE DELICATE ARCH TRAILHEAD is bustling as the afternoon winds down, and a parking space is hard to find. A team of rangers attends to the young man they've carried off the crowded trail in a stretcher, the victim of an anxiety attack. The weather fits the mood; early sun has succumbed to steely clouds and the occasional rumble of far-off thunder. But clear skies or not, I'm going. I've already seen the iconic image on countless road signs and Utah license plates. Time now to see the real thing.
The trail itself has a flair for the dramatic, offering no hint of what lies ahead until the final rock ledge and last bend give way to the graceful, free-standing figure of Delicate Arch. Dozens of visitors take turns snapping photos of each other in front of and under it — some with selfie sticks. Others sit in quiet contemplation. I overhear conversations in five languages other than English. A young man, frustrated by the tourists bombing his photos, shouts epithets. The setting is sublime, but the experience is surreal.
Too soon, the clouds darken. There will be no golden hour this evening. The wind shifts, and the air is suddenly charged; a storm is brewing, for sure. Much as I'd like to stay, I don't relish the idea of being exposed on the high slickrock trail should lightning strike, and I briskly cover the return leg of the 3-mile hike.
The premature twilight is unearthly, and Arches Scenic Drive becomes a passageway through a strange new landscape. Thick ropes of lightning flash as the downpour begins. What looks for all the world like a dusting of new-fallen snow proves to be a trick of the light and the sheen of the slickrock. One more surprise: Waterfalls — I have to look twice — spill and tumble down the massive expanse of sandstone cliffs known as The Great Wall.
Back in Moab, I drift off to the sound of desert rain.
THUNDERSTORMS LINGER UNTIL EARLY MORNING, so I trade a sunrise start for an extra hour of sleep and a hot breakfast. I reach the park as the storm clouds begin rolling out just after 9 a.m., and the later arrival puts me, for the first time, in traffic. By my best guess, I've joined the tail end of a phalanx that's two cars wide and 60 or 70 deep, but given Arches' recent history, I really can't complain. Between turning off the highway and showing my annual pass at the entrance station, 39 minutes go by.
Thirty minutes more and I reach the end of the road and a teeming parking area nearing capacity. I stretch my legs and join the crowds hiking in Devils Garden among its massive Entrada Sandstone fins — features that suggest a landscape furrowed by an enormous rake. I'm struck by the thought that the formations all around me will become the arches that mark this landscape many thousands of years in the future.
After walking half of the 7 miles of trail, I relinquish my parking spot to a grateful driver and head to the visitor center to meet Michael Matthes. A park ranger here since 2010, Matthes grew up in St. Louis — "where we have a big metal arch," he says — but speaks with the quiet conviction of someone who believes he is precisely where he is meant to be.
He first saw Arches at the age of 23, while helping a friend move to Montana. A day trip stretched into two, then three days in the park. "I fell in love," he says. At 30, realizing he had this place in his blood, Matthes left his career for a three-month internship at the park. That turned into a full-time position — "Desert Solitaire" was part of the welcome packet — and he's been here ever since.
"Reading 'Desert Solitaire,' in a way, brought me closer to the park," he says. He recounts a favorite passage in which Abbey lies on the ground to observe mating snakes and turns off his flashlight so he can feel part of all that's around him.
"There are times where, you know, I'm feeling a little worn down from the crowds, and I read that section of the book and it gets me back to why I'm here," he says. "And it gets me back to the significance and the importance of this place, of finding beauty and relevancy beyond just these arches and these monoliths."
ON SEPT. 1, 1991, a 60-foot-long slab of sandstone broke away from the underside of Landscape Arch and fell some 70 feet to the ground below; on Aug. 4, 2008, Wall Arch completely collapsed — startling reminders of the impermanence that characterizes this place. Arches always has been, and always will be, changing, at the mercy of the natural forces that continue to shape it. What we think of as Delicate Arch and Balanced Rock are, on a geological scale, just arrested motion — lovely snapshots of a moment in time. How fortunate that it's a time when we happen to be here to bear witness.
It's also a time when, for better or worse, people have become part of the landscape. Today, having an experience like Abbey's is no more possible than holing up for two years of seclusion in a cabin on Walden Pond. Still, solitude is here to be found — you just might need to go a bit earlier, hike a little farther or be a little more patient. You can't fault or wish away the crowds drawn to the beauty here, but you can plan your visit to avoid them.
"Ed Abbey was prescient," says David Nimkin. "His admonishment of industrial-scale tourism has come to pass. Nevertheless, we can't roll back the clock. Increased visitation to the area creates jobs and livelihood for thousands, and the regional economy is strong and growing."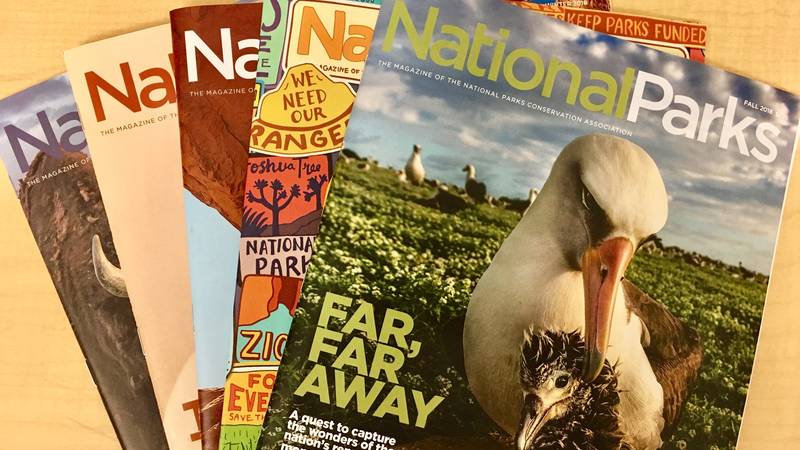 Subscribe to
You can read this and other stories about history, nature, culture, art, conservation, travel, science and more in National Parks magazine. Your tax-deductible membership donation of $25 or more entitles…
See more ›
Michael Rupp sees another upside to the rising number of visitors: more park protectors. "If we are going to help preserve the parks, we need public support. We need people out there appreciating, enjoying and loving the parks," he says. "Nowadays, any threat is thwarted by vocal advocates and supporters of the park. And it just may not have turned out that way without paved roads, without campgrounds, without visitor centers."
In the end, and despite his warnings, it seems that even Abbey knew that idealism alone would never be enough. As Rupp sees it, one of the most telling passages in "Desert Solitaire" comes at the end, as Abbey prepares to leave Arches and daydreams of the city. "He says it's really all about balance. That's the secret. … I felt like that was him conceding that balance applies to everything," Rupp says.
In my own dog-eared copy of the book, a ragged sticky note flags my favorite line from the same page. "Moderate extremism. The best of both worlds," Abbey wrote. "Unlike Thoreau who insisted on one world at a time I am attempting to make the best of two."
View snippets of the author's interviews with two canyon country rangers and a bookshop owner who are keeping Edward Abbey's spirit and literary legacy alive.


About the author
Todd Christopher

Senior Managing Director, Digital & Editorial Strategy

Todd guides NPCA's content strategy and leads the team that produces our website, magazine and podcast. He is also the author of The Green Hour: A Daily Dose of Nature for Happier, Healthier, Smarter Kids.