For the past 13 years, Laura Cole has satisfied the palates of Denali locals and a few park visitors in the know. Will the crowds rush in after she becomes the first Alaskan contestant on Top Chef?
One of the questions celebrated chef Laura Cole gets often (mostly from out-of-town customers) is how she ended up opening a restaurant "in the middle of nowhere."
It is a valid question. Even though 229 Parks Restaurant and Tavern is located on the doorstep of Denali National Park and Preserve, it's also smack in the center of one of the country's least-populated states. Cole herself might have seen it that way long ago. But then the Michigan native met her future husband in college, and everything changed.
"He convinced me to come up here," Cole said. "I did and fell in love with it."
Cole's husband, Land, grew up in Denali, where his parents Wallace and Jerryne (who are members of NPCA's national and Alaska region advisory councils) have operated two lodges for decades. After graduating with a degree in mental health and social work, Cole moved to Denali to work for her in-laws' business. When a cooking job at of one of the lodges opened up, she took it and quickly became enamored with the hustle and bustle of the kitchen.
Cole decided she needed to learn more about her new chosen profession, so she attended the New England Culinary Institute in Vermont and L'Ecole Ritz Escoffier, a renowned culinary school in Paris. Cole honed her cooking skills in various locales — including the Amundsen-Scott South Pole Station — before coming back to Alaska where she and her husband decided to build a restaurant from scratch.
"That's very Alaskan," she said. "You buy property, and you dig a well."
It took a lot more than digging a well. Cole and her husband cut the timber frame themselves, and they relied on many friends and neighbors for help. "We poured the concrete in October, and we were open in May," she said.
From the start, Cole wanted to serve the people who live and work near Denali. So while 229 Parks closes at the end of October, it reopens in January when few tourists are around and few dining options remain open to locals (last year, 97 percent of Denali's visitors came between May and October).
Cole also committed early on to using as many Alaskan ingredients as possible. The restaurant operates a 200-acre farm, owns a share in a reindeer herd, and works directly with Alaskan growers, ranchers, and fishermen and fisherwomen. Cole doesn't serve any Coca-Cola or Pepsi products, making her own soda instead. Only a few ingredients, such as lamb and pepper, come from outside of Alaska, and she makes sure those are sourced ethically.
"Most of the ingredients, we buy locally, so the money goes back to the local economy," she said.
Relying on small producers and fresh products has its charms and challenges. When a fisherman recently told her that he had several octopuses available, she decided to make them a centerpiece of her dinner menu that evening. If moose eat all the cabbage during the night, she scraps that item from the menu. Cole also relies on a network of willing drivers to bring Alaska's bounty to her kitchen quickly. "People up and down the highway send us stuff," she said.
That means that 229 Parks' menu changes daily, and Cole said she's had to train her customers to expect the unexpected and understand that their favorite dish might not be on offer that night. "They just learned that what they're going to get is the best quality," she said.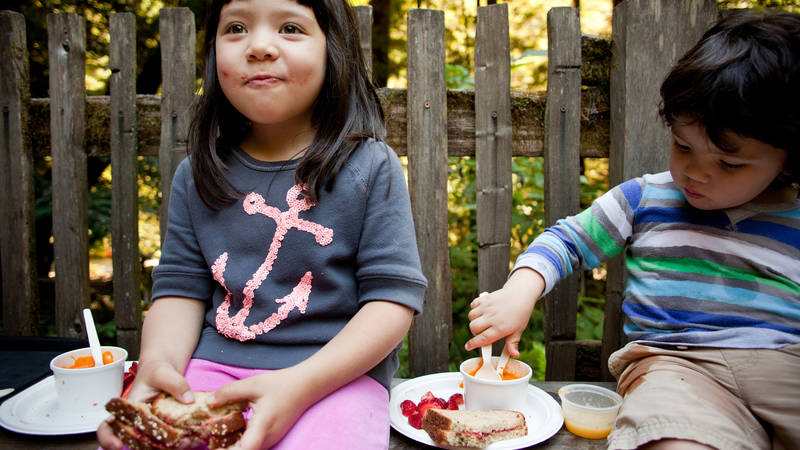 Magazine Article
National park eateries are serving more healthy, local, sustainable fare, and you can already taste the difference.
See more ›
Cole is always trying to define Alaskan cuisine while blending it with other flavors to create dishes such as an Alaska barley tabbouleh salad or charred Alaskan carrots seasoned with tandoori spices. She has received accolades for her innovative cuisine — she was nominated twice for the James Beard Foundation's Best Chef Northwest award, but 229 Parks is about to get a lot more attention. Cole competes in the new season of Top Chef, and she is the show's first-ever contestant from Alaska.
When she first heard earlier this year that the show's producers had called her, she thought her staff was playing a prank on her. She hesitated to say yes because she had a business to run and a 14-year-old son to raise, but then she decided the opportunity was too great to pass up.
Cole is not allowed to say much about what went on during the weeks of shooting, but she said the show's challenges and the cohabitation with the other contestants energized her, and she acquired a lot of "creative experience" and 14 new chef best friends.
"We are the tightest group ever," she said.
Stay On Top of News
Our email newsletter shares the latest on parks.
Cole has been back in Alaska for several months now, and as the show airs, she is not worried the resulting publicity will cause an overwhelming flow of new customers to her restaurant, which can only accommodate 120 people per meal. "I have natural boundaries," she said. "Nobody comes to Alaska in the winter."
About the author
Nicolas Brulliard

Senior Editor

Nicolas is a journalist and former geologist who joined NPCA in November 2015. He writes and edits online content for NPCA and serves as senior editor of National Parks magazine.