Fall 2017
Remember Aunt Harriet
She taught them courage and endurance. Now, Harriet Tubman's descendants can pay their respects at a park honoring the great liberator.
Harriet Tubman's descendants are running late.
Tubman's great-great-niece, Valerie Ardelia Ross Manokey, and her great-great-great-nephew, Charles E.T. Ross, have agreed to meet me in Cambridge, on Maryland's Eastern Shore. From there, we will drive about 20 minutes to the Harriet Tubman Underground Railroad Visitor Center. The recently completed facility, which sits on 17 acres of land, is part of a new national historical park and the crown jewel in a string of sites that tell the story of Tubman, a girl born into slavery who famously became a great liberator.
I'm hoping that as we visit some historic sites, Manokey and Ross can tell me more about the woman known as the Moses of her people, a wife and sister and mother and aunt who loved her brethren so fiercely that she repeatedly risked her life to free them. Since my tour guides are a few minutes behind, I wait in the back of the Harriet Tubman Museum and Educational Center in downtown Cambridge. William Jarmon, a retired teacher who volunteers at the museum, has just started a talk about Tubman's early life in the Cambridge area. He's speaking to a group from the Nineteenth Street Baptist Church, one of Washington, D.C.'s oldest African American congregations.
Jarmon, a county native, understands the pull of this place Tubman called home. Many members of Tubman's family felt it too, he says. In fact, several still live here.
On cue, the back door swings open. Ross comes in first. A 52-year-old whose dreadlocks have been growing for nearly two decades, he embraces Jarmon. ("I'm a hugger," he tells me later.) Next comes Manokey, 81 and leaning on a cane. She's wearing a pressed white shirt, and her face is full of amazed joy at the assembled gathering. "I was just expecting one reporter!" she says.
When Jarmon introduces the pair as Tubman's descendants, the room erupts in applause. Several visitors take photos; a few ask for autographs. The pastor pronounces the event a "blessing."
Manokey wasn't planning to make a speech, but she approaches the lectern and steadies herself. She grew up on Pine Street, she tells the crowd, referencing the corridor that separated Cambridge's historic black neighborhood from the rest of the town. She lived here during the 1967 uprising, when the all-white fire department refused to extinguish the blaze that burned down the black elementary school. She has been through segregation and poverty; she has survived cancer and a stroke that left her partially paralyzed. But all her life, when she considered complaining about hardship, she would recall her parents' words: Remember Aunt Harriet. If she could endure, so can you.
Her family started pushing for a Harriet Tubman memorial in the 1950s. At that time, black residents could smell hot biscuits and fried fish as they walked down Race Street, the town's unfortunately named main boulevard, but they were only allowed to buy carry-out and had to use the back doors. No white people wanted to talk about Harriet Tubman, she says, and they certainly didn't want to honor her.
"People told us, 'You'll never get anything,'" Manokey says. "But 'never' means you have just got to fight harder. You might get knocked back to your knees, but you are going to get back up."
Now, she adds, "I honor Harriet. I honor the name. I honor the stories that I have heard. And I thank God that I have lived long enough to see this."
'Something kept telling me to come home'
Once I'm able to pry Manokey away from her admirers, Ross helps his aunt into his truck, and the three of us set out toward the stands of skinny loblolly pines that are a signature feature of this part of the state. Only a few miles past the Walmart, the subdivisions and gas stations fade, and the landscape quickly turns rural. We whiz by farms and golden marshes with guts and creeks squiggling through. These waterways were once an escape route for Tubman and other enslaved people. Creaky, wooden bridges still cross creeks; locals dangle chicken neck as bait to catch blue crabs. Remoteness and rising sea levels have curbed development in some parts of the county, and much of the land looks as it would have in Tubman's time. Alan Spears, NPCA's cultural resources director, put it this way: "If Harriet Tubman came back today, she could navigate that landscape."
Born in 1822 and named Araminta Ross, Harriet Tubman was one of nine children. Her mother, Rit, an enslaved woman, was assigned to cook and care for the family of her master, Edward Brodess, and scarcely had time for her own children; her father, Ben, was a skilled woodsman who eventually secured his freedom at age 45. When Tubman was a child, two of her sisters were sold down south. She never saw them again.
Shortly after Brodess died in 1849, Tubman made her escape to Philadelphia using a network of safe houses and hiding places established by Quakers, freed blacks, slaves and abolitionists. Many know the next chapter: She helped rescue 70 people, including her own parents, guiding them north using the stars and her formidable wits. Tubman was far from the only one to run; slavery, she said, was "the next thing to hell." But she appears to be one of the few to return — 13 times in all. "I was free," she said. "And they should be free."
She later became a soldier for the Union Army, a spy, a nurse and a suffragist, eventually settling in Auburn, New York, where she continued to help formerly enslaved people find work and lodging, even though she was nearly destitute herself at times. She died there in 1913.
Ross and Manokey haven't made it to Auburn yet, but they say they're hoping to go one day. Ross steers by the road to the Brodess Farm, where Tubman's family was enslaved. The farm is part of the Harriet Tubman Underground Railroad Byway, a 125-mile driving tour that winds past 36 historic sites in Maryland and a few others in Delaware. They include churches, cemeteries and meeting houses. Some have been restored and are open to tours, but the Brodess house was torn down long ago, and the land is privately owned.
Manokey, Ross and I keep driving, around bends and twists and then past the turn for the Bucktown Village Store, one of the byway's highlights. Nestled among farm roads, the store has been restored to look as it did in Tubman's day. Here, Tubman suffered a traumatic injury. An enslaved man had left home without permission, and his overseer caught up with him at the store. Tubman was there buying food. The overseer asked Tubman to tie up the slave, but she refused. He then threw a two-pound weight at the man, but it hit Tubman instead, causing her dizzy spells and seizures for the rest of her life.
Manokey remembers first hearing Harriet Tubman's name when she was 5. Knowing that Tubman was in her, she says, made her fight harder for what she believed in.
The daughter of two cannery workers, Manokey at 16 married a man who worked in one of the county's famous fish houses processing seafood. She studied social work and went on to work at every county school except the most southerly, flood-prone one. "I had to draw a line, because I can't swim," she says. Eventually she became a teacher's aide.
The schools didn't teach much about Tubman then. One year, Manokey remembers, the teacher in her classroom asked, "Who was Harriet Tubman?" The students answered: She was a woman. She was a slave. The teacher passed out a picture of Tubman to color and two crayons: one black, and one gray. End of lesson.
The next year, Manokey did the lesson herself. She told the kids much more about her ancestor, and she went shopping for crayons herself so she'd have more colors to pass out.
"I didn't feel like I was a good teacher. I knew I was," says Manokey, a mother of five. "I had confidence. I had pride."
Unlike Manokey — who stayed in Cambridge, even though she says the racism was "very thick" — Ross left after high school to attend the Maryland Institute College of Art in Baltimore. ("You were born drawing," his aunt says.) He then moved to Atlanta for a career with the airlines. He was laid off after the 9/11 attacks, "and something kept telling me to come home," he says. He did, and now has a job as an education specialist, working with students facing in-school suspension. It is a job, Ross says, in which he draws on his famous ancestor for inspiration. "I'm the one who is supposed to be receiving something. Let me receive it," he says. "I need to basically continue what she did." He frequently uses art and music in the classroom and tells his students every day how worthy they are.
Among friends, he jokes he is "Prince Charles of Dorchester," and among family, he is Yogi, known for his art as well as his cooking. He and Manokey dream of opening a soul-food restaurant one day.
It's not just Tubman's descendants who still live here. Ross likely shared his Cambridge-South Dorchester High School classes with students whose ancestors owned his ancestors. It wasn't all that long ago, Manokey says, that the black and white parts of town held their own parades.
Yet in some ways, this town of 12,500 has embraced change. Tubman's stoic photo now adorns city streets and country roads, identifying the Underground Railroad sites to tourists. Many residents have welcomed the park and byway, which have given the area an economic boost. In 2008, Victoria Jackson-Stanley was elected the city's first black mayor, running on a platform of "one Cambridge."
'Like a neglected weed'
About the Photographer
Dave Harp specializes in documenting the flora, fauna, people and landscape of the Chesapeake Bay region. You can find more of his work here.
When we arrive at the new visitor center, park manager Dana Paterra embraces my guides. She works for the Maryland Park Service, but the center, a $21 million project, is managed jointly by the state and the National Park Service. The building has an open floor plan and includes a garden and pavilion outside. The land is surrounded by Blackwater National Wildlife Refuge, and it's a great place to spot rare birds and waterfowl.
Our arrival causes some commotion. A ranger tells visitors that Ross and Manokey are Tubman's descendants, and again people approach for photos and autographs.
The center's exhibits begin with some background about Tubman's life, in her own words, often against the backdrop of Dorchester County's tides and marshes. "I grew up like a neglected weed," the story begins, "ignorant of liberty, having no experience of it. Then I was not happy or contented."
In the Deep South, a single family might own hundreds of slaves. In Maryland, it was more common to own just a few. Maryland slave-owners liked to point that out and present themselves to the world as the enlightened enslavers.
Not so, says historian Kate Clifford Larson, author of the 2003 Tubman biography, "Bound for the Promised Land." Maryland slavery was still slavery. Larson, a consultant on the visitor center, says the displays represent an effort not only to honor a hero but to recognize those who endured.
"We've tried to not just always focus on Tubman, but the communities she worked in, the communities that raised her, the communities that she went back to," she says. Ross and Manokey's forebears played significant roles: "They kept the secrets. They held the stories," she says. "They protected those who were left behind."
An overzealous park ranger is so excited to see Manokey that he commandeers the wheelchair she is using. I catch up with the pair at one of Ross' favorite displays, the one that chronicles Tubman's bravery in battle. Their ancestor would spend the remainder of her years fighting the U.S. government for back wages related to her military service during the Civil War. But Ross likes to focus on the rarity of a woman outwitting Confederates.
We continue to the story of Tubman's escape, a part Manokey relishes. Tubman simply walked out singing, passed her master and closed the gate. Next to the display, a photo shows the sun peeking through the tops of trees. "I looked at my hands to see if I was the same person," reads the accompanying quote. "There was such a glory over everything; the sun came up like gold through the trees, and over the fields, and I felt like I was in heaven."
We stop and gaze at the photo as the spiritual "Deep River" plays solemnly. I remember something Larson told me, that it's simplistic to just say Tubman was brave. Tubman was afraid every day, during every escape. It was her fear, Larson said, that protected her; that, and her ability to read the sky, the landscape and people.
NPCA at Work
The first meeting of the Friends of Harriet Tubman Underground Railroad Visitor Center was held in August. NPCA invited local members and supporters to attend to learn more about how the new group will help preserve Tubman's story and legacy. Friends groups support parks in a number of ways: by increasing public awareness, volunteering, sponsoring special events, securing grants and planning fundraising events. For more information, call 410-221-2290.
Manokey seems to have inherited some of those traits; she is blunt, honest and insightful. She and I continue to the display about Harriet's husband, John Tubman, a free man she married around 1844. (They had no biological children, but Harriet later adopted a daughter.) In 1851, Harriet came back for him, but he had taken a new wife and refused to go. At first furious, she realized that if he could do without her, she could do without him. I ask Manokey what she thinks about John's decision. "That's just a man being a man," she says.
Build it around the land
Ross learned firsthand at "Harriet on the Hill" days, when he and family members lobbied Congress for the center, that money for new parks is tough to secure. That was just one of many challenges Tubman's descendants and park supporters faced. Also, where to put a historical park? Auburn, New York, which is now home to a related national park honoring Tubman, has significant landmarks including her house and the home for the aged she opened there. Dorchester County didn't have anything like that.
GETTING THERE
Some points of interest in the Harriet Tubman Underground Railroad National Historical Park and along the Harriet Tubman Underground Railroad Byway include:
The Harriet Tubman Underground Railroad Visitor Center, 4068 Golden Hill Road, Church Creek. 410-221-2290.
The Bucktown Village Store, 4303 Bucktown Road. 410-901-9255. Brodess Farm, Greenbrier Road, Bucktown. (Privately owned.)
Bestpitch Ferry Bridge, Bestpitch Ferry Road and Transquaking River, Bucktown.
Harriet Tubman Memorial Garden, U.S. 50 at Washington Street, Cambridge.
Dorchester County Courthouse, 206 High Street, Cambridge.
Harriet Tubman Museum, 424 Race Street, Cambridge. 410-228-0401.
For more information, go to www.nps.gov/hatu. Find a map of the self-driving tour along the byway at harriettubmanbyway.org.
"How do you establish a historic site when no artifacts are left?" Spears of NPCA asks. His answer: Build it around the land.
Finally, in the 1990s, with help from Patrick Noonan of the nonprofit The Conservation Fund, Tubman descendants, conservationists, local politicians, and state and federal agencies, the park slowly began to take shape. Even then, there was resistance. Acknowledging Tubman's bravery meant admitting that white Dorchester County families committed acts of almost unimaginable cruelty. That was not something many descendants felt comfortable doing. A bullet hole was shot in a state sign marking an Underground Railroad site. In 2000, three years after the Maryland State Highway Administration renamed a stretch of Route 50 for Harriet Tubman, an artist painted her portrait there; in 2008, vandals spray-painted over it. Eventually, Ross was hired to paint a new one protected in plexiglass. Manokey says she likes the new painting much better, because it shows a younger Tubman and the marshy terrain.
Ultimately, President Barack Obama used the Antiquities Act to designate the Harriet Tubman Underground Railroad National Historical Park in 2013. The Conservation Fund donated the property, and Maryland offered additional funds. The opening dedication in March was not just a parade of dignitaries but a reunion for the New York and Maryland Tubmans. Slavery had broken up the family; Harriet brought them back together.
'Still making changes'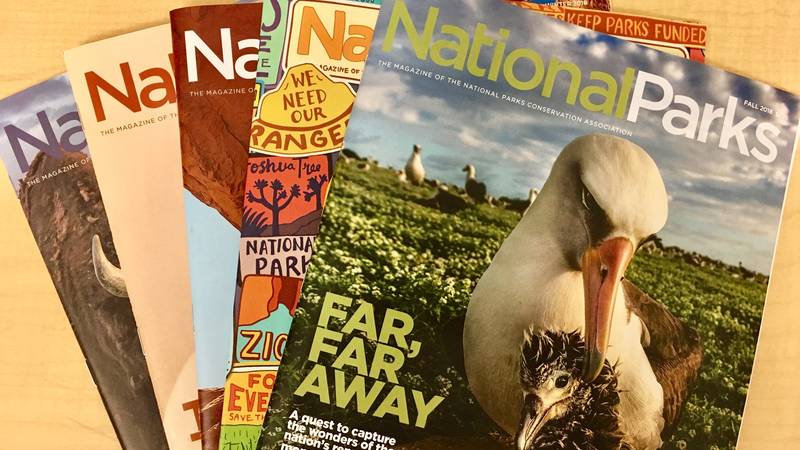 Subscribe to
You can read this and other stories about history, nature, culture, art, conservation, travel, science and more in National Parks magazine. Your tax-deductible membership donation of $25 or more entitles…
See more ›
On the ride back, Ross says he feels Tubman's presence most in the quiet of the woods, among the tulip poplars. As he drops me at my car downtown, I realize that I'd parked near the courthouse steps where his ancestors were sold to faraway plantations. They were the great-great-great-aunts and uncles and cousins whose stories he never got to hear. I have passed this courthouse, these steps, dozens of times, never knowing their history. In front of the building, a young couple is meeting up for a date.
They probably have no idea about the history of the place. But Ross thinks that one day they will. The more painful the history, the longer the reckoning. And Harriet Tubman's time, at long last, has truly come.
"She's still making changes today, and she's been buried over 100 years," he says. "That's the way you'd like your life to be."
About the author
Rona Kobell

Author

RONA KOBELL, a frequent National Parks magazine contributor, is the co-founder of the Environmental Justice Journalism Initiative. She is also a professor of journalism and has written about the Chesapeake Bay for 20 years. Reach her at rona@ejji.org.