John Day Fossil Beds National Monument in Oregon — one of the best spots in the country to view the solar eclipse on Monday — is expecting a quarter of its annual visitors in just one day. Should I brave the crowds?
When my wife and I planned our August family vacation in Central Oregon, the total solar eclipse wasn't on our radar. We didn't think twice when no rentals were available on the week of Aug. 21. We just booked the week before instead.
My wife is a native Oregonian and over the 15 years we've been married, I've developed a deep appreciation for the state's beauty, from its cloudless summer skies to its chain of snow-capped volcanoes. I didn't need the eclipse of the century to lure me there in August.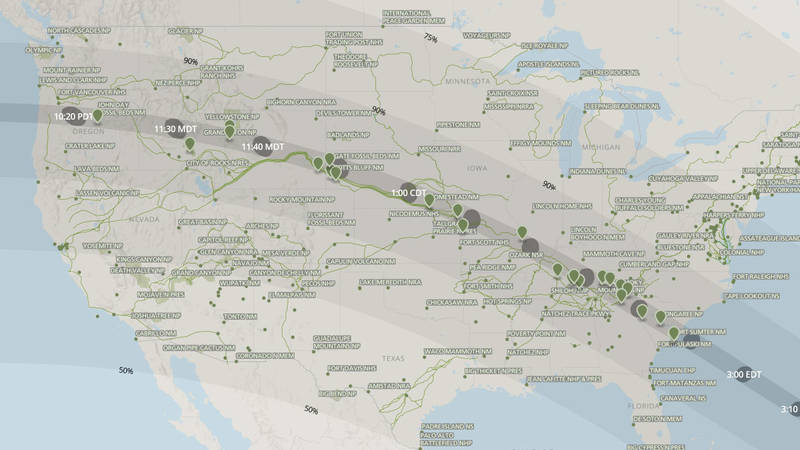 Parks in the Path
This National Park Service map shows all 21 park sites in the path of totality for Monday's solar eclipse.
See more ›
But then, a few months ago, my boss — an enthusiastic stargazer — told me about his plans to go to Great Smoky Mountains National Park to observe the eclipse. A little research taught me that 21 national park sites will be in the path of totality, and that John Day Fossil Beds National Monument was one of the best places in the entire United States to catch this rare phenomenon, in large part because of the reliably clear summer skies of the Oregon desert.
Since my family and I will be vacationing near the Central Oregon city of Bend, just a couple of hours from the park, on Aug. 20, it seemed like a no-brainer to drive over to John Day the next day and take advantage of this once-in-a-lifetime opportunity.
Then I started to read the travel advisories.
Oregon officials expect 1 million people to come to the state to watch the eclipse. Most hotel rooms near the path of totality were booked long ago or are going for — pun intended — astronomical prices. Scores of visitors are expected to camp in national forests and other public lands.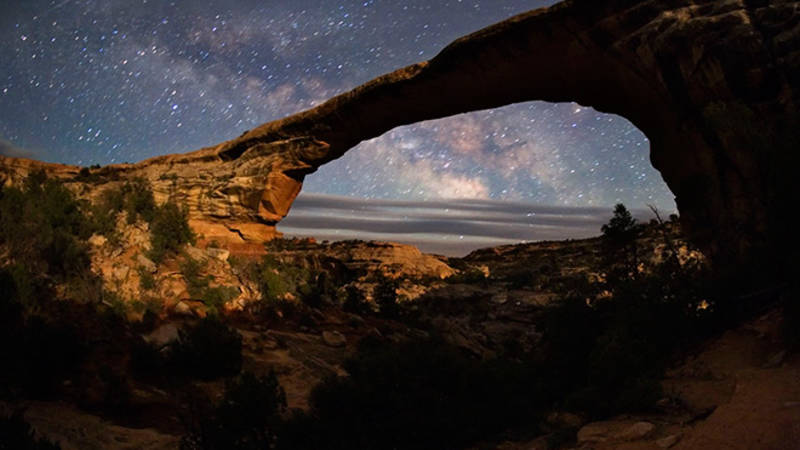 Blog Post
National parks offer some of the darkest skies in the country.
See more ›
The likelihood of good weather is one reason people are flocking to Oregon, but the other is that the state will be the first to witness the eclipse, which will then traverse the United States southeastward all the way to South Carolina (and then continue on to the Atlantic Ocean). The problem is that many of the state's best viewing spots are located in rural areas whose highways cannot accommodate a massive and sudden influx of visitors.
Reports estimate that the drive from Bend to Madras, another eclipse hotspot a mere 50 miles away, could take six to eight hours. Fossil Beds' Painted Hills, the park unit most accessible from the west, is 90 miles away from Bend. Doing the math, I decided I wouldn't subject my 2- and 4-year-old girls to the ordeal.
But what about me? Was I willing to spend upward of 15 hours in the car with no certainty I would make it there on time?
"The roads are very small and windy," said Shelly Hall, Fossil Beds' superintendent. "I suspect a lot of people will see the eclipse from a traffic jam."
Hall expects about 50,000 people to visit the monument that day. If that happens, it would represent almost a quarter of the visitors who visited John Day Fossil Beds in the whole of last year.
The park consists of three separate units, two of which (Painted Hills and Sheep Rock) are smack on the center line of the eclipse's path while the third (Clarno) is off-center but still within the path of totality. The units are so far apart that it takes about two hours to drive from one end of the park to the other on a normal day. Hall said there is pretty much no cell coverage anywhere within park limits.
"In the best of conditions, if we call 911, the ambulance takes an hour to get here," she said.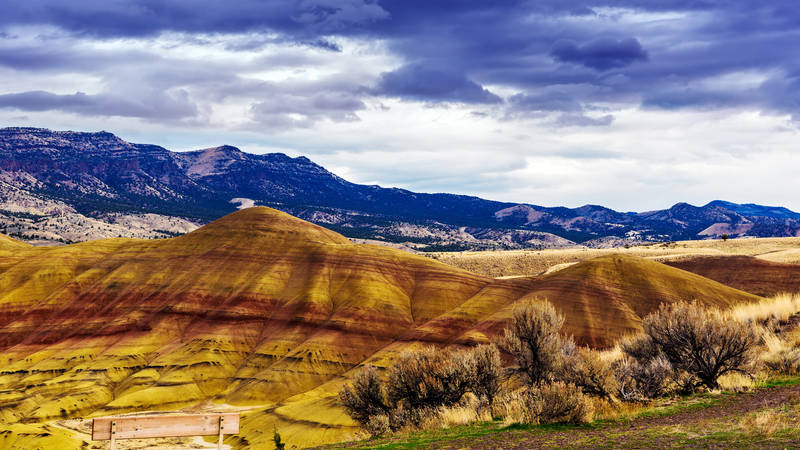 Park
Some 54 million years ago, this entire region of Oregon lay beneath the Pacific Ocean. Within the striated rock, scientists have found fossilized evidence of more than 2,200 plants and…
See more ›
Park rangers have been preparing for the onslaught for the past three years. Hall said she devotes 100 percent of her time to eclipse planning and will spend the night before the eclipse in her office to avoid getting stuck in traffic. Two of the three units of the park have one vault toilet each, so park officials ordered 70 portable toilets for the event. Even then, people should expect long bathroom lines, and Hall's advice for visitors is to "bring their patience and sense of humor."
At this time of year, the risk of wildfires is the highest, and Hall is concerned masses of visitors will only compound that risk. She also worries about people driving off roads and destroying the park's namesake resources.
"There is a risk of damaging fossils we haven't found yet," she said.
You'd be forgiven for thinking that Hall is not exactly clamoring for more people to make the trip to Fossil Beds that day.
Nick Green is the city manager of the nearby town of John Day, and it was a little more than a year ago that he started to grasp what was coming his way. "We knew there was going to be an eclipse, but we didn't realize it had a huge global following," he said.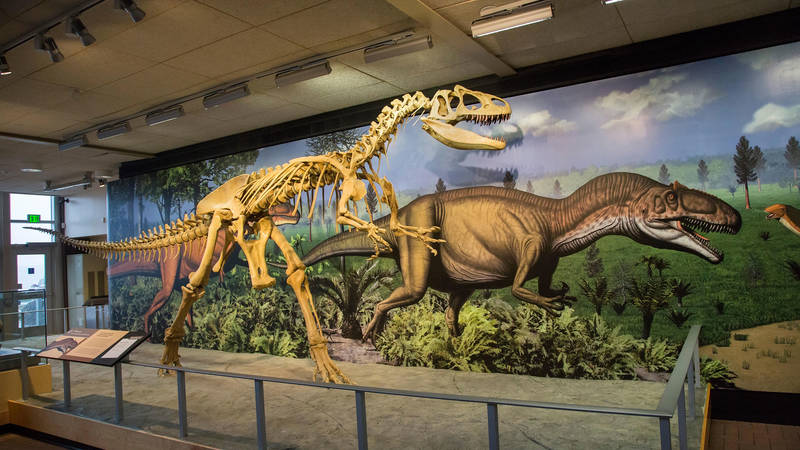 Blog Post
Cool creatures from the past and where to see them
See more ›
Since then, the town of 1,700 has been gearing up for crowds not seen there since the heyday of the gold rush in the late 1800s. The city built an RV campground just for the event. Staff also plan to increase the number of public restrooms tenfold and double the police force. The local bus company is adding nine new routes, and city officials will set up a command center with satellite phones in case the cell network is overwhelmed. All vacations for city employees have been canceled.
"Aug. 22 is going to be a good day," Green said. "We'll all breathe then."
Green said latecomers can still find accommodations in John Day, but if they want to avoid nightmarish driving conditions, they should arrive in town a few days early and leave several days after the eclipse. Arriving early the day of and leaving right after the eclipse (my current plan) is the worst strategy, Green cautioned.
"A lot of people think they're just going to drive to John Day and then drive home," he said. "It's not that simple."
Stay On Top of News
Our email newsletter shares the latest on parks.
Since learning about the eclipse a few months ago, I've marveled at the fact that enthusiasts would reserve their hotel rooms years ahead of this rare event. One million people coming to Oregon can't all be wrong. A total solar eclipse must be a mind-boggling spectacle indeed.
There will be other chances to see a solar eclipse, with another one visible from the United States in 2024, but I doubt I'd structure a trip around it. This could be my best shot for seeing the rare phenomenon.
And if it takes 15 hours to witness two minutes of it, so be it.
About the author
Nicolas Brulliard

Senior Editor

Nicolas is a journalist and former geologist who joined NPCA in November 2015. He writes and edits online content for NPCA and serves as senior editor of National Parks magazine.