Innovative diving organization takes curious explorers underwater to protect and monitor reefs near Everglades, Biscayne and Dry Tortugas.
Over the last several years, members of the DEEP Foundation, Inc., and NPCA have partnered on many projects, from learning to SCUBA dive to exploring marine national parks and advocating for ecosystem restoration. Our latest joint endeavor in coral restoration and fish identification helped to connect citizen scientists to our shared public waters and empowered them to protect marine wildlife and habitat for future generations.
I stared at Jade from across the coral, watching her scribble the names of fish around her on her chart, suspended in the water with her legs crossed tight, displaying control that a seasoned SCUBA diver would envy. Her bubbles rose serenely to the surface as she moved along to identify a different creature.
If I weren't trying to hold a regulator in my mouth, I would have been slack-jawed in awe. Jade is only 10 years old, and this was her second open-water dive. The first was a coral planting event with the Coral Restoration Foundation the day before that our newly formed group, the Divers for Education and Environmental Protection Foundation (DEEP), had participated in. Jade and her mom had been certified with DEEP only a few weeks prior.
The members of DEEP came together out of a love for the ocean and a desire to be involved with diving, which isn't exactly the most accessible activity. It can be expensive. It requires a lot of time, training and education to hang out in an atmosphere that is not at all hospitable to your physiology. But experiencing the underwater world for the first time is a magical experience. And we believe that anyone — adult, child, diver, non-diver, any person of any background and experience — can take action to enjoy and preserve Florida's marine riches.
So we connected with people and organizations who wanted to help us help each other. With the help of the Reef Environmental Education Foundation's fish identification training, 13 of us cruised around underwater this past spring, identifying brightly colored fish for the organization's online global database to help determine the health of populations within the Key Largo Marine Sanctuary. The data collected by citizen scientists like us has contributed to significant research, including invasive species risks, the link between biodiversity and ocean temperature, and the genetic patterns present in previously overfished populations.
We also planted corals in Pickle Reef and identified fish in Davis Reef. Both reefs are within the Florida Keys National Marine Sanctuary, part of a larger ecosystem with Biscayne, Everglades and Dry Tortugas National Parks. The health of the sanctuary is essential to the health of those parks, and vice versa. Millions of people visit these parks, generating $8 billion to local economies annually. These parks hold some of our nation's most precious aquatic treasures and recreational opportunities.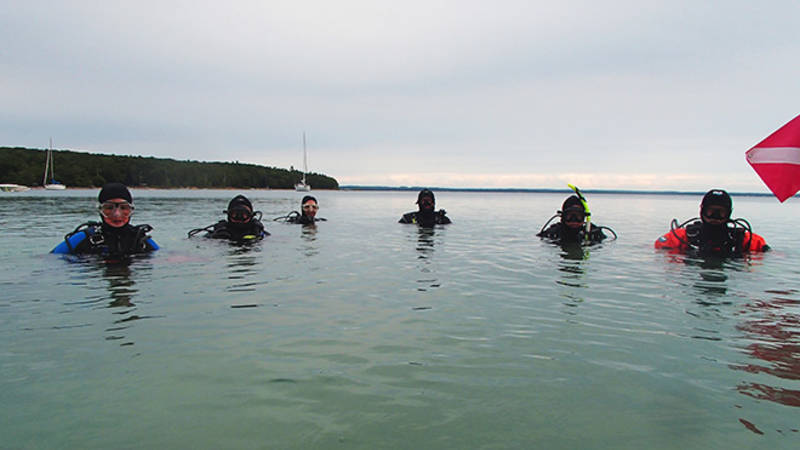 Blog Post
Citizen scientists are helping birds dying at troubling rates in the Midwest by studying invasive species at Sleeping Bear Dunes.
See more ›
Our group of citizen scientists is small. All of us are novice divers and some of us, like Jade, are brand new. Some of us have helpful backgrounds (a marine biology teacher, for example), but most of us come with less conventional skills to lend. The success of our efforts was entirely due to the ingenuity of the entire group. There is so much to see and so much worth protecting. We have been inspired to ask more questions, dig a little deeper, think a little bigger and take agency. We need to protect these places, these parks and sanctuaries, because they are what define us as people. They are so much of who we are. Everyone deserves to experience that and preserve it for one another.
We don't have to be scientists and politicians to protect them. We can get involved in debris clean-up, speak to our local legislature and learn how to monitor changes in our parks' reefs. We can share our skills, knowledge and experience. We can pool our resources and ideas. And we can find the right people to help get the wheels rolling.
Want to become a citizen scientist for our oceans? Debris Free Oceans, eOceans and REEF are just a few national organizations that can help you mobilize your passion and transfer that inspiration to others.
Thank you to the National Parks Conservation Association, Rainbow Reef Dive Center, Captain Slate's Scuba Adventures and PADI SCUBA Instructor Shayna Cohen for their incredible support and guidance, as well as the Coral Restoration Foundation and Reef Environmental Education Foundation for transferring knowledge, access and passion from their organizations to ours.
About the author
Jessica Wright

Jessica Wright is on the Board of Directors of DEEP Foundation, Inc.