Of all the people who have served as U.S. president to date, only one also worked as a national park ranger. Can you name this ranger-in-chief?
It could hardly be described as a lengthy public lands career, but according to the National Park Service, President Gerald Ford described his work as a seasonal ranger at Yellowstone National Park as "one of the greatest summers of my life."
Gerald Ford in his park ranger uniform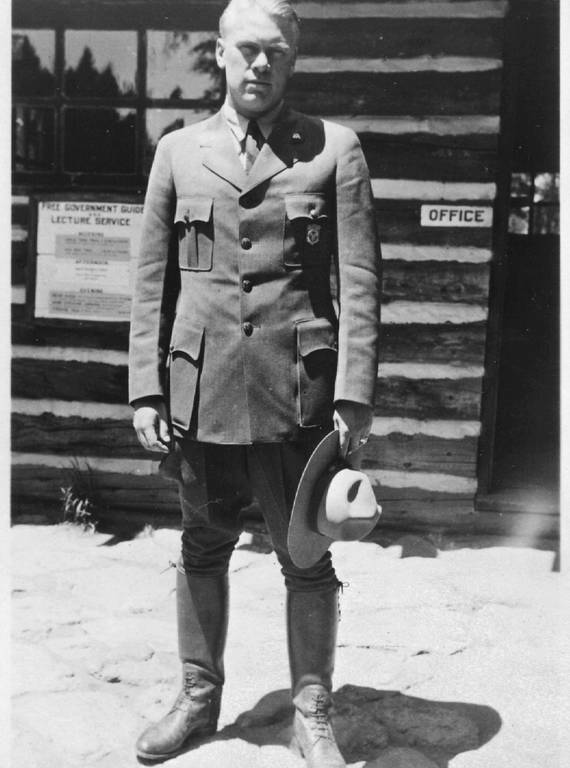 Gerald R. Ford Presidential Library and Museum, National Archives and Records Administration
The man who would go on to become the nation's 38th president spent the summer of 1936 directing traffic, supervising campgrounds, and greeting guests at the Canyon Hotel and Lodge. Ford was 23 at the time and reportedly enjoyed another duty in particular: working on a truck that monitored and fed the park's plentiful bear population. The Park Service has long since stopped feeding wildlife as its management practices evolved, but the task allegedly provided the young ranger with family stories for years to come.
Ford's tenure at the National Park Service is not the only remarkable aspect of his presidency. Ford is also the only person who served as both vice president and president and was never elected by voters to either office. President Richard Nixon appointed Ford to the vice presidency when Spiro Agnew resigned in 1973 after pleading no contest to tax evasion; Ford was serving as House minority leader at the time. Then, just eight months later, Nixon himself resigned in the wake of the Watergate scandal, and Ford rose to fill the nation's highest public office. Interestingly, of the nine vice presidents who have acceded to fill a vacancy in the presidency — going all the way back to 10th President John Tyler, whom political detractors referred to as "His Accidency" — Ford's unelected term was the only one not caused by death. Voters did elect Ford many times to the House of Representatives, where he served for 25 years prior to his career in the executive branch.
Stay On Top of News
Our email newsletter shares the latest on parks.
Despite his tenure as a national park ranger, Ford never used his authority under the Antiquities Act to designate new national monuments — although Congress added 18 sites to the National Park System under his administration, including Big Cypress, Valley Forge and Cuyahoga Valley. And although there are no national park sites specifically devoted to interpreting Ford's long and interesting life, his home in Alexandria, Virginia, is on the National Register of Historic Places.
About the author
Jennifer Errick

Managing Editor of Online Communications

Jennifer co-produces NPCA's award-winning podcast, The Secret Lives of Parks, writes and edits a wide variety of online content, and manages NPCA's style guide.