In 1906, Congress established the first national park with the purpose of protecting man-made structures, not just natural features such as forests and canyons.
Starting with Yellowstone, the country's first national parks were created primarily to preserve natural landscapes and wildlife, so it was a major departure in June 1906 when President Theodore Roosevelt signed the bill that established Mesa Verde National Park in southwestern Colorado to protect Ancestral Puebloan archaeological sites. It was the first archaeological site to gain this kind of protection worldwide. This was the beginning of a trend — the majority of the 413 sites that make up the National Park System today preserve historical and cultural resources. In 1978, UNESCO designated Mesa Verde a World Heritage Site.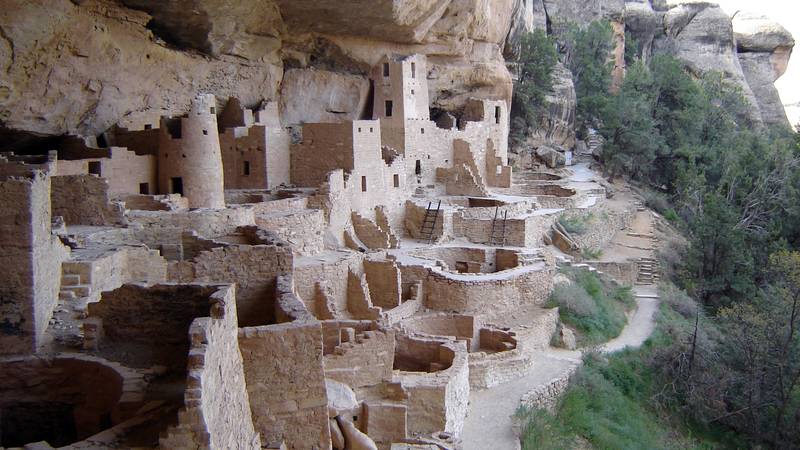 Park
This World Heritage Site preserves more than 600 cliff dwellings typical of the Ancestral Puebloan culture, which lasted from about 450 to 1300. The allure of this park is not…
See more ›
The move to protect Mesa Verde was a necessary precedent. At the beginning of the 20th century, sites across the Southwest were being plundered by rogue excavations. Concerns over the looting of artifacts not only led to the creation of Mesa Verde National Park but also to the passage — just three weeks earlier — of the Antiquities Act, a law that gave Roosevelt and subsequent presidents the authority to designate national monuments. Before the end of 1906, Roosevelt had used the law to create several national monuments, including two to protect Ancestral Puebloan ruins: El Morro in New Mexico and Montezuma Castle in Arizona. Casa Grande Ruins, the remnants of structures built by ancient Sonoran Desert people, had been protected as a prehistoric and cultural reserve since 1892, and President Woodrow Wilson officially designated the site a national monument in 1918.
"Mesa Verde" means "green table" in Spanish, which refers to the area's tree-covered plateaus. Nomadic people roamed the region for thousands of years, but it was only about 1,400 years ago that they started settling on top of mesas and relying increasingly on farming for their subsistence. Corn, beans, squash and domesticated turkeys became staples of their diets, and their living quarters evolved from basic pit houses to the elaborate cliff dwellings that are emblematic of Mesa Verde today.
The park preserves nearly 5,000 archaeological sites, including some 600 dwellings. Perhaps the most impressive structure is the Cliff Palace, a collection of 150 rooms and 23 ceremonial spaces known as "kivas" nestled inside a sandstone cliff alcove. The buildings were made of sandstone blocks, wooden beams and mortar, and some rooms were decorated with paint composed of a mixture of pigments and water, oil or urine. The people of Mesa Verde painted walls with geometric motifs, made decorated pottery, and created petroglyphs representing animals, handprints, anthropomorphic figures and abstract designs.
Stay On Top of News
Our email newsletter shares the latest on parks.
Mesa Verde's largest structures were built from about 1190 to 1280 or so, but by the end of the 13th century, people had left the site and migrated south, perhaps as a result of a prolonged drought. The ruins were left virtually untouched until the late 19th century when ranchers, miners and others rediscovered the site. That's when the looting began, prompting calls for the site's protection — including some from remorseful looters. The campaign to make Mesa Verde a national park gained momentum, in part thanks to the tireless efforts of Virginia McClurg — a journalist who visited the site in the 1880s — although she would later reverse her position and push for the creation of a state park instead. After several unsuccessful attempts, a bill introduced in late 1905 passed both chambers of Congress and Roosevelt signed it into law on June 29, 1906.
Only 27 people visited Mesa Verde National Park in 1906, but these days more than half a million visitors come each year to marvel at the most remarkable collection of cliff dwellings in the United States.
About the author
Nicolas Brulliard

Senior Editor

Nicolas is a journalist and former geologist who joined NPCA in November 2015. He writes and edits online content for NPCA and serves as senior editor of National Parks magazine.