Work by air quality advocates since 2012 has led to significant pollution reduction plans affecting more than 100 coal-fired power units across the country. Now, we need the Environmental Protection Agency to strengthen a key environmental rule to make more of these victories for cleaner air possible.
NPCA and its advocates have been fighting for clean air in national parks across the country for decades. We have won many important victories that resulted in visibly clearer skies and less harmful airborne pollution from coal-fired power plants and other sources. One of the best tools we have to achieve these wide-ranging victories is a program of the Clean Air Act called the Regional Haze Rule. Unfortunately, due to loopholes in the existing law, many of our parks are decades — even centuries — from reaching the goal of natural air quality.
The Environmental Protection Agency (EPA) has proposed changes to the Regional Haze Rule, some good and some bad. If adopted, positive changes will result in every state being held accountable for achieving steady reductions in park pollution. However, other proposed changes would allow known polluters to delay cleaning up their act, setting back efforts to clean up the air in national parks by years.
Now, we need to speak with one voice and urge the EPA to strengthen this important rule to ensure polluters of parks and wilderness areas promptly clean up their act.
Why is this rule so important? The Regional Haze Rule tasks state governments and the EPA with reducing haze pollution to meet the goal of restoring naturally clean air to America's most treasured and iconic wild places. Air pollution from coal plants, oil and gas development, and other sources is regulated under the Regional Haze Rule, as their emissions discolor and warp horizons at our parks and shorten scenic views for visitors by an average of 50 miles. These same sources of pollution also affect the health of visitors and park staff, have a negative impact on wildlife and ecosystems, and drive the climate change that is already harming our national parks.
Here are two major ways Regional Haze Rule implementation has already secured cleaner air since 2012, thanks to advocacy by NPCA members and supporters.
1. State governments and the EPA collectively required new or improved pollutant controls on more than 91 coal-fired power units to meet pollution reduction requirements. These controls have reduced or will reduce more than 526,000 tons of sulfur dioxide and 270,000 tons of nitrogen oxides per year.
2. Companies owning an additional 23 outdated coal-fired power units decided to shut down instead of installing controls to reduce pollution. These retirements will result in reductions of carbon dioxide emissions by 52 million metric tons, sulfur dioxide by 246,000 tons and nitrogen oxides by 122,000 tons.
In all, these achievements affect 114 of the roughly 800 coal-fired power units around the country and will reduce the United States' total carbon dioxide emissions by approximately 3.8 percent, our total sulfur dioxide emissions by 36 percent and our total nitrogen oxide emissions by 23 percent from 2015 levels.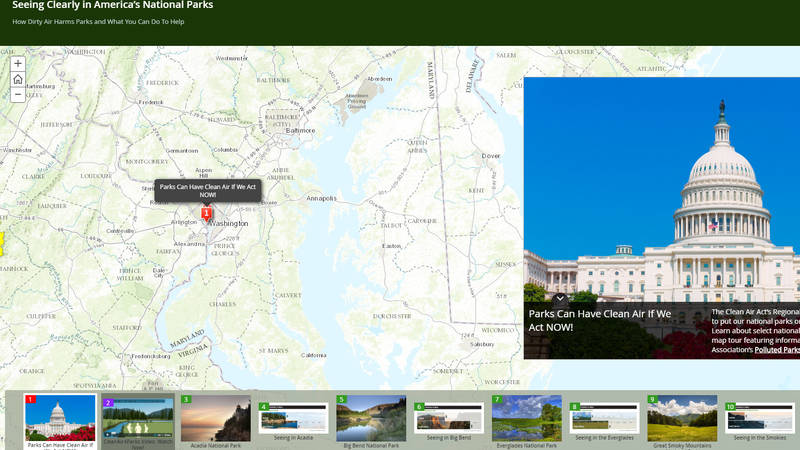 Map
How dirty air harms parks and what you can do to help.
See more ›
You can literally see these victories when you look out to cleaner and clearer skies over national park landscapes from the Great Smoky Mountains to the Grand Canyon. But we still have a long way to go before national park visibility is restored to natural conditions — take a look for yourself in our new interactive Clean Air StoryMap.
Currently, the EPA has proposed changes to the Regional Haze Rule, and the administration aims to finalize these changes before the end of 2016. If the EPA adopts changes to strengthen the Regional Haze Rule and fixes the troublesome proposals that would weaken it, we will achieve significant pollution reductions that improve park air quality.
NPCA and advocates like you continue to work diligently to bring clean air to our prized national parks. Now we have a new opportunity to keep up this important work to restore natural, healthy air to our parks for years to come.
About the author
Ulla-Britt Reeves

Campaigns Director, Clean Air Program

Ulla serves as NPCA's Campaigns Director in the Clean Air Program working across the country to galvanize support to defend and support clean air and climate rules to protect national parks.