Most of us wouldn't think of putting a bison in our car as two Yellowstone visitors did this spring, but did you know that white shoes and sweat-soaked hiking gear can also cause problems?
As we're gearing up for record numbers of visitors in our national parks this summer, read these 10 tips to help keep wildlife wild, preserve your physical integrity and prevent your park experience from turning into an involuntary YouTube sensation.
Summer has barely begun, but already park visitors have made headlines for all the wrong reasons.
There was the father-and-son duo who put a baby bison in the trunk of their car, the trespassers who soiled the habitat of one of the world's most imperiled fish in Death Valley, and the woman who was knocked over by an elk that deemed her too close for comfort.
In the year of the National Park Service's centennial, many parks could see record crowds this summer. And given visitors' increasing propensity to document their park experience at all costs — the Centers for Disease Control and Prevention (CDC) attributed three of the five bison-related injuries in Yellowstone in 2015 to people taking pictures within six feet of the animals — painful encounters between visitors and wildlife are likely to go up.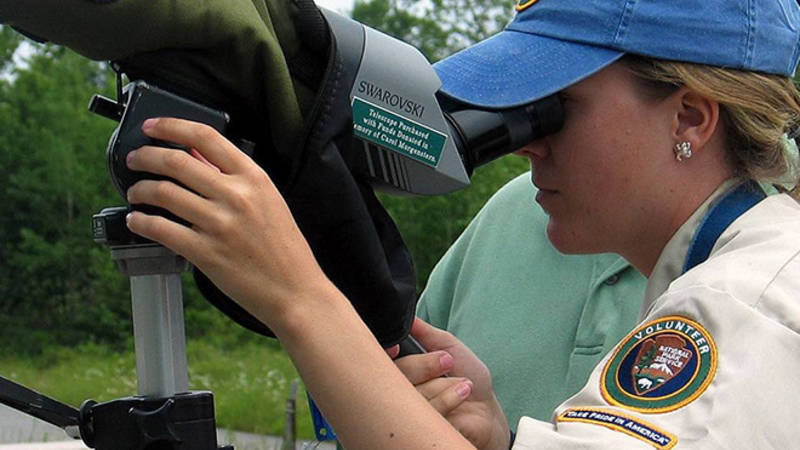 Blog Post
Our job was simple: hike to Marion Lake in Granite Canyon. Tack on a few more details, like a novice backpacker, an unknown wilderness, a leaky can of tuna, and…
See more ›
The consequences can be tragic. Animals die as a result, and sometimes people do, too.
The main rule to follow is simple, really: Keep your distance (100 yards from bears and wolves and 25 yards from other wildlife). Here is another way to put it: "Really a good general rule of thumb for most wildlife interactions here in the park is that we don't want people to change the animals' behavior," said Yellowstone spokeswoman Charissa Reid. "So if you pull up and you're observing a bison alongside the road that's grazing, you want the bison to continue grazing. You don't want to do something that actually alters their behavior."
But there are many ways human behavior affects animals, and it's not hard to go a few steps further to protect them. The following 10 tips are based on the Park Service's safety instructions and the recommendations of NPCA's own wildlife experts. This is by no means an exhaustive list, so check with local rangers for information relating to a specific park and read any warning literature given to you as you enter a park. These materials often contain very specific advice regarding the species within a particular park.
1. Don't Honk at Wildlife
Animal sightings often create road congestion as people line up to take pictures. Bear sightings and the chaos they create are so common in Yellowstone that they have their own phrase: bear jams. There is a reason female bears actually choose to spend time near roads, Reid said. It's because they fear males will prey on their cubs. The sows do find relative safety by the roads, but they also encounter harassment. "You can be in a bear jam, people will honk their horns, they'll whistle, they'll try to get the attention of the animal," Reid said. "All these things will stress the wildlife."
2. Watch Your Step — and the Color of Your Shoes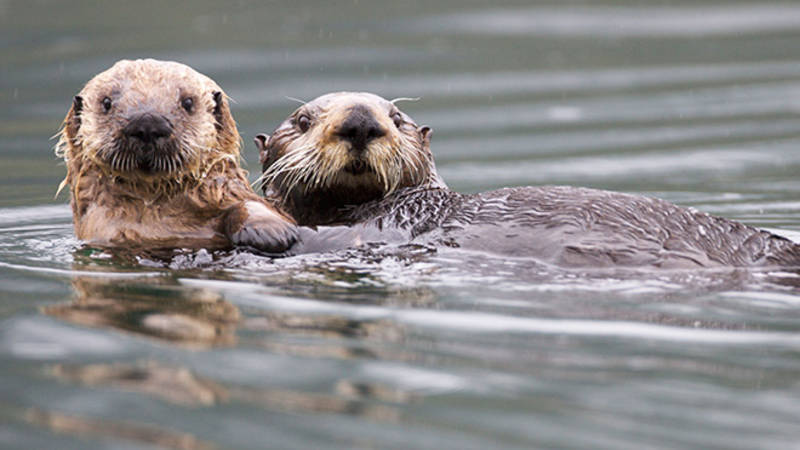 Blog Post
If you want to see wildlife, it's hard to beat some of the largest, most popular parks in the country: Yellowstone, Glacier, Denali, Olympic, Great Smoky Mountains, and the Everglades…
See more ›
As you walk on a beach, make sure not to step on birds' or turtles' nests — the same goes for rock climbers encountering nesting raptors. The color of your footwear can matter, too. If you're attending a sea turtle hatchling release at Padre Island National Seashore, avoid wearing white shoes. The turtles use the white foam of the waves, the moon and the reflection of sunlight on the water to find their way to the ocean. White shoes, clothing and lights can disorient them and cause them to lose precious energy, which in turn makes them more vulnerable to predators. Ryan Valdez, NPCA's senior manager of conservation science and policy, also recommends avoiding wearing insect repellent or strong sunblock during these releases as the hatchlings are using scent, along with temperature, water and air quality, and other factors, to help remember and return to that particular beach to nest later in life.
3. Don't Put a Bison in Your Car
This one deserves its own entry, not because it's a common occurrence — most bison don't fit in most cars — but because this is a good example of how good intentions can lead to devastating consequences. Last month, tourists visiting Yellowstone picked up a lone baby bison on the side of the road and drove to a ranger station out of concern for the animal. Rangers tried to reunite the bison calf with its herd, but all attempts failed and the bison was euthanized as its wandering by the road posed a danger for cars. An account by a wildlife photographer suggested that the baby bison had already been abandoned by the time the tourists decided to take action and that their intervention likely didn't change the animal's fate, but this tale is a reminder that park visitors shouldn't interfere with nature's course.
4. Sweat Without the Blood and Tears
Olympic's mountain goats are a treasured sight for park visitors, but park officials note that they also have "sharp, potentially lethal horns." Six years ago, a goat gored a hiker and stood on top of him until he bled to death. Rangers killed the goat shortly thereafter. So it's in both species' interest to keep humans and goats apart. The problem is that mountain goats crave the salt in people's sweat and urine and have been known to stalk hikers as a result. Rangers recommend not leaving your sweat-soaked gear unattended and not urinating on rocks or snow within 100 feet of the trail. If a goat is stalking you despite your best efforts to shoo it away, throwing rocks at it is an acceptable last resort.
5. Invest in a Zoom Lens
People visiting national parks often do so at great expense and therefore want to record the experience, especially the moment they came upon a magnificent bison or bear. The animals usually don't mind, but they also like their private space. Of the five people injured by bison in Yellowstone last year, three were taking pictures, including two with their backs turned to the animals, the CDC wrote in a report. Just last month, a woman was charged by an elk as she approached to photograph it. David Lamfrom, the head of NPCA's wildlife program, recommends "avoiding large hooved mammals during their rutting season when they become more aggressive due to higher testosterone levels." Also, rangers at Jean Lafitte National Historical Park and Preserve remind visitors that "alligators judge their prey by its size, and if you are kneeling down to take a picture, you're a much more tempting target than if you're standing up." At the root of many incidents is a visitor's poor understanding of their and the animal's running capacity. Reid said that when told to move away from a bison, one visitor replied: "I'm in really good shape." Never mind that the fastest human speed ever recorded (by sprinter Usain Bolt in 2009) — 27.8 miles per hour — is significantly slower than the average bison's top speed (35 miles per hour). "We're visitors in their home, and we want to act in a way that allows them to have natural quiet, low stress, lots of room to do their thing," Reid said. "Getting that perfect picture or that perfect selfie just can't be our priority."
Video by East Idaho News/Youtube.
6. DEET and Water Don't Mix
Summer is mosquito season, and many visitors will resort to DEET products for protection against some of the parks' small fauna. If you do so, avoid swimming and crossing rivers, Lamfrom said, as fish and amphibians are particularly vulnerable to DEET.
7. Carry Bear Spray
Stay On Top of News
Our email newsletter shares the latest on parks.
Unlike parks in other parts of the world, U.S. parks allow visitors to explore the habitat of large predators on foot independently. This is not without risk. Yellowstone officials recently found that only 28 percent of backcountry hikers there were carrying bear spray despite its proven efficacy in deterring bears. After three deaths in three years where people weren't carrying bear spray, Yellowstone is embarking on a campaign to raise awareness. If you're going to bear country, take your bear spray.
8. Don't Feed the Wildlife
Don't feed the wildlife, even if the wildlife is begging. Coyotes and bears that get a taste of human food will often come back for more and can become aggressive in doing so. Animals can pay the ultimate price for their cravings. Earlier this month, Canadian park rangers near the Klondike Gold Rush National Historical Park killed a black bear after it broke into a Parks Canada patrol cabin, "raided the refrigerator and cabinets" and "gained access to a significant quantity of human processed food." Mammals are not the only ones involved. "Ravens can unzip/unfasten many different kinds of packs and containers," warn Yellowstone officials. And what you don't consider food might be viewed as such by more adventurous eaters. Everglades rangers caution that "vultures are attracted to the rubber on vehicles and have been known to cause severe damage to windshields, sun roofs and windshield wipers." And marmots in the Mineral King area of Sequoia like to dine on radiator hoses and car wiring, so look under your hood before you depart — some marmots have ridden all the way to Southern California. In summary, store your food away, use bear-proof containers if necessary, and cover your car with a tarp when visiting vulture or marmot country.
9. The Road Doesn't Belong to You
Even on the roads within national parks, wildlife has the right of way. Three years ago, a report found that bear and bison deaths from collisions with vehicles in Yellowstone had risen significantly over the past decade. Earlier this month, the cub of a beloved grizzly was killed in a possible hit-and-run incident. Obey the speed limits and pay particular attention at dawn and dusk when many mammals and reptiles are most active. Seasons and weather variations can also trigger migrations of large numbers of animals (salamanders, turtles, monarch butterflies and tarantulas, for instance). "These are spectacular natural events to behold and an opportunity to witness a mass movement rather than to add to road mortality," Lamfrom said.
10. Don't Touch the Wildlife
Some visitors have dared to pet bison and were very fortunate to escape unscathed. You shouldn't try to emulate them. Wildlife doesn't like to be handled. For instance, Lamfrom said that tortoises "should never be moved unless they are in imminent danger. If they are stressed out, they will void their bladder and thereby lose the water they need to survive extended periods without water." It may seem obvious, but officials at Big Cypress National Preserve remind visitors that if you encounter an alligator on your trail, "do not attempt to move it yourself."
How close is too close? Hint: This is too close. Video by Brett Johnson/Youtube.
About the author
Nicolas Brulliard

Senior Editor

Nicolas is a journalist and former geologist who joined NPCA in November 2015. He writes and edits online content for NPCA and serves as senior editor of National Parks magazine.