A new book features 85 posters of national parks by contemporary artists and designers.
When you hear the words "national park," what image comes to mind? A damp walk among towering trunks of giant sequoias? The Statue of Liberty looming larger and larger as the ferry nears Liberty Island? Or a park that you haven't been to but would love to visit someday?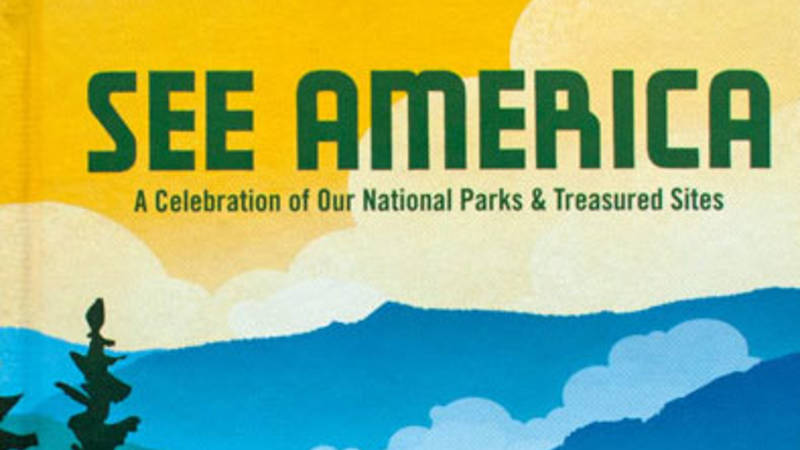 Amazon
A hand-picked collection of artwork from the See America poster project is now available for sale as a book. A portion of the proceeds benefit NPCA.
See more ›
Artists also form a visual bond with national parks, and they help translate that bond into creations that further inspire the rest of us to visit these special places. Two years ago, the Creative Action Network issued a call to artists and designers worldwide to create posters of their favorite parks. The initiative echoed posters created in the 1930s and 1940s under the mandate of President Franklin D. Roosevelt's Works Projects Administration. The current project has now collected more than 1,000 designs from a new generation of artists, and today the collective will release See America, a book featuring 85 of these designs. (A portion of the proceeds from the sale of the book will support NPCA.)
In anticipation of the book release, we asked a few of the featured artists to tell us about the parks that inspired them and their creative processes. Their answers have been edited for brevity and clarity.
Siamee Yang, Manzanar National Historic Site
When Siamee Yang read a book in fifth grade about a little girl who survived the Hiroshima bombing, it made a lasting impression on her. She couldn't wrap her mind around the reasons for the bombing, so she decided to learn more about World War II and the attack on Pearl Harbor, and she came across the story of the internment camps for Japanese Americans in the United States.
"It broke my heart," she said.
She lived in California, so she asked her mother to take her to nearby Manzanar. She then realized that under different circumstances she could have suffered the fate of the prisoners. "I could have lived and died here simply because of my ethnicity, even though I am an American and love my country," she said.
Yang said her first draft included many details that clouded her intended message, so she scrapped it and went instead for "the Japanese aesthetic of refined simplicity. I kept just the important pieces," she said.
Yang said she would like people to take away that "even though World War II might have been almost a century ago, hostility is still felt today with different ethnic groups. We must remember what fear and ignorance lead to, and do everything in our power to stop it from ever happening again."
Naomi Sloman, Yosemite National Park
Naomi Sloman said she loves the outdoors, particularly mountains and forests. She hasn't actually been to Yosemite—she is based in England—but her husband has, and he's inspired her to make the trip herself one day.
"From my husband's photos and stories of exploring Yosemite, I got a real sense of majesty and power as well as a great feeling of peace and tranquility in the wilderness," she said. "I have tried to recreate that, though in a more lighthearted fashion."
Jon Cain, Great Smoky Mountains National Park
The park featured in Jon Cain's poster—and on the See America book cover—holds special significance for him.
"This park […] is very close to where my wife and I got married and honeymooned," he said. "We also traveled a lot before our kids and would visit the different areas and overlooks around the park."
He said the Smokies are "different every time you look at them, breathtaking in the morning and romantic at sunset. The mountains are vast and beautiful and make you feel alive and at peace."
Shayna Roosevelt, Muir Woods National Monument
Despite now living on the East Coast, Shayna Roosevelt considers the Bay Area her true home. While there, she used to visit redwoods on a weekly basis and even planted 24 of them in her backyard. "I've always found peace in redwood groves," she said. "They're a place where you can physically see the future spring up from the past."
Her family history also played a role in her choice. Theodore Roosevelt, her great-grandmother's uncle, declared Muir Woods a national monument in 1908, and the United Nations held a memorial service in Muir Woods for her great-grandfather, Franklin D. Roosevelt.
Her design reflects the many walks she took in Muir Woods and her background as a textile designer. She hopes people viewing her poster will experience some of the magic and respect she feels when walking through redwoods. "To realize that those trees have existed, and will continue to exist, for so much longer than we ever will is humbling and awe-inspiring," she said. "I'm constantly amazed by the power of nature to transform and survive no matter how much we throw at it."
Matt Brass, Gettysburg National Military Park
Matt Brass based the busts in his posters on historical portraits, and the background is a combination of present-day landscape and battle imagery.
"I liked the juxtaposition of the formal portraits with the conflict in the background," he said. "The Civil War was a painful coming of age for the country; there is a heaviness and pain and dignity to it. I wanted these pieces to have some weight to them to convey this."
Luis Prado, Zion National Park
Luis Prado has visited several parks but hasn't been to Zion yet. He researched photographs and read about Zion to learn more about the park. "I found it interesting that one of its entries was by tunnel—The Zion-Mt. Carmel Tunnel," he said. "I imagined a family car with a kid or two, ready for adventure, coming out of the tunnel and discovering the park in all its splendor."
Prado said he was attracted to the project because he loved the original series. "My designs are attempts to honor those original posters," he said. "I tried to keep their style sensibility."
Roberlan Borges, National Park of American Samoa
Roberlan Borges, who lives in Brazil, said that as he started conducting research about national parks for the project, some really grabbed his attention.
"The shapes and colors I saw in photos of the Samoa park were really mesmerizing," he said. "I tried to make a geometric design as a way of enhancing the natural beauty of the park."
Alyssa Winans, Hawai`i Volcanoes National Park
Hawai'i Volcanoes National Park is a place Alyssa Winans wishes she could visit someday. "The park seemed unique in that much of the beauty is a hint for something even grander happening beneath the surface that we really can't experience directly. It's an intriguing concept for a park experience!" she said. "I wanted to give some sort of indication of this through my illustration of (imagined) volcanic gas, one of the major indicators of the inner workings of the volcano. I hope that viewers come away with some sense of tranquility and a desire to learn more about this special location."
See more Creative Action Network posters on NPCA's Instagram feed over the next ten days and at SeeAmericaProject.com.
About the author
Nicolas Brulliard

Senior Editor

Nicolas is a journalist and former geologist who joined NPCA in November 2015. He writes and edits online content for NPCA and serves as senior editor of National Parks magazine.