© RACHID DAHNOUN FOR TANDEM STILLS + MOTION
Spring 2016
The Lassen Effect
Discovering Bumpass Hell, Chaos Jumbles, and the Many Marvels of Lassen Volcanic National Park.
I try not to run, if at all possible. I'd love to say that I'm signed up for every 10K in the state and my weekend doesn't start until I get a few miles in my Nikes, but in all honesty, running has always ranked near dental treatments for me. Yet here I was, in Lassen Volcanic National Park, trying to figure out how to cover a lot of ground in a short period, and I couldn't shake the nagging idea that I should run. Naturally, I fought it. "Sacrilege!" I argued to myself. "I should be strolling meditatively through this natural wonderland." I imagined the ghost of John Muir nodding in solemn approval.
TRAVEL ESSENTIALS
Packing for Lassen varies by season. Most of the park is blanketed by snow from November to April (or longer), and the trail to Lassen Peak is a snowshoe-only adventure well into the spring and sometimes, into summer. During the off-season the safest bet is to bring your own snacks—amenities are scarce. Once it warms up (and also during holiday weekends in the winter), the cafe at the Kohm Yah-mah-nee Visitor Center offers local craft brews, ice cream, and semi-hearty fare that's easy to pack. As for gear, your ambition is your only limit: Paddleboards, fly rods, sleds, and more can all be put to good use around Lassen. If you want to stay a while, accommodations include camping cabins, seven campgrounds, and the rustic Drakesbad Guest Ranch. The backcountry is all natural—there are no services or facilities—so take everything you need with you. The major airports closest to the park are in Sacramento, 165 miles away, and Reno, 180 miles away.
"So then walk there, and run back," my intrepid other self-responded.
I'd reached one of those steep slopes where regular trail rules didn't quite apply: Walking down slowly could have led to a messy fall, but giving in to gravity and galloping down would allow for safe passage. Counterintuitively, I sped up and ran down the slope, and then when the ground rose, I zipped up the incline and kept running, even after the initial momentum wore off. I hopped neatly over tree roots, wove smartly around rocks, bounded over gullies, and, I'd like to imagine, shocked and awed chipmunks, frozen in mid-scurry.
I was running, and no one was chasing me … I was trotting up hills, and I was smiling. This, I realized, was The Lassen Effect: Exploration creates fissures in our crusts, allowing forces to surface—sometimes unexpectedly—and change our shape and perspectives.
Most people don't just stumble upon Lassen Volcanic National Park. Tucked away in far northeastern California, the 106,372-acre park is a three-hour drive from the nearest major airport, and its two main entrances are 45 and 50 miles off the nearest interstate. Like some of the more famous parks in the West, Lassen offers sweeping grandeur and hydrothermal marvels, but it has only a fraction of the visitors and traffic, and none of the luxury hotels or bustling food courts that can be distracting for great outdoors purists. Its isolation and the no-frills set-up have engendered a fierce loyalty among its fans, who share a desire to keep their beautifully placid park exactly that.
I live down the hill in Redding, close enough to the park to take day trips there, a geographical bonus I had never managed to exploit. Then last summer, I decided to cash in on my proximity and chip away at the long list of park attractions. After hours of toggling between the park's website, recorded hotline, and a map I picked up in town, I had a list of things I didn't want to miss and knew I could manage in a handful of day trips. My friends' schedules didn't line up with mine, so I took most of my trips alone, which made it easier to convince myself to run and seemed appropriate for Lassen's uncrowded, contemplative atmosphere.
Take the first trail I was on when I quit fighting and started, well, flighting: The Mill Creek Falls trailhead is visible from the park's main parking area, isn't strenuous (yours truly was running on it, after all), and offers views of mountains, a canyon, and of course, Mill Creek Falls itself. Though it was a beautiful summer Saturday, I saw more deer than humans and almost literally ran into a doe and her fawns grazing along the creek. (Apparently, learning to trail run also means learning to brake suddenly for nonplussed wildlife.)
The trail took me past a hillside covered in blooming mule's ears rattling so gently in the breeze, it sounded like they were purring. It wound along East Sulphur Creek, bowing and climbing through a red fir forest dotted with chipmunks. Later that day, a guided walk at Lily Pond Trail alternated between fairy tale forest landscapes—complete with the promised pond and Reflection Lake—and arrestingly barren swaths of land locked in the moment they were swept over by a rock avalanche.
I had started that first trip with doubts. I wanted to be one of Lassen's ardent advocates, but deep down I wondered: Was there a reason Lassen didn't attract crowds or boast icon status? How had I gone for seven years without visiting my backyard park, and why wasn't I able to scare up a companion? Was the park, perhaps, just nice but not actually awe-inspiring? By the end of the day, however, after I'd encountered cascading waterfalls, walked through a moonscape known as Chaos Jumbles, and discovered my own ability to run wild, my dubiousness was gone.
Lassen doesn't always sneak up on its fans like this—there are some famous aspects of this otherwise little-known park. It's one of the last sanctuaries of natural darkness in the country, drawing thousands to its Dark Sky Festival every August. It's also home to more than 40 volcanoes. Every major type in the world is represented, including large shield volcanoes, like Hawaii's Mauna Loa, and composite volcanoes, like Vesuvius and Mount St. Helens. Cinder cones (which resemble anthills) and plug domes (wherein thick, sticky lava cools and builds up the mountain, layer by layer, eventually plugging its own hole) are also scattered throughout the park. Lassen Peak is one of the largest plug dome volcanoes in the world, and its most recent violent eruptions from 1914 to 1917, photographed by B.F. Loomis, captured the attention of the nation. Lassen was designated a national park in 1916, and its Loomis Museum tells the tale of Loomis' race to get the shot before escaping the ensuing devastation.
On a microbial level, Lassen's hot springs are under close scrutiny by virologists and astrobiologists because of recently discovered bacteria and high-heat-loving microorganisms called extremophiles. How these life forms thrive in such intense conditions may offer insight into what types of life we might find on other planets. In colder sections of the park, the watermelon algae in Lassen's snowpack—named for their pink hue and sweet fragrance—are able to produce bright pigments called carotenoids, which protect them from solar radiation. Researchers are interested in how the algae's defensive compounds could be used to treat certain illnesses and cancers.
The park has its banner tourist attractions, of course, and after my warm-up round, I was ready to see what else it offered. The most accessible was the Sulphur Works, which surround the park highway just beyond the Kohm Yah-mah-nee Visitor Center. A 180-degree bubbling mudpot, five feet across, gurgled away next to the sidewalk, while fumaroles across the road pumped steam into the breeze, as if someone was about to make a dramatic entrance. Farther into the park, the Bumpass Hell Trail boardwalk snakes over a curiously colored landscape of more steaming fumaroles and boiling pools. It smelled eggy, and not the freshly scrambled type, but my attention was quickly diverted from the aroma to the sci-fi spectacle around my feet. Bumpass Hell is largely devoid of plant life; magma sits six miles below the surface, and at various points, the earth hisses and spits like an incensed housecat, burbles and blubbers comically, and steams enigmatically. It felt like the masterminds of Disney had built a set using rubber molds and dry ice for theatrical effect. Large patches of chartreuse and saffron earth, disrupted by shockingly bright pools of ice blue, enhanced the sense of the unreal, but the occasional waves of sulfur fumes and the sight of the Cascade Range along the horizon always tugged me back to reality.
SIDETRIP
If you haven't had your fill of mountain scenery, head north 40 miles to McArthur-Burney Falls Memorial State Park, where the towering waterfall wows visitors year-round. One hundred million gallons of water flow daily from underground springs, dropping 129 feet into a large pool. The city of Redding is an hour's drive down the hill. With mountains on three sides and two lakes, plus an interstate and a river cutting right through town, Redding is an outdoor recreation hub. It also boasts the Sundial Bridge, a cantilevered, glass-decked pedestrian bridge over the Sacramento River with a stunning white gnomon pointing skyward at a 42-degree angle. The bridge links loops of the Sacramento River National Recreation Trail, which takes visitors along the river to the tops of bluffs, to Shasta Lake, and to Redding's other engineering marvel: Shasta Dam.
I tried to keep to my plan, but running back was tricky. Bumpass Hell is one of the more popular hikes, in part because its views of the southeast mountains are incredible. When I wasn't yielding to families and hikers, I was stopping in my tracks to take yet another picture of the peaks and folds spread out around me.
I had clearly come at the right time of year: June and July in Lassen are gorgeous. While the valley below bakes in triple-digit temperatures, Lassen maintains the feeling of spring, especially with its flowering lupine stretching all the way up to the subalpine reaches. Everything is blooming, there are still splashes of snow on the peaks, and the sun and mountain breezes play a mischievous game of "see how many times she'll put on and take off her sweater in a single hike."
After a morning going to Bumpass Hell and back, I lunched at the Lassen Cafe, enjoying a beer with my view from the patio, and decided I could use a lesson about all this blooming and beauty. I joined ranger Kathy Carlise on one of Lassen's guided wildflower walks, where she explained the secret to the success of the park's most prevalent flower: "The narrow lupine sends a message: 'Wanted! Burly bee with a mountaineering spirit!'" A buzzy chutzpah was especially necessary last year when California's drought robbed Lassen of its usual winter, triggered an early, dry spring, and shortened the flowers' lifespan. But Carlise didn't let the lack of snowpack dispirit us. "With climate change and flowers," she said, "there will always be winners and losers." We focused on the winners—red pride of the mountain, cheerful ranger buttons, princess pine, and bog orchids—around a bucolic stretch of Hat Creek.
I returned to the park the next day, this time with my friend, Sarah, and we channeled our inner burly bees as we chased the lupine and whitebark pine up to Lassen Peak. The elevation gain starts immediately and doesn't let up, rising 1,957 feet in only 2.4 miles. The namesake trail provides the highest vantage point in the park and draws climbers for daytime and full-moon hikes. When timed with the sunrise, night hikes offer a spectacular show while slashing your risk of sunburn, as shade on the trail peters out early on. Despite my recent spate of hiking and trail running, I still felt like a novice, so we stuck with a more conventional, mid-morning hike. As we switched our way up the steep mountain, Lake Helen lingered below; it's a deep, vibrant blue and a near-perfect oval, like a strangely placed swimming pool in the basin of volcanoes.
ABOUT THE PHOTOGRAPHER
Rachid Dahnoun is an outdoor adventure photographer whose work has been featured in National Geographic, Travel and Leisure, The New York Times, and many other publications.
Sarah is a botanist, though her expertise wasn't particularly useful: We were hilariously short on plants to appraise along the mostly barren trail. But her companionship was a nice change after my last few solo visits, and two hours and roughly 132 water breaks later, we reached the top. There, a ranger was relating the volcano's history, closing his lecture with the tale of the man known only as Ishi. The last surviving member of the Yahi, a group of Native Americans systematically wiped out by gold rush settlers, Ishi was starved out of his native home in the foothills of Lassen Peak and taken to live, and be studied, at the University of California, San Francisco. "Ishi returned to the mountain one last time," the ranger explained, "and just after he left it forever, it erupted." Hearing the story of the peak, told atop the peak, was stirring. I scanned the landscape to the horizon, considered the beauty and intensity of it all, took a few deep breaths, and started back down.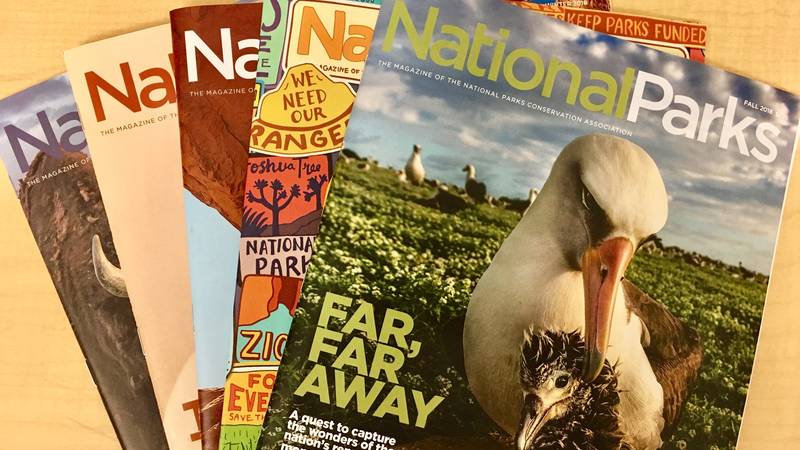 Subscribe to
You can read this and other stories about history, nature, culture, art, conservation, travel, science and more in National Parks magazine. Your tax-deductible membership donation of $25 or more entitles…
See more ›
On my last weekend in Lassen, I headed to Kings Creek Meadow, eventually ending up on a trail that wound through the woods to Cold Boiling Lake. Even after seeing the peculiarities at Bumpass Hell and the Sulphur Works, it was a head-scratcher to observe perfectly cool water boiling away at the edge of the woods (the result, it turns out, of carbon dioxide escaping from inside the earth). Curious about what other thermaltechnics lay ahead, I walked on toward Crumbaugh Lake. The trail was only lightly worn, unmarked enough that I could squint and pretend that I, newly minted trail runner, was confidently forging a new path through sun-dappled wood.
When the trees gave way to a looking-glass lake rimmed by mountains and a brilliant green meadow with white wildflowers flung like so much powdered sugar, I couldn't help myself: I ran toward it.
About the author
Kallie Markle

Kallie Markle is a writer living in northern California.