ILLUSTRATION BY DUNG HOANG
Fall 2012
Saving the Smokies' Bears
A bear-rescue group in Tennessee gives nature a little help.
In May, when park rangers at Great Smoky Mountains National Park received a call about a bear that had wandered into the Cades Cove Campground, they weren't surprised.
Faced with food shortages due to extreme weather conditions, the bears were "coming out of hibernation and moving all over the place trying to find food," recalls Bill Stiver, the park's chief wildlife biologist. Although park staff generally let nature take its course, when bears start showing up in a developed area they have no choice but to take action. So a wildlife technician captured the black bear—easy enough, since she was weak and had suffered a severe bite to the snout, possibly from a coyote or another bear. At the University of Tennessee Veterinary Hospital, doctors cleaned the wound and administered antibiotics.
GOING NUTS FOR BEARS
As part of its education program, Appalachian Bear Rescue organizes groups of school children who forage for acorns and then donate the yield—truckloads' worth—to the facility. The rescue group also maintains a very strong volunteer base from around the region and even in Toronto, where a tech-oriented volunteer updates its donor database and administers its Facebook page.
Hydrated and treated, the woefully undernourished yearling, which weighed in at only 13 pounds, was taken to Appalachian Bear Rescue (ABR) in Townsend, Tennessee, a gateway town about three miles from the park. There, she was kept inside to gain weight and allow her wound to heal, free from dust and insects she'd encounter in the wild. In three weeks, she was well enough to move to an outdoor enclosure. In three more weeks, she had put on 20 pounds (approaching the typical weight of 40 to 50 pounds for a female yearling) and was ready to stand on her own. In late June, the bear was tagged and released back into the park. She took off in about five seconds.
The story of Little Bit Bear—as she was subsequently named by Appalachian Bear Rescue's 7,000 Facebook fans—is the latest in a string of successes since the facility opened in 1996. "Before ABR existed, we had a mast failure [a dire shortage of nuts and berries that accumulate on the forest floor]," says Stiver. "We were holding hungry and injured cubs in wild boar traps—essentially small cages—until the bears gained enough weight and strength to return to the wild. Getting ABR up and running as a separate facility was tremendously important to the park. Our local friends group, Friends of the Smokies, even helped build their fences."
Studded with a thick canopy of tulip poplars, oaks, and maples, ABR's 25-acre facility includes a cub nursery, three sheds used for food storage and refrigeration, and two fenced-in outdoor "blind" enclosures that prevent the bears from seeing their keepers.
Officially under the auspices of the Tennessee Wildlife Resources Agency, the organization receives about 20 percent of its bears from the Smokies; the rest come from state parks or even neighbors' backyards. ABR is the only bear-rescue group near a national park.
The cubs and yearlings that arrive at the facility are "just about starving to death," says ABR's co-founder Rick Noseworthy. "They're at the point where they won't be able to survive much longer in the wild." But most just need a little help. Ninety percent of the 185 orphaned and injured bears that have stayed over the years have been fattened up, treated, and released to the wild. The others have died, been euthanized, or placed in captivity because they've become too habituated. "A bear that grows used to people is very quickly a dead one," says Dana Dodd, board president of ABR. "[Once an animal becomes a nuisance], it's always the bear that loses."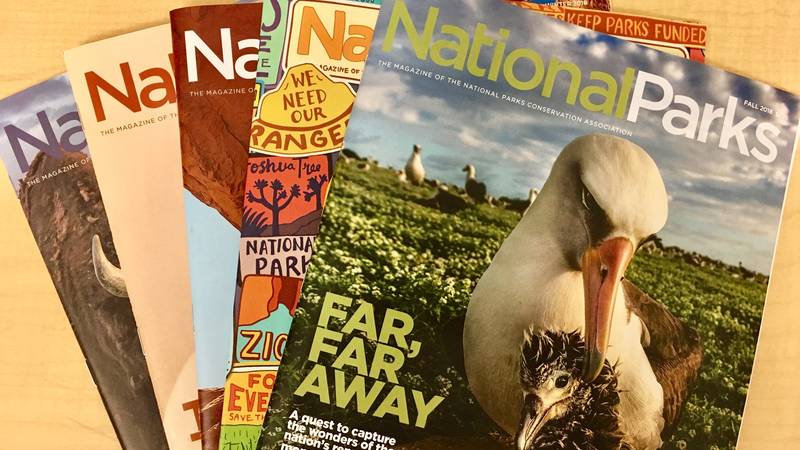 Subscribe to
You can read this and other stories about history, nature, culture, art, conservation, travel, science and more in National Parks magazine. Your tax-deductible membership donation of $25 or more entitles…
See more ›
To prevent that, visitors aren't allowed at the rescue center, and curators keep as far away as possible when feeding and handling the bears. Even when ABR sends educators to schools and community groups—about two dozen times a year—the bears stay put. The need to ensure distance between bear and man can hamper fundraising, but it's not in the animals' best interest to be around people, says Dodd. "I could make a mint if I was able to bring a cuddly cub with me," she laughs.
As intakes have increased, the organization has boosted its physical size and added a second curator. Its food costs are skyrocketing, too. Black bears feast on berries, acorns, and other nuts, and they can devour 20,000 calories a day in preparation for hibernation. With a record number of 35 bears on site this spring, the group's food bill reached $8,000 each month.
With some recent capital improvements behind her, Dodd is turning her attention to blue sky dreams. "I'd really love to have a site in town where people can learn more about black bears," she says. "Perhaps we could even have a live web-cam feed. We're located right outside of the most visited national park in the country—and everyone comes for the black bears. They're the icons of the park."