Summer 2012
A Thousand Miles in a Hundred Days
Photographer Carlton Ward, Jr., leads a team of explorers on an ambitious, self-propelled journey through the Everglades and beyond.
They could hear the traffic streaming on Interstate 4, miles before it came into view. By the time they reached the bustling four-lane highway outside Orlando, Florida, the noise was deafening.
Now they just had to figure out how to cross it without getting killed.
"The highway was scary to us as humans," says photojournalist Carlton Ward, Jr. "I can only imagine how scary it must be to an animal that doesn't understand these things."
THE NUMBERS
2 YEARS to plan the expedition

101 DAYS to complete the expedition

414 MILES hiked

353 MILES kayaked

246 MILES biked

25 MILES on horseback

6 GATORS bumped with kayaks

76 HOURS of video footage

29,836 PHOTOGRAPHS taken by Carlton Ward, Jr.

13 FLAT BIKE TIRES

600,000 ACRES of land that could be protected by the government's Greater Everglades Initiative
Ward was 70 days into the Florida Wildlife Corridor Expedition—a 100-day, 1,000-mile trek tracing the Florida peninsula's last viable wildlife corridor. Starting from Everglades National Park on January 17, Ward and bear biologist Joe Guthrie, conservationist Mallory Lykes Dimmitt, and filmmaker Elam Stoltzfus followed the routes of wandering black bears and endangered Florida panthers by foot, horseback, mountain bike, kayak, and paddleboard. They camped in remote areas far from major roads and most of Florida's residents. They became accustomed to having entire landscapes to themselves.
On March 25, they were scheduled to meet with university researchers and Florida Forest Service employees to discuss wildlife underpasses—and that meeting happened to be on the other side of I-4. Which, of course, lacked a bridge or underpass that would allow them to cross safely. By waiting patiently, dashing through gaps in traffic, resting and regrouping in the median, then dashing through traffic again, the team made it in one piece. And they were relieved later to learn that the Department of Transportation has plans to install three new underpasses beneath this very stretch of I-4 in the next few years, when it expands the highway from four to six lanes.
Before Florida became known as the Sunshine State, it was labeled by homesteaders as "The Land of Good Living," and in the last 50 years, people took that idea quite seriously, flooding the state in record numbers and driving the population to an all-time high of 19 million. "Until the recent recession, we had a net of 1,000 people a day moving into our state, and it's led to a projected doubling of our population by 2060," says Ward, an eighth-generation Florida native. "We'll build a highway, and then we'll widen the highway, and development just sprawls out on either side. It's really encroached on the natural landscape."
And that poses problems for Florida's wildlife, which needs plenty of room to roam. Protected areas like Everglades National Park provide critical refuges, but some animals require much larger spaces to survive. Consider one collared bear, which in just two months traveled 100 miles south to north before traversing more than 500 miles within the Northern Everglades, or the panther that made it all the way from the Everglades to the Georgia border, where it was shot dead by a hunter.
Healthy, connected landscapes don't just benefit wildlife leaving the park—they benefit the park itself, whose health is affected by factors outside its boundaries. "It's a unique ecosystem," says Don Jodrey, senior advisor to the assistant secretary for Fish and Wildlife and Parks. "The purity and availability of its water depends on the watershed much farther north than the area that was set aside as Everglades National Park."
Despite increasing development pressures, there's a spirited group of residents who understand this, and they're growing in number and political strength. Meet Florida's ranchers: protectors of some of America's best remaining savannahs, and a minority that's critical to Florida's historical and cultural identity. (Because two-thirds of Florida residents weren't born in Florida and roughly 90 percent live near the coastline, most are unfamiliar with the state's interior landscape and the need to protect it.)
As part of the expedition, Ward's team stayed with and interviewed 23 ranchers, many of whom are managing huge plots of land that have been in their families for more than 100 years. "These multigenerational ranches are the backbone of the rural economy, provide excellent wildlife habitat, and provide significant wetlands benefits," Ward says. "So one of the best things you can do to restore the Everglades and sustain wildlife corridors is to help working ranches stay in business."
And they need the help. As older ranchers pass away, their children are left with the burden of estate taxes; often, Ward says, the family has to sell off as much as half its land to meet those tax obligations. "Time and time again, we're realizing that these landowners are committed to their land and their way of life, but they're also holding on by a shoestring," Ward says.
Thankfully, a conservation tool common in the West is starting to take hold in the East: conservation easements. Say that a farmer is struggling to pay the bills on his 10,000-acre ranch. By establishing a conservation easement, that farmer sells his rights to develop his land to the state or federal government in exchange for government funding and the right to continue ranching. In return, the government can be assured that the land will never be turned into a subdivision, a shopping mall, or any other incompatible development.
"It's not the traditional way we think of conservation, which typically includes the government establishing parks and refuges," Jodrey says. "National parks and preserves [remain a vital part of] conservation efforts, but conservation easements are also critical to the Everglades' health."
In 2011, a coalition of ranchers and conservationists created the Northern Everglades Alliance, which represents 1 million acres of private land in the Northern Everglades. With help from partners like the National Wildlife Refuge Association and The Nature Conservancy, they're working to partner with the Interior Department and the U.S. Department of Agriculture to pursue conservation easements and other solutions to protect their land. "These ranchers aren't just looking for a government handout," Ward says. "They're getting together on a monthly basis to talk about an immediate concern: how to keep family lands from breaking apart."
Getting the public on board is the next step. Once Florida's residents recognize the value of these interior landscapes—and are willing to fight to protect them—short-sighted developers don't stand a chance.
This is where Ward comes in. As a conservation photographer, his primary goal is to document these lesser-known landscapes, and the people protecting them, in a visually compelling way. The early results are promising. Among other media hits, the team secured stories on Florida Public Radio and National Public Radio and gained nearly 5,000 followers on Facebook and Twitter alone—significant strides, considering where the issue stood in Florida's collective consciousness just several years ago.
"In 2006, 'Florida Wildlife Corridor' didn't return anything in a Google search; now, you might find 50 news articles in Florida papers talking about it," Ward says. "But we're not yet to the point where we can walk into a coffee shop in Orlando, ask someone if they know about the Florida Wildlife Corridor, and expect that many people will. So there's definitely more work to do."
Just as important as generating public awareness, however, is how the expedition brought together key decisionmakers who have a direct influence on the Everglades' future. "It's been really exciting to collaborate with all of these people and agencies that own land in this area," Ward says. "Many of these groups are already working together and doing really good things, and that's part of what makes the corridor possible. But the more interagency dialogue we can facilitate, the better, so we're excited that people from the Florida state cabinet came out and walked with us, as well as heads of state and environmental agencies."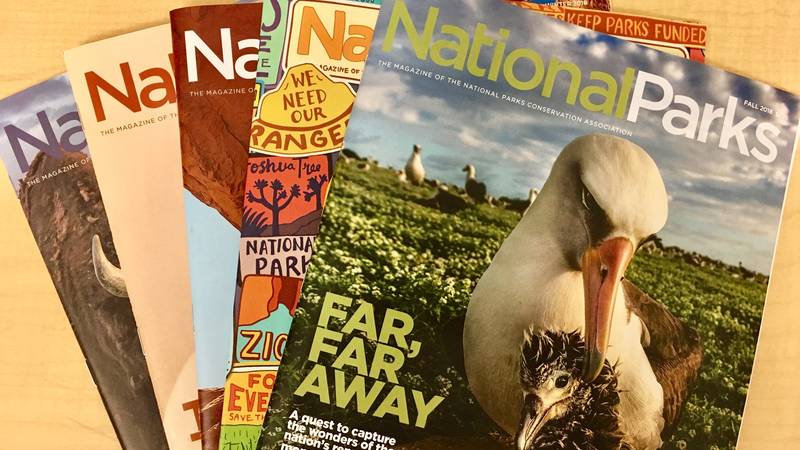 Subscribe to
You can read this and other stories about history, nature, culture, art, conservation, travel, science and more in National Parks magazine. Your tax-deductible membership donation of $25 or more entitles…
See more ›
Dawn Shirreffs, NPCA's Everglades Restoration program manager, sees the expedition filling an even bigger gap in the public's understanding of national parks. "I think there's a growing need to take journeys like this, so we can take our national parks and their boundaries out of the philosophical realm and turn them into something people can actually relate to," she says. "Getting images of those places that most people don't see—like the interior of a national park versus a visitor center—really helps people appreciate what we're protecting."
The team wrapped up its trek in late April, paddling into Georgia on the Suwannee River alongside National Geographic Explorer Mike Fay, whose work in Africa inspired Ward to pursue this expedition.
"What an appropriate ending," Ward says. "Navigating through the dark swamp and then huddling around fire in the rain made that night in the Okefenokee feel as wild as the Congo. In that moment, the comparisons between the Everglades and Okefenokee felt especially clear. Our journey had shown that these fantastic wilderness areas are indeed still connected, however fragile that connection might be. This land is the source for all of our water, our food, and our clean air. What's good for the bear and the panther and the Everglades is what's ultimately good for us, too."