© BETTMANN/CORBIS/AP IMAGES
Spring 2012
An American Poet
Carl Sandburg Home National Historic Site memorializes the poet whose work defined mid-century America.
It's easy to overlook the small flat rock surrounded by woods at Carl Sandburg Home National Historic Site—264 acres of hills, ponds, woods, and pastures about 30 miles south of Asheville, North Carolina. But this is perhaps the most magical spot on the entire farm, once known as Connemara. It is the rock where the late poet, historian, biographer, and musicologist Carl Sandburg spent innumerable days writing in a chair in blissful solitude. In the serenity of a warm afternoon, it's not hard to imagine the ghost of the esteemed man sitting right here, lost in thought.
"It is necessary now and then for a man to go away by himself and experience loneliness; to sit on a rock in the forest and to ask of himself, 'Who am I, and where have I been, and where am I going,'" Sandburg once wrote in a letter to a friend. His words ring true as ever today, and his last home offers not only a window into the poet's unusual life but also a vivid time capsule of mid-century America.
"There's no other place in the country to see how he lived when he wrote," says Sarah Perschall, chief of visitor services at the historic site. "When you walk into the house, you are walking into how the Sandburgs lived, down to the trash in the trash can and toothpaste containers in the vanity in the bathroom. It's as if they just stepped out."
Sandburg's story is a classic American tale of hard work and ambition. The son of Swedish immigrants, he was born in Galesburg, Illinois, in 1878 and dreamed of traveling the world. Instead, he read nearly every book in the local library and left school after eighth grade to help support his family. But one June afternoon in 1897, at the age of 19, Sandburg boarded a train and his life changed forever.
A TALENTED TEAM
When Sandburg married Lilian Steichen, he gained Edward Steichen, the famed photographer, as a brother-in-law. The two collaborated several times, most notably on a 1955 Museum of Modern Art exhibition, The Family of Man, in which Sandburg's prologue expressed their shared belief in the oneness of humanity.
He traveled the country as a train-hopping hobo; worked as a shoeshine boy for former Civil War soldiers, a newspaper delivery boy, milk slinger, fireman, railroad worker, farm hand, house painter, and soldier in the Spanish-American War; and went to college, then left without a degree. These experiences no doubt informed Sandburg's deep understanding of the lives of common Americans—and later helped him become a voice for them.
Sandburg eventually became a journalist and covered World War I and World War II, but his interests couldn't be reined in to one medium of expression. Over the course of his career, he wrote seminal biographies of Abraham Lincoln, diverse collections of poetry, a children's fairytale book called More Rootabagas, and American Songbag, a catalog of classic American folk songs collected from his travels. He won two Pulitzer Prizes, one for history in 1940 and another for poetry in 1951. President Lyndon B. Johnson awarded him the Presidential Medal of Freedom in 1964. In 1965, the National Association for the Advancement of Colored People honored him for his reporting on the 1919 Chicago race riots and his lifelong devotion to social justice.
Beyond his awards, Sandburg was beloved for pioneering the use of free verse in poetry and expressing the joys and struggles of everyday people in a style accessible to a wide range of Americans. Now his work also presents a snapshot of early 20th-century life.
Many of the events happening at the turn of the 20th century—the industrial revolution, the depression, labor rights—mirror some of the issues Americans are dealing with today, Perschall says. As a result, Sandburg's messages are still relevant. "He's also a great person to look at to understand our past," she adds. He's painted this great picture of history for us."
While Sandburg lived at Connemara, he compiled Complete Poems, abridged his biographies of Abraham Lincoln into one volume, penned two autobiographies, and wrote Honey and Salt, a collection of poetry. As a loving and gregarious father, he spent time with family and friends, taking walks, sharing jokes, strumming the guitar, and singing songs. He also continually collected books that would help him understand human experience, and now some 12,000 remain.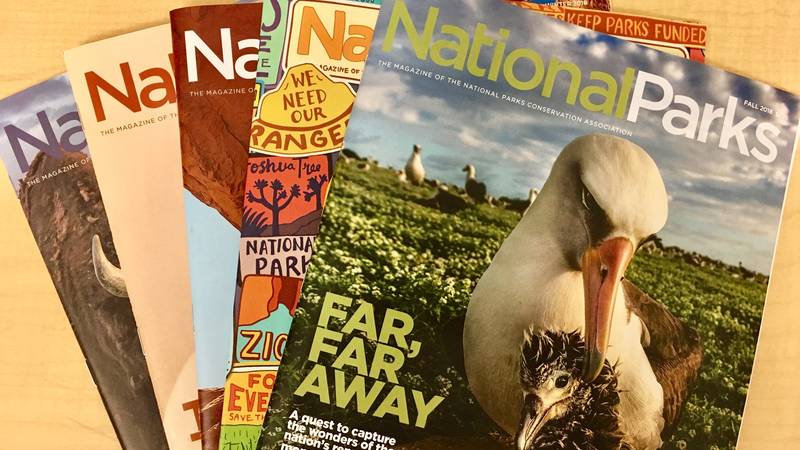 Subscribe to
You can read this and other stories about history, nature, culture, art, conservation, travel, science and more in National Parks magazine. Your tax-deductible membership donation of $25 or more entitles…
See more ›
"He was an American icon, a significant figure in our national life," says Penelope Niven, author of Carl Sandburg: A Biography. "He explored the human condition, from birth to death. He wrote about the American Dream, and… the importance of being part of a global community." As a testament to his influence, when Sandburg died in 1967 at the age of 89, some 6,000 people gathered at the Lincoln Memorial for a tribute led by President Johnson.
After Sandburg's wife, Lilian Steichen Sandburg, died in 1977, Connemara was turned into Carl Sandburg Home National Historic Site, the first national park unit devoted to a poet. Today, visitors can roam the grounds, explore the family's 9,000-square-foot home, and see some of the 300,000 letters, telegrams, maps, recordings, and photos left by the Sandburgs, including historic Civil War maps and a Mathew Brady photo of Abraham Lincoln. Sandburg's writing studio, complete with his typewriter and notes tacked up on the wall, hasn't changed in decades. The descendants of Mrs. Sandburg's herd of goats, now tended by more than 30 volunteers and the local 4-H club, still graze in the pastures.
"Carl Sandburg helped the American people discover their national identity through songs, poems, and prose," says Niven. "It's good to know something about his work as a poet, a biographer, a creator of children's stories, and a collector of folk music, because many of his themes and subjects are still timely and universal, and therefore relevant today." And there is perhaps no better place than the peacefulness of Connemara to reflect upon his life and legacy.
About the author
Kate Siber

Kate Siber, a freelance writer and correspondent for Outside magazine, is based in Durango, Colorado. Her writing has appeared in National Geographic Traveler and The New York Times. She is also the author of "National Parks of the U.S.A.," a children's book.