Spring 2014
Gone But Not Forgotten
Fossil Cycad National Monument was removed from the Park Service in 1957, but the story doesn't end there.
More than 20 years ago, in the dusty basement of a park Service library in West Virginia, paleontologist Vincent Santucci was rummaging through stacks of yellowing folders when he made a thrilling discovery. For months, Santucci had been looking for information about a defunct Park Service site that vanished from public memory.
Finally, buried amidst decades-old records, he found a trove of files that revealed key insights into the fate of South Dakota's mysterious Fossil Cycad National Monument.
Santucci had been hired by the superintendent of Petrified Forest National Park to help with a vexing problem: Visitors were pocketing small pieces of petrified wood to take home as souvenirs, which was adding up to a significant loss. Santucci knew that most visitors care very much about the welfare of the parks, and staffers needed to educate them about the impact of unauthorized souvenir collecting. But how? His research led him to the story of Fossil Cycad National Monument, a real-life example of a park that was decommissioned after visitors lifted so many of the fossils from the surface that there were none left to protect.
"Scientists once stood in awe of this place, but today cows quietly graze on this forgotten site," says Santucci. "Fossil Cycad is a compelling story, and the more that we look into it, the more we find a lot of lessons learned, which can guide us today to protect nonrenewable resources that have not yet disappeared."
Last year, Santucci and an intern compiled more than 5,000 documents and photographs, amassing more than 20 years of research in one database. Now the database is being used to guide planning and fossil exploration at the site and to present the powerful cautionary tale of Fossil Cycad to national park visitors across the country.
Fossil Cycad National Monument, a swath of 320 acres in the Black Hills of South Dakota, was established in 1922 by President Warren G. Harding. The site protected one of the world's greatest concentrations of Cretaceous-period fossils, known informally as cycads or scientifically as Bennettitales. These 120-million-year-old plant fossils have unique branching features and reproductive systems, and scientists believe they might hold important clues to the evolution of flowering plants.
"Because they were petrified, and in many cases replaced with silica, much of their internal anatomy was fossilized, sometimes at a near cellular level," says Kirk Johnson, a paleobotanist and director of the Smithsonian's National Museum of Natural History. "This allowed [paleontologists] to study them with the resolution that could be applied to living plants"—a rare level of preservation.
Fossil Cycad, however, was destined for trouble from the start. Instead of hiring dedicated staff, the Park Service asked local ranchers and the superintendent of nearby Wind Cave National Park to look out for it. The site never had a visitor center and didn't even appear in the superintendent's records until 1933, some 11 years after it was established.
With no protection, the precious fossils—which resemble topless pineapples—started to disappear, as ranchers, visitors, and even paleontologists lifted these ancient plants right out of the ground and carted them away. By 1956, little remained on the surface of these lonely, grassy hills, leading Congress to officially remove Fossil Cycad National Monument from the park system on September 1, 1957.
"Had the trunks not been hauled off by museums and souvenir hunters, the monument would have been a rare place where visitors could have wandered in a petrified landscape that was wholly unlike anything alive today," says Johnson. "I am sad that we don't have that chance."
Yet decades after its demise, Fossil Cycad is proving useful to the public in unexpected ways. Santucci, other Park Service staffers, and fossil preparators from the Smithsonian are currently constructing an exhibit that tells the story of Fossil Cycad. The display will include panels with text and photographs, a replica of a fossil, and a copy of one of two original hand-routed signs from the monument, which a paleontologist discovered two years ago in the Museum of Geology at South Dakota School of Mines and Technology.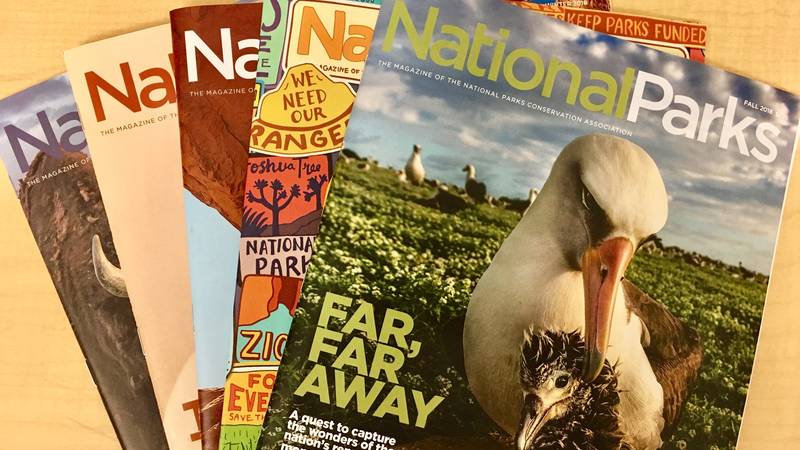 Subscribe to
You can read this and other stories about history, nature, culture, art, conservation, travel, science and more in National Parks magazine. Your tax-deductible membership donation of $25 or more entitles…
See more ›
By this summer, the exhibit will be ready to travel to sites such as Washington, D.C.'s National Mall, Arizona's Petrified Forest National Park, and Oregon's John Day Fossil Beds National Monument. Removing nonrenewable resources affects other park units, too, from Hawaii Volcanoes, where hikers pocket basalt lava rocks, to White Sands, where visitors take away bags of the famed gypsum crystals. Santucci's hope is that the detective work and education will inspire visitors to leave these precious materials where they belong: in the parks.
The research is also inspiring the Bureau of Land Management (BLM), which has managed the site since it was decommissioned, to make plans for the land, which became an Area of Critical Environmental Concern after highway construction unearthed a collection of new fossil cycad specimens in 1980. (It's unclear where those fossils are now.) With all of this information, the BLM is considering erecting interpretive signs or developing a website to tell the monument's story. In addition, a new map of the area, developed by a Park Service geologist, could help guide scientists to undiscovered fossils by identifying promising geological deposits.
But right now, the site isn't much to look at. Highway 18 blazes through the center of it, and most motorists would never notice the old monument's boundary stakes, which still stand among the cow-dotted rangelands and rocky outcroppings. Even though the first fossils found here are gone, the story of the monument lives on, offering hope that perhaps all is not lost.
About the author
Kate Siber

Kate Siber, a freelance writer and correspondent for Outside magazine, is based in Durango, Colorado. Her writing has appeared in National Geographic Traveler and The New York Times. She is also the author of "National Parks of the U.S.A.," a children's book.