Photo © Lindsay Douglas/Dreamstime.
The Hear Our Olympics campaign seeks to protect the natural sounds of Olympic National Park, an ancient refuge from noise pollution in the Northwest.
Our wild Olympic Peninsula is like nowhere else. It has been recognized as a wilderness area, an International Biosphere Reserve and a World Heritage Site. It is also the most popular national park in the Northwest, with over 3.4 million visitors in 2017 alone. Even with this high level of visitation, the park provides an uncommon refuge from noise pollution as an oasis of natural quiet.
According to sound expert Gordon Hempton, who has spent decades researching noise pollution and making recordings of natural sounds throughout the United States, the Olympic Peninsula is "the most acoustically diverse" and "least noise-polluted" place in the Lower 48 states. Whether you love the crash of the ocean surf, the bugling of Roosevelt elk or the whistling of marmots in high mountain meadows, Olympic is a peaceful, accessible place where you can actually hear the beauty of nature in all its diversity.
Yet, Olympic's uniquely distinctive soundscape is threatened by new and unnatural noises: military jets training overhead.
Why it's important: A new threat to the quiet
As remote as the Olympic Peninsula is, it is within minutes by flight of Naval Air Station Whidbey Island, which has served as a military airbase since World War II. The Navy has recently based more than 80 EA-18G Growler jets at Whidbey Island, with more planned. These aircraft are more commonly known as Growlers, and their powerful engines produce a deep, cacophonous roar. In a 2009 report on jet engine noise reduction, the U.S. Naval Research Advisory Committee identified Growlers as some of the loudest aircraft in the skies. When flying overhead, Growlers can create sounds loud enough to damage the hearing of people nearby. In fact, the Navy has identified hearing loss as the top occupational health hazard for its workforce.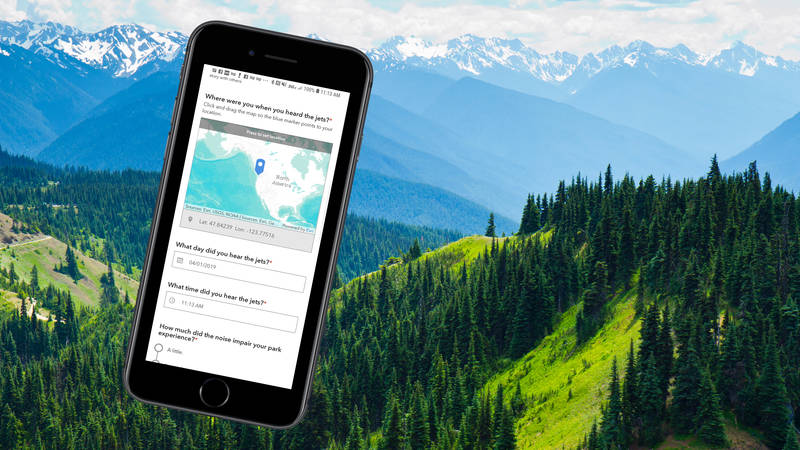 Resource
Have you heard the Growlers while visiting Olympic National Park? Let us know about it using our Growler Tracker tool.
See more ›
In recent years, the Navy has proposed increasing Growler fighter jet training over and around Olympic National Park. This would not only include the use of more Growler aircraft, but it would also involve parking trucks at up to 15 sites on surrounding roads to broadcast electromagnetic signals to these warplanes as part of the pilots' training. NPCA opposes Growler jet training over Olympic National Park.
Olympic airspace is a choice, not a necessity
If the Navy conducts increased fighter jet training over the peninsula, it would affect some of the most popular wilderness areas, trails and visitor centers at Olympic National Park, including the idyllic Hoh Rainforest and wild Pacific beaches.
Olympic National Park is the training location closest to the Navy's runways on Whidbey Island, but it's not the only place the Navy could train. Currently the Navy conducts similar training in other airbases and military airspace in the West, including Mountain Home Air Force Base in Idaho, Naval Air Station Fallon in Nevada, and Ellsworth Air Force Base in South Dakota. According to the Navy's own analysis, using the Olympic region is a convenience and not essential for its training needs.
Save the sounds of the Olympic Peninsula
NPCA recognizes Olympic National Park and its wild surroundings as a unique part of America's heritage. The park is a sanctuary, offering peace, solitude and the opportunity to enjoy rare natural quiet among natural sound.
Together we can encourage the US Navy to protect the natural sounds that make Olympic National Park such a special place.
Sign Up
Get Action Alerts
Want national parks in your inbox? Sign up for NPCA email updates to receive news, features, and opportunities to make a difference! You can unsubscribe at any time.