NPCA supporters and allies fought for six years to stop a polluting industrial hog facility from operating on a tributary of America's first national river. In November 2018, the Arkansas Department of Environmental Quality finally denied the company a permit to continue spreading millions of gallons of waste annually in the watershed.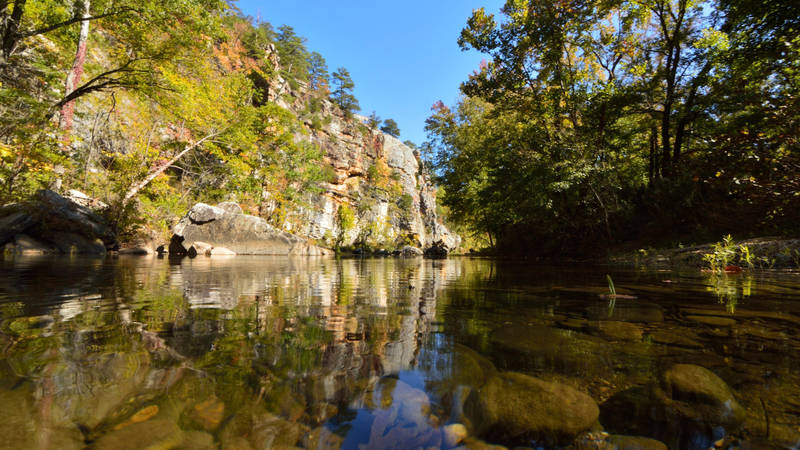 Press Release
We are pleased with the state's decision to put federally protected waters and local economies above private industry.
See more ›
The Buffalo River is America's first national river and a beloved national park. The health of the Buffalo is dependent on the water quality of its tributaries, many of which lie outside the park's narrow boundaries. In 2012, the Arkansas Department of Environmental Quality (ADEQ) granted a permit to an industrial swine facility, C&H Hog Farms, Inc. The millions of gallons of hog waste from this swine facility was spread over hundreds of acres of porous land, along the banks of Big Creek, a major tributary of the river. It threatened the health of the watershed and the enjoyment of visitors who swim, fish and boat there.
C&H's facility was the first large swine concentrated animal feeding operation (CAFO) in the state. The CAFO supplied pork to the multinational company JBS, the largest animal protein processing company in the world. After the company's permit expired in 2016, it applied to the state of Arkansas for a new permit that would allow it to operate indefinitely in the Buffalo National River watershed. The company submitted incomplete paperwork in its application and failed to produce geological, geotechnical, groundwater, soils, structural and testing information specified in state regulations.
NPCA and its supporters and allies opposed the facility for years, continuing to pressure the company and state officials to move the operations from this sensitive watershed ¬ even as C & H was allowed to continue operating during more than the more than two years of appeals while it sought to renew its permit.
In a September 2018 draft report, ADEQ stated that segments of the Buffalo National River and its tributary Big Creek did not meet water quality standards and that "The assessment units impaired for pathogens and dissolved oxygen and other related water quality data indicate that this facility [C&H] may be contributing to the water quality impairments observed in Big Creek and the Buffalo National River." In November 2018, the agency finally denied the company's permit and required it to cease operations, a major win for this important river and all the people who enjoy it.
It was always simply inappropriate for a CAFO of this size to operate in this sensitive, protected watershed.
Fortunately, after six years of advocacy, ADEQ has directed C&H Hog Farms to cease operations within 30 days and submit a closure plan within 60 days of the final day of operation. C&H has filed an appeal in response.
Background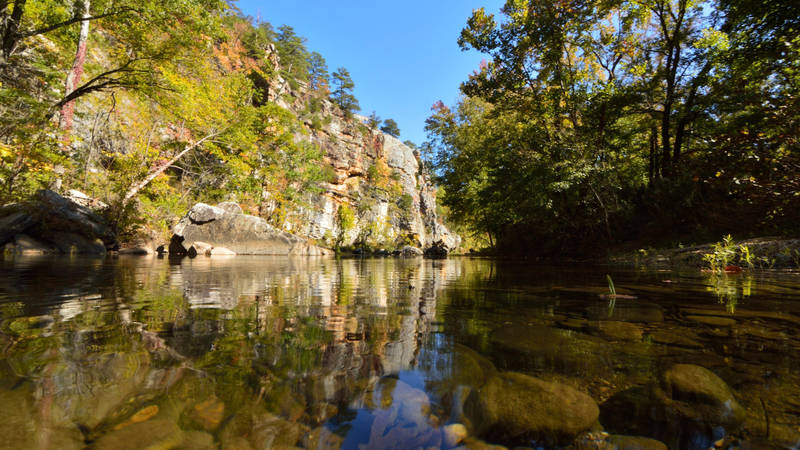 Park
The Buffalo is America's first national river and one of the last undammed rivers in the contiguous United States. Its 135 miles flow freely through beautiful Ozark forests and bluffs…
See more ›
Buffalo National River attracts nearly 1.5 million visitors annually who spend more than $60 million in nearby communities. These visitors float and fish the river, tour historic and prehistoric sites, and hike the parks' 100 miles of trails. They spend money at local businesses, supporting many local jobs.
The Buffalo River Coalition, which includes the Ozark Society, the Buffalo River Watershed Alliance, the Arkansas Canoe Club and the National Parks Conservation Association, worked since 2012 to protect the Buffalo River from the C&H hog farm.
There are many other sites in Arkansas that could support a CAFO of C&H's size — the state and the company never needed to put federally protected waters at risk
Effort-to-date
More than 1,200 Comments Sent

Oct 2015

NPCA supporters asked USDA Farm Service Agency to conduct an Environmental Impact Statement on C&H Hog Farms and the Buffalo River.

More than 190 Arkansas Supporters Took Action

Jan 2016

Arkansas supporters sent comments to the USDA and SBA and urged them to take a hard look at the environmental and socioeconomic impacts of the industrial hog farm.

More than 18,000 Spoke Up for the Buffalo River

Apr 2017

National park advocates urged Arkansas officials to deny C&H Hog Farm, Inc.'s permit to continue operating in the Buffalo National River watershed.

Nearly 8,000 Sent Letters to Arkansas Officials

Oct 2018

Park advocates across the country told Arkansas Dept of Environmental Quality to deny C&H Hog Farm, Inc.'s permit to continue operating its industrial hog farm in the Buffalo National River watershed once and for all.
Sign Up
Get Action Alerts
Want national parks in your inbox? Sign up for NPCA email updates to receive news, features, and opportunities to make a difference! You can unsubscribe at any time.