On this journey into the Canadian Rocky Mountain Parks World Heritage site, you'll examine splendor in its best iteration of physical form. Visit three of Canada's best: Jasper, Yoho, and Banff National Parks.
sign up for our newsletter Request More Information ›
Departure Dates:
July 14-20, 2019
August 14-20, 2019
Schedule Highlights:
DAY 1: CALGARY TO EMERALD LAKE LODGE VIA LAKE LOUISE AND MORAINE LAKE: The first day of our journey begins with a drive from Calgary to Emerald Lake Lodge, located in Yoho National Park. Along the way we'll take in the breathtaking views at Lake Louise and the crystal-clear waters of Moraine Lake, even take a relaxing picnic lunch by the waterfront. After arriving at the Lodge, we'll have some free time to explore and get to know your fellow travelers and guides before dinner.
DAY 2: YOHO NATIONAL PARK: Today you'll have the chance to visit one of Canada's highest waterfalls, glacier-fed Takakkaw Falls. Loosely translated from the Cree language, Takakkaw means something like "it is magnificent." You'll understand why, standing at the base of the falls looking up at 991 feet of rushing water above you. We'll have a few options for hikes today, including a UNESCO world heritage site and Natural Bridge.
DAY 3: THE ATHABASCA GLACIER AND JASPER: While making our way to Jasper, we'll have the chance to experience how a stroll on a glacier feels.We'll don outfitter-provided crampons and trekking poles and embark on a 2 to 3 hour hike across the Athabasca Glacier on the Columbia Icefield.
DAY 4: JASPER NATIONAL PARK: The highlight of the day leads you to explore Edith Cavell Meadows in Jasper National Park. Wild-flowers abound and stand out in stark contrast to the hanging glacier. We'll continue our exploration of Jasper National Park and eventually make our way back to town for dinner.
DAY 5: ICEFIELDS PARKWAY: This morning we'll travel back down the Icefields Parkway, and wind our way along the Continental Divide. Stops along the way include Pyramid Lake, Patricia Lake, and Athabasca Falls. Later in the day we'll arrive at our accommodations in Banff, the cozy, rustic Buffalo Mountain Lodge
DAY 6: BANFF AND JOHNSTON FALLS: Today brings a full day in the Banff area with guides choice of hiking locations throughout the day, with a stop at Johnston Falls. After a lunch stop at the eminent Banff Springs Hotel, enjoy a leisurely afternoon with time to check out the historic town of Banff.
DAY 7: DEPART FOR HOME: After breakfast, we'll return to Calgary for flights home, with a head full of memories and a camera full of stunning photos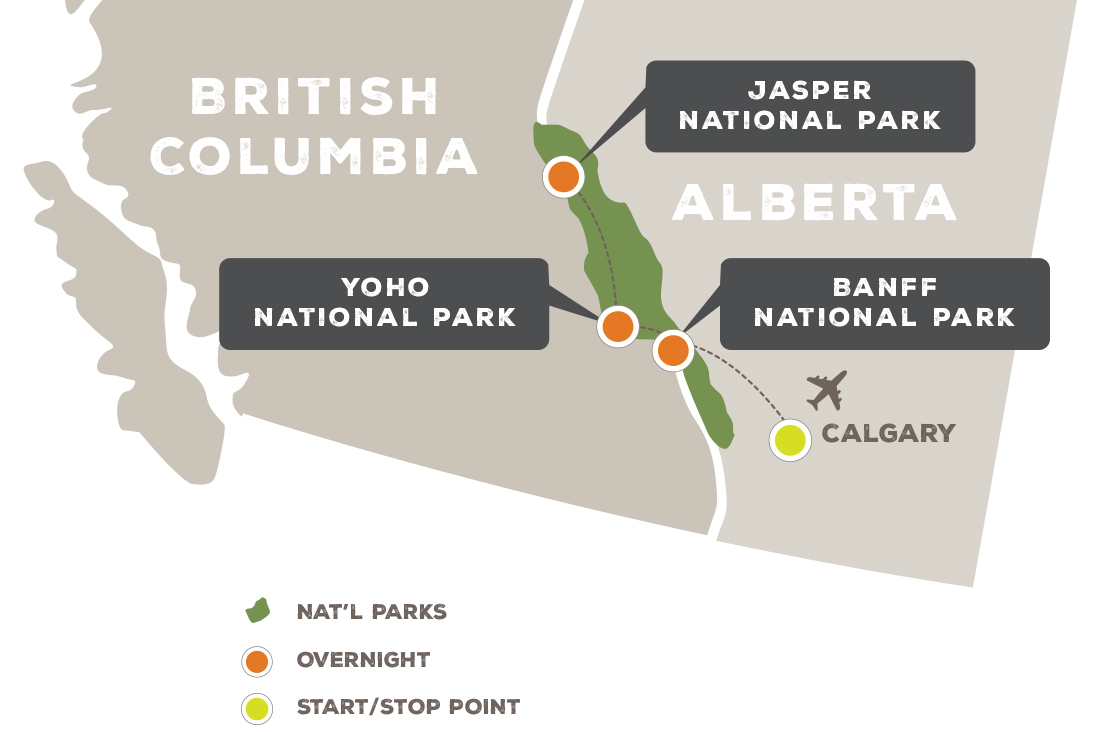 ---
To reserve space on any departure please contact our travel partner Off the Beaten Path at 800-445-2995 or travel@offthebeatenpath.com
Our tours feature tiered pricing, with a range of prices for each trip, with the price increasing as the departure fills to allow us to confirm departures as soon as possible.
Most tours run with a minimum of 2 participants and a maximum of 16 participants maintaining an 8 participant to 1 guide ratio.
NPCA Travel: 800-628-7275 or travel@npca.org
Check out NPCA's full tour lineup at www.npca.org/trips