Past mingles with present as you get to know the people, places, and pleasures of Peru. Pursue what interests you most on this tour which offers options each day to get the most out of your Peruvian journey.
sign up for our newsletter Request More Information ›
Departure Dates:
Schedule Highlights
DAY 1: CUSCO, SACRED VALLEY: This morning we fly to Cusco and head straight into the Sacred Valley. Our first stop is to the weaving cooperative of Awanacancha, where we have a chance to see wool-producing llamas, alpacas, and vicuñas, and observe the traditional weaving and dying techniques that have been used by the local people for centuries. Next, we visit the Pisac complex, with its baths, tunnels, temples, and spectacular views. Lunch at a local restaurant follows, after which we'll make our way to Ollantaytambo, where we enjoy a tasty, authentic, Peruvian dinner at the hotel.
DAY 2: COMMUNITIES OF CHINCHERO AND MISMINAY; MARAS AND MORAY ARCHAEOLOGICAL SITES: After breakfast, we visit the hillside town of Chinchero, where we'll take in amazing views of the rolling agricultural plains and high peaks of the Andes and tour a seventeenth century adobe colonial church. We hike or drive (your choice!) to Misminay, a small, traditional community. From Misminay, we can again choose to hike or be driven to our next stop, the terraces of Moray, an archaeological wonder and fascinating example of micro-climate agriculture. We'll enjoy a scenic picnic lunch before returning to Urubamba. After an afternoon of relaxing, we'll take a short drive for dinner at Muña, indulging in a delicious Peruvian buffet.
DAY 3: MEET THE VILLAGERS OF WILLOQ; EXPLORE THE RUINS OF PUMAMARCA AND OLLANTAYTAMBO: We'll savor a hearty breakfast this morning, then visit the nearby community of Willoq, where we'll walk around the village and visit a local home to observe the different traditional processes and techniques used in textile weaving. Choose from two activities this afternoon, a three-hour walk, mostly downhill, from Pumamarca Terraces to Ollantaytambo, or a trip by vehicle from Willoq to the Patacancha, another traditional Quecha, weaving-focused village set higher in the mountains. We'll relax at the hotel before having dinner at another local restaurant.
DAY 4: MACHU PICCHU: We'll have an early breakfast, then make our way to Machu Picchu, where we'll be given a private tour to learn about Inca culture and the amazing ancient city. Later this morning, choose from climbing to Huayna Picchu Mountain for a remarkable vantage point of Machu Picchu, or enjoy a lecture about Machu Picchu's history and architecture. We'll have a buffet lunch near the ruins, then return to Aguas Calientes. The rest of the afternoon will be spent relaxing at the hotel. Dinner is at the hotel this evening.
DAY 5: RETURN TO MACHU PICCHU OR HIKE TO MANDOR WATERFALL OR VISIT A SPECTACLED BEAR CONSERVATION PROJECT: Choices abound this morning! Hike to a waterfall, take one of the hotel's guided outings that focus on birds, nature, orchids, visit a tea plantation, or head back to Machu Picchu. After a wonderful morning, we'll have lunch then board the train back down to Ollantaytambo. From the train station, we'll drive a short distance to our hotel in Sacred Valley, where we'll enjoy dinner at the lodge's excellent restaurant, Wayra.
DAY 6: CHOOSE KAYAKING OR STAND-UP PADDLEBOARDING, OR SHOP AT A LOCAL MARKET FOR YOUR OUTDOOR COOKING CLASS: After breakfast, we'll spend the morning kayaking or stand-up paddleboarding on Piuray Lake (beginners welcome) or visiting a local market, followed by an outdoor cooking class – your choice! Following a lakeside lunch, we'll be off to Cusco, with a fascinating afternoon spent visiting the 19th and 20th century mausoleums of the Almudena Cemetery, each of which features a small glass door where friends and relatives of the deceased can place flowers, food, wine, dolls, and more. We'll freshen up at the hotel before heading to a nearby restaurant for dinner.
DAY 7: SACSAYHUAMAN, Q'ENQO, PUKA PUKARA, AND TAMBOMACHAY RUINS: This morning, after a tasty breakfast, we'll visit some of Cusco's most remarkable architectural ruins. Fascinating sites await us after lunch – La Catedral, Qoricancha (the temple of the sun), and the traditional Mercado Central de San Pedro, where we immerse ourselves in the day-today lives of the local people. We dine at another local restaurant, then retreat to our hotel for the evening.
DAY 8: FLY FROM CUSCO TO LIMA CITY TOUR BEFORE FLIGHTS HOME: We pack our bags and fly to Lima for our last day together in Peru. We'll head straight to a seaside restaurant for lunch, then explore the Miraflores District. Next, we're off to the historic center of Lima to visit Plaza de Armas and historic buildings nearby. A short walk takes us to the Monastery of San Francisco, a masterpiece of colonial architecture. Our farewell dinner is held at Huaca Pucllana Restaurant, where, within view of the pyramid ruins of the same name, we'll toast to a wonderful time in Peru. After dinner, we go to the airport to catch evening flights home.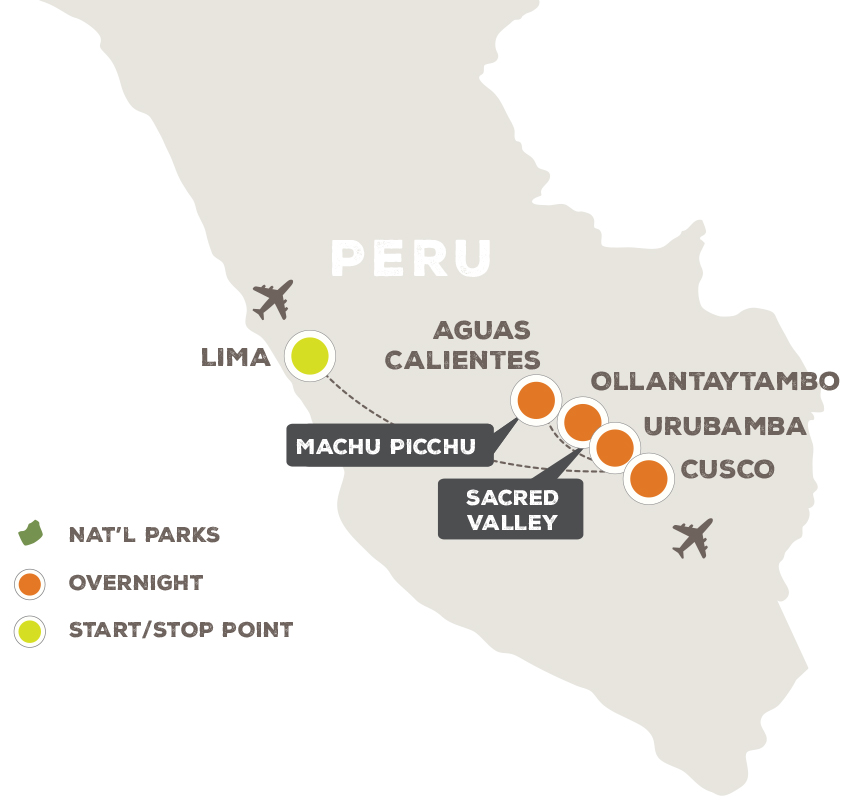 ---
To reserve space on any departure please contact our travel partner Off the Beaten Path at 800-445-2995 or travel@offthebeatenpath.com
Our tours feature tiered pricing, with a range of prices for each trip, with the price increasing as the departure fills to allow us to confirm departures as soon as possible.
Most tours run with a minimum of 2 participants and a maximum of 16 participants maintaining an 8 participant to 1 guide ratio.
NPCA Travel: 800-628-7275 or travel@npca.org
Check out NPCA's full tour lineup at www.npca.org/trips
Cost:

From $4,350 per person double occupancy; $1,200 single supplement; $550 for internal air
Learn More