Hiking, zip-lining, rafting, a real dude ranch, and cave exploration will keep your family buzzing about this vacation for years to come.
sign up for our newsletter Request More Information ›
Departure Dates:
August 18-22, 2018
July 6-11, 2019
July 20-25, 2019
August 3-8, 2019
Schedule Highlights
DAY 1: LEWIS AND CLARK CAVERNS, BIG SKY, AND THE 320 RANCH: Meet your guide first thing this morning in the lovely little town of Bozeman and head for the hills. Our first stop is the fantastic underground world of Lewis & Clark Caverns, filled with odd and beautiful formations like stalagmites and stalactites, globulites, flowstone, soda straws, and cave coral. Emerging from our cave exploration, we travel south into the narrow Gallatin Canyon following the Gallatin River to the afternoon's exciting zip-line adventure, with its thrilling ride and great views. Dinner at a favorite restaurant provides a fun chance for some real local flavor. Our accommodations this evening are at a historic guest ranch.
DAY 2: YELLOWSTONE NATIONAL PARK: This morning we experience the world of grizzly bears and wolves thrillingly up-close on our stop at the excellent Grizzly and Wolf Discovery Center in the town of West Yellowstone. Next stop, Yellowstone National Park, where we explore the famous geyser basins and see Old Faithful. Throughout the day we keep our eyes peeled for wildlife, like bison and elk, moose and coyotes, and who knows, maybe even a bear, wolf, or trumpeter swan. The day winds down on the shores of Yellowstone Lake as we check into the historic Lake Yellowstone Hotel.
DAY 3: YELLOWSTONE NATIONAL PARK: This morning we experience Yellowstone's wildness in a very different way—from a sea kayak! (No experience necessary.) Our kayaking guide leads us along the rocky lakeshore, pointing out interesting thermal features on land and underwater. Watch for eagles, moose, bison, and otters. This afternoon's activities will depend on opportunity, weather, and the group's taste for wildlife-watching, exploring, and hiking. One prime possibility is a trip to the very scenic Grand Canyon of the Yellowstone, which opens up below the dramatic Yellowstone Falls with red, orange, and yellow rock walls.
DAY 4: YELLOWSTONE NATIONAL PARK AND CODY: We're off to a reasonably early start this morning, hitting the road right after breakfast. This is a beautiful time of day, and offers some of the best chances for seeing moose, bears, or other creatures. The day's travel route takes us through scenic Wapiti Valley to Cody, Wyoming. This afternoon, we dive behind the scenes on a private tour of the impressive Buffalo Bill Historical Center (with time to explore on your own as well), and tonight we enjoy dinner at a favorite local restaurant.
DAY 5: CODY: Enjoy a leisurely morning on your own to browse the shops and galleries, or return to the Buffalo Bill Historical Center. We regroup for a fun and easy Class II-III whitewater raft trip. The float traces the tracks of John Colter, Jeremiah Johnson, and Buffalo Bill, through beautiful canyon country. Tonight we have a rockin' good time at the Cody Rodeo. Children can join the fun in the calf scramble and stick horse race. Our farewell dinner celebrates the great new family memories we collected along on this trip.
DAY 6: DEPARTURES HOME: Soak up one last morning of western horizons and bid the Rockies goodbye. Plan flights out of Billings anytime after 12 noon.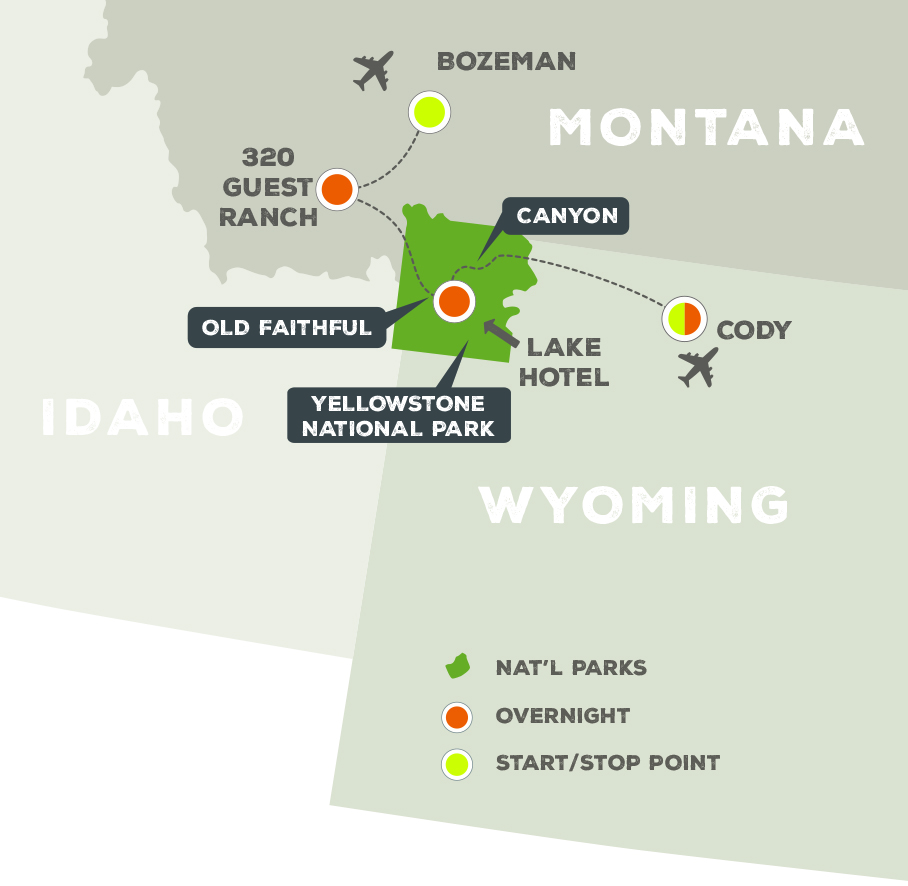 ---
To reserve space on any departure please contact our travel partner Off the Beaten Path at 800-445-2995 or travel@offthebeatenpath.com
Our tours feature tiered pricing, with a range of prices for each trip, with the price increasing as the departure fills to allow us to confirm departures as soon as possible.
Most tours run with a minimum of 2 participants and a maximum of 16 participants maintaining an 8 participant to 1 guide ratio.
NPCA Travel: 800-628-7275 or travel@npca.org
Check out NPCA's full tour lineup at www.npca.org/trips and our other Yellowstone Tours.
Cost:

From $3,150 per person double occupancy; $950 single supplement
Read More