Venture into the Four Corners region of Colorado, Arizona, New Mexico, and Utah as we journey through the history and mystery of the Ancestral Puebloans.
sign up for our newsletter Request More Information ›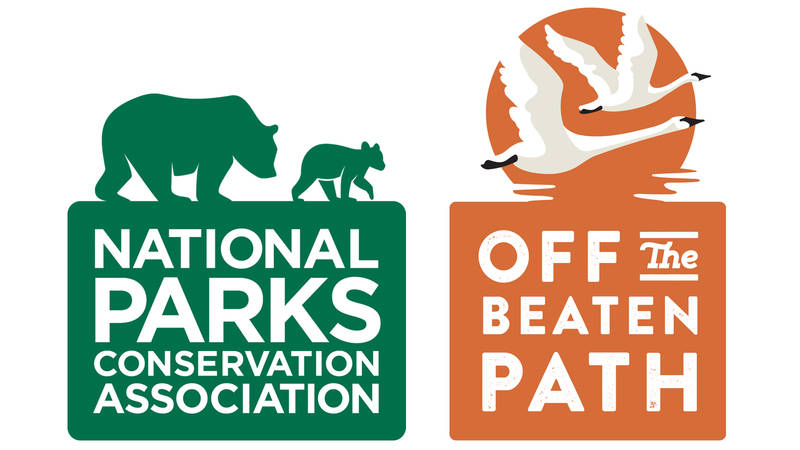 Resource
NPCA and Off the Beaten Path have partnered together to offer you the best in small group educational national park travel.
See more ›
Departure Dates:
Apr. 25 - May 1, 2021
May 9 - 15, 2021
Oct. 24 -30, 2021
Schedule Highlights
DAY 1: DURANGO TO MESA VERDE NATIONAL PARK: Less than an hour's drive from Durango, Mesa Verde National Park offers a spectacular view into the lives of the Ancient Puebloan people who lived here from about 600 A.D. to 1300 A.D. The park contains some of the best preserved Puebloan ruins in the United States, and our guide introduces us to the mystery of this sophisticated culture. We'll take some short hikes if time allows. We arrive at our hacienda in Farmington in time for a nice dinner.
DAY 2: CHACO CULTURE NATIONAL HISTORIC PARK: We get to Chaco in time to enjoy a good day's hiking among the vast ruins of this former hub of the Chacoan people. Through the guide's deep knowledge and lively stories, you learn about the architectural designs, astronomical building alignments, landscaping, and innovative engineering that created an urban center of spectacular design that was thriving almost 1,000 years ago! We stay deep in the park all day, taking a break for a picnic lunch, and returning to Farmington in the late afternoon.
DAY 3: CANYON DE CHELLY NATIONAL MONUMENT: This morning we head to Canyon de Chelly, passing through Shiprock deeper into Navajo tribal lands. One of the longest continuously inhabited landscapes of North America, Canyon de Chelly holds remarkably well-preserved architecture, artifacts, and rock art. Revelations and understandings about the ancient peoples of the area weave together with considerations of the modern-day Native peoples living here and the challenges they face. We'll probably get in some short hikes on the rim first, then hike 3 miles (round trip) into the canyon to White House Ruin. We arrive at our lodging within the National Monument by early afternoon and enjoy a short, rim-side hike before dinner.
DAY 4: CANYON DE CHELLY NATIONAL MONUMENT: Today the group sets out on an all-day, 4-wheel-drive tour. Navajo guides facilitate the excursion, which runs the entire length of Canyon del Muerto, sharing local and traditional knowledge gained through their historical and geographical connections with the ancient peoples who settled these canyons.
DAY 5: HUBBELL TRADING POST, WINDOW ROCK, AND EL MORRO: This day is filled with unique places and experiences. It begins at Hubbell Trading Post National Historic Site, where people have been trading, in the same building, since 1878. The wooden floor creaks as we browse wares for sale by local Navajos. Another short drive leads to Navajo Tribal Headquarters at Window Rock, Arizona, where our guide and museum staff contribute insightful interpretation. To finish out the day, a short hike at El Morro National Monument leads us to some petroglyphs and Spanish inscriptions carved in the rocks. This evening in Grants we relax over dinner at a local-favorite steak house.
DAY 6: ACOMA PUEBLO AND ALBUQUERQUE: Also known as "Sky City," Acoma Pueblo is built on top of a 367-foot sandstone mesa and is one of the oldest communities in what is now the United States. A member of the community will show us around and share the settlement's history. We're in Albuquerque this afternoon, with opportunities to relax or explore Old Town Albuquerque or the Pueblo Indian Cultural Center. We celebrate this great, off the beaten path journey with a lovely farewell dinner tonight.
DAY 7: DEPARTURES HOME: After breakfast, you transfer a short distance to the Albuquerque airport for flights home.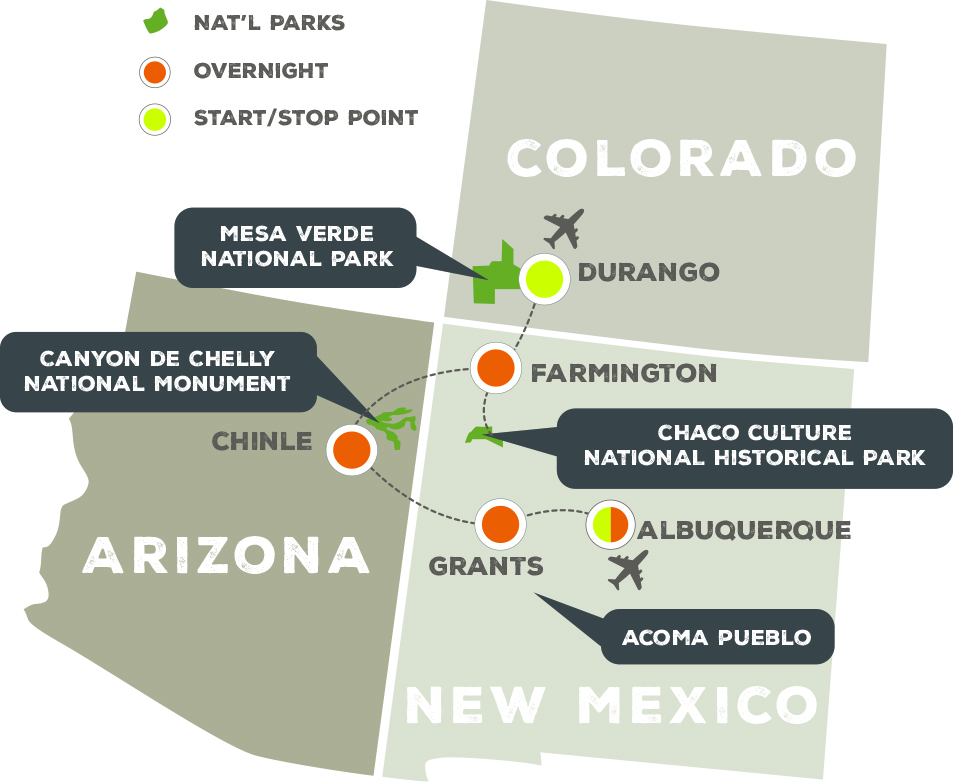 ---
To reserve space on any departure please contact our travel partner Off the Beaten Path at 800-445-2995 or travel@offthebeatenpath.com
Our tours feature tiered pricing, with a range of prices for each trip, with the price increasing as the departure fills to allow us to confirm departures as soon as possible.
Most tours run with a minimum of 2 participants and a maximum of 16 participants maintaining an 8 participant to 1 guide ratio.
NPCA Travel: 800-628-7275 or travel@npca.org
Check out NPCA's full tour lineup at www.npca.org/trips
Cost:

$3,095 per person double occupancy; $595 single supplement
Learn More