With Grand Canyon and Zion anchoring this journey with full days to hike and explore at each along with a float on the Colorado River and a visit to the Cameron Trading Post this tour is a true medley of the area.
sign up for our newsletter Request More Information ›
Departure Dates:
April 14-20, 2019
October 20-26, 2019
Schedule Highlights
DAY 1: LAS VEGAS, HOOVER DAM, GRAND CANYON NATIONAL PARK: Meet your guides and fellow travelers this morning in Las Vegas, then drive a short distance to the immense Hoover Dam, the source of the largest reservoir in the country. After a stop to explore the Grand Canyon Caverns we arrive at our premier destination, the Grand Canyon. We'll check in to our lodging on the canyon's south rim before meeting for dinner.
DAY 2: GRAND CANYON NATIONAL PARK: We spend the day getting to know the Grand Canyon. First, we'll catch a show – the eye-popping IMAX film, which is a great introduction to what we'll be experiencing up-close with our guides after the movie! Our afternoon will be either an easy walk along the trail that traverses the south rim or one that leads us down into the canyon. At day's end, we'll head to one of the best points for taking in a classic Grand Canyon sunset.
DAY 3: GRAND CANYON, CAMERON TRADING POST, HORSESHOE BEND, LAKE POWELL: When the group circles up after breakfast, we'll squeeze in one last hike. Bidding good-bye to this unforgettable place, we head for Page, stopping in at the Cameron Trading Post along the way. We'll round out the day with a stop at Horseshoe Bend Viewpoint, where we gaze down at the winding river from 1,000 feet above. After a full day of exploration, we arrive at our Lake Powell resort in time for dinner.
DAY 4: COLORADO RIVER FLOAT, ZION NATIONAL PARK: Greet a bright-and-early morning at the base of the Glen Canyon Dam for a flat-water float on one of the most dramatic stretches of river in the Southwest. Lunch follows the float, then we drive to the charming town of Springdale, Utah, gateway to Zion National Park. Depending on our arrival time, we'll have time to either take a short hike inside Zion National Park or enjoy strolling through town before dinner. Both options allow us to take in the astounding colors and amazing rock formations.
DAY 5: ZION NATIONAL PARK: Your grand finale is an immersion in the iconic canyons of Zion, with your guide selecting the perfect hike to connect you with this incredible place. The experience might go something like this: hike from the base of the massive canyon and work your way through narrow points where the river becomes your trail as you romp through the water to scenic overlooks and more amazing landscape. At tonight's farewell dinner, celebrate your shared experiences and new friendships forged through travel. The spirit of the Southwest will linger for a long time!
DAY 6: LAS VEGAS, DEPARTURES HOME: After a final breakfast and some deep breaths of the high desert air, settle back for the 3-hour drive to Las Vegas for early afternoon flights home.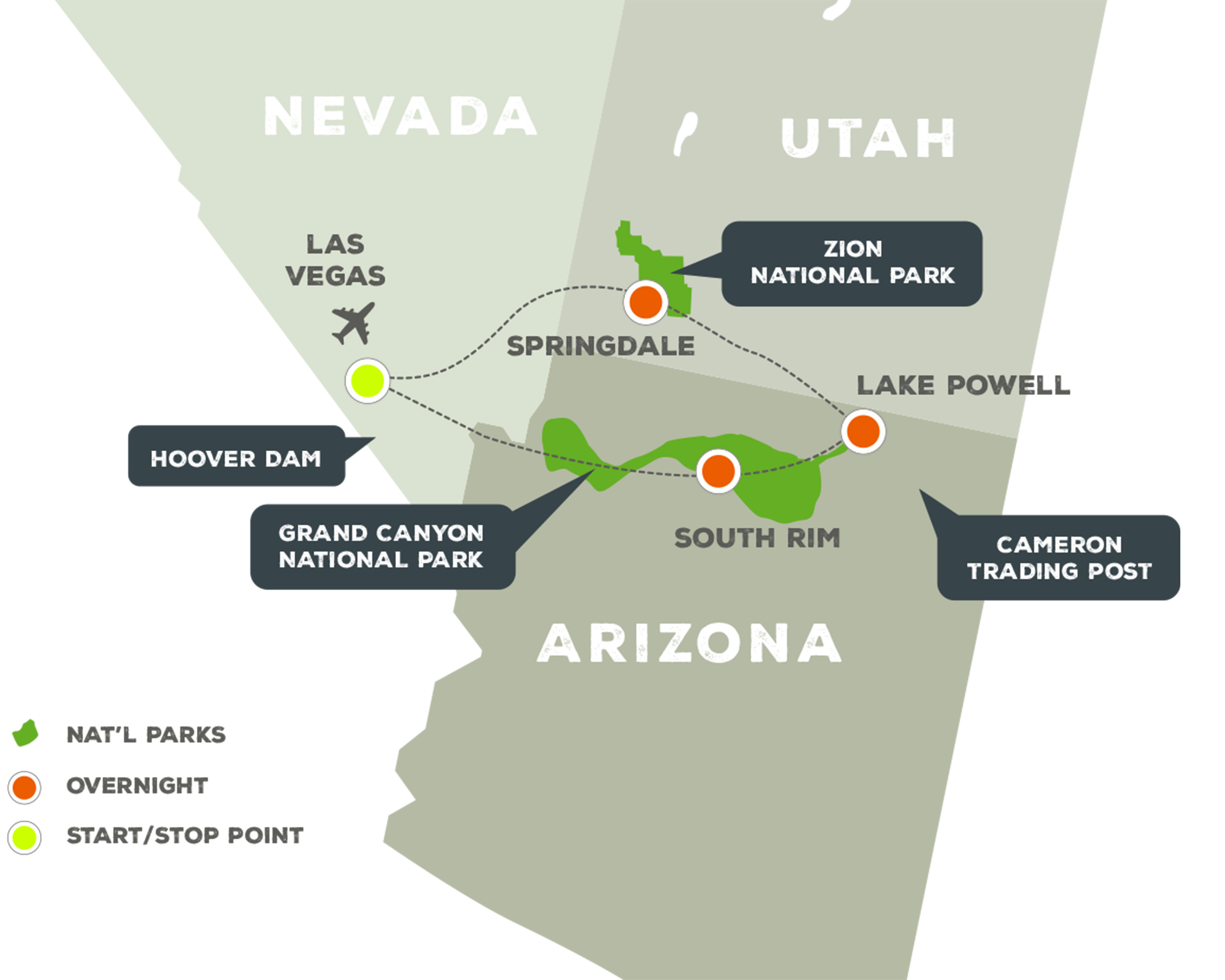 ---
To reserve space on any departure please contact our travel partner Off the Beaten Path at 800-445-2995 or travel@offthebeatenpath.com
Our tours feature tiered pricing, with a range of prices for each trip, with the price increasing as the departure fills to allow us to confirm departures as soon as possible.
Most tours run with a minimum of 2 participants and a maximum of 16 participants maintaining an 8 participant to 1 guide ratio.
NPCA Travel: 800-628-7275 or travel@npca.org
Check out NPCA's full tour lineup at www.npca.org/trips
Cost:

From $3,795 per person double occupancy; $995 single supplement
Learn More