Leave your preconceived notions of Florida behind and slip into a quiet world of sloughs, sawgrass prairie, hardwood hammock, mangroves, aquamarine bays, and coral reefs. Kayak mangrove tunnels in Everglades National Park, explore the pirate history and coral reefs of Biscayne National Park, and take a boat ride out to Dry Tortugas National Park to explore the historic and impressive Fort Jefferson and snorkel the clear waters.
sign up for our newsletter Request More Information ›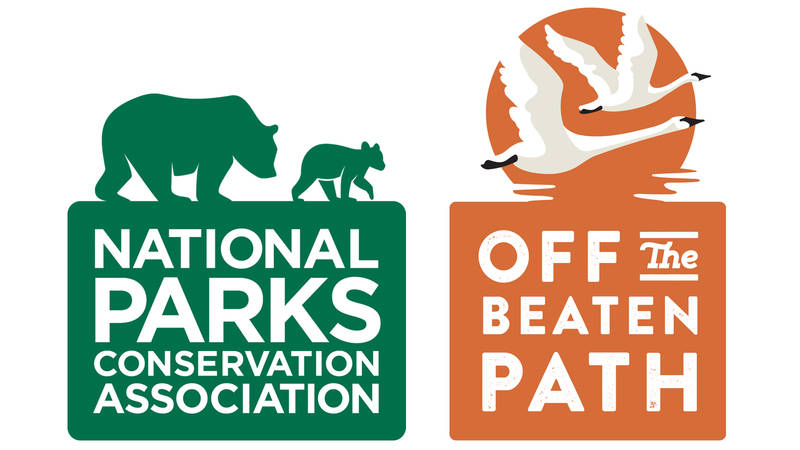 Resource
NPCA and Off the Beaten Path have partnered together to offer you the best in small group educational national park travel.
See more ›
Departure Dates:
Feb 21 - 27, 2021
April 4 - 10, 2021
Nov 7 - 13, 2021
Schedule Highlights
DAY 1: FORT MYERS TO EVERGLADES CITY: Today's route has numerous possibilities for exploration, including potential stops at Audubon Corkscrew Swamp sanctuary, Fakahatchee Strand State Park, and Ten Thousand Islands National Wildlife Refuge, where your guide helps you begin to build a sense for the variety and complexity of local ecosystems.
DAY 2: MANGROVE TUNNEL KAYAKING AND HIKING: The mangrove forest grows to the edge and out into narrow, flowing tidal creeks of brackish water. As a result, the trees can form canopies over the water which feel like green tunnels. Paddling through the sun-dappled trees looking and listening for tropical birds and wildlife is a serene experience that gives you a chance to really absorb this incredible environment. Hiking later in the day gives you a chance to do the same on land. By day's end, you have a wonderful feel for this special place.
DAY 3: SHARK VALLEY BIKING, HIKING, AND TRAM: Travel today from Everglades City to Key Largo, with a stop at the Shark Valley section of Everglades National Park. The heart of Shark Valley is the Shark Valley Slough—the "river of grass" environment, which is basically a waterlogged prairie. This is one of the best places in the park to see wildlife, with great chances of seeing lots of birds plus alligators, turtles, snakes, and other creatures. There is a 15-mile paved loop road for walking and biking, part of which skirts a canal. The ranger-led tram ride carries you in an open-sided shuttle to a lookout tower and back, and naturalist guides help you spot wildlife and answer questions about the Everglades and its inhabitants. At the turnaround point, you will definitely want to climb to the top of the 45-foot observation tower for unequalled views that stretch across the Everglades to the horizon.
DAY 4: BISCAYNE NATIONAL PARK: This whole day is devoted to exploring Biscayne National Park. Since 95 percent of the park is water, we'll be exploring by boat! One likely stop will be the Boca Chita lighthouse, which is historic, though purely ornamental. Another stop might include Adams Key for hiking, paddle boarding, or mangrove kayaking. The day might also hold a chance to snorkel the clear waters with their healthy coral reefs brimming with fish.
DAY 5: KEY LARGO TO KEY WEST AND STATE PARKS: Relax and enjoy the scenery on the two-hour drive to Key West. Your guide will pick the best stops along the way, which might include any number of interesting state parks. Possibilities include Key Largo Hammock Botanical, John Pennekamp Coral Reef, Windless Key Fossil Reef Geological, Long Key, Curry Hammock, and Bahia Honda State Parks.
DAY 6: DRY TORTUGAS NATIONAL PARK: What a wonderful day on—and in—the water! The boat ride out to Dry Tortugas National Park takes a little bit more than two hours, and on the way your veteran captain will fill you in on the natural and cultural history of the park. You have almost five hours to explore the park once you get there—and there is plenty to do, like birding, beach walking, swimming, snorkeling, and of course touring the amazing Fort Jefferson, which holds an interesting slice of American history. There will be lots to talk about and celebrate on your farewell dinner in Key West this evening!
DAY 7: DEPARTURES HOME FROM KEY WEST OR MIAMI: Guests can fly out directly from Key West or catch a ride back to Miami with the guide. That group will stop along the way for a nice lunch, and maybe detour through another one of Florida's fabulous state parks. Plan for flights out after 4 p.m., or opt to spend the night in Miami and sample some of that city's great food and music.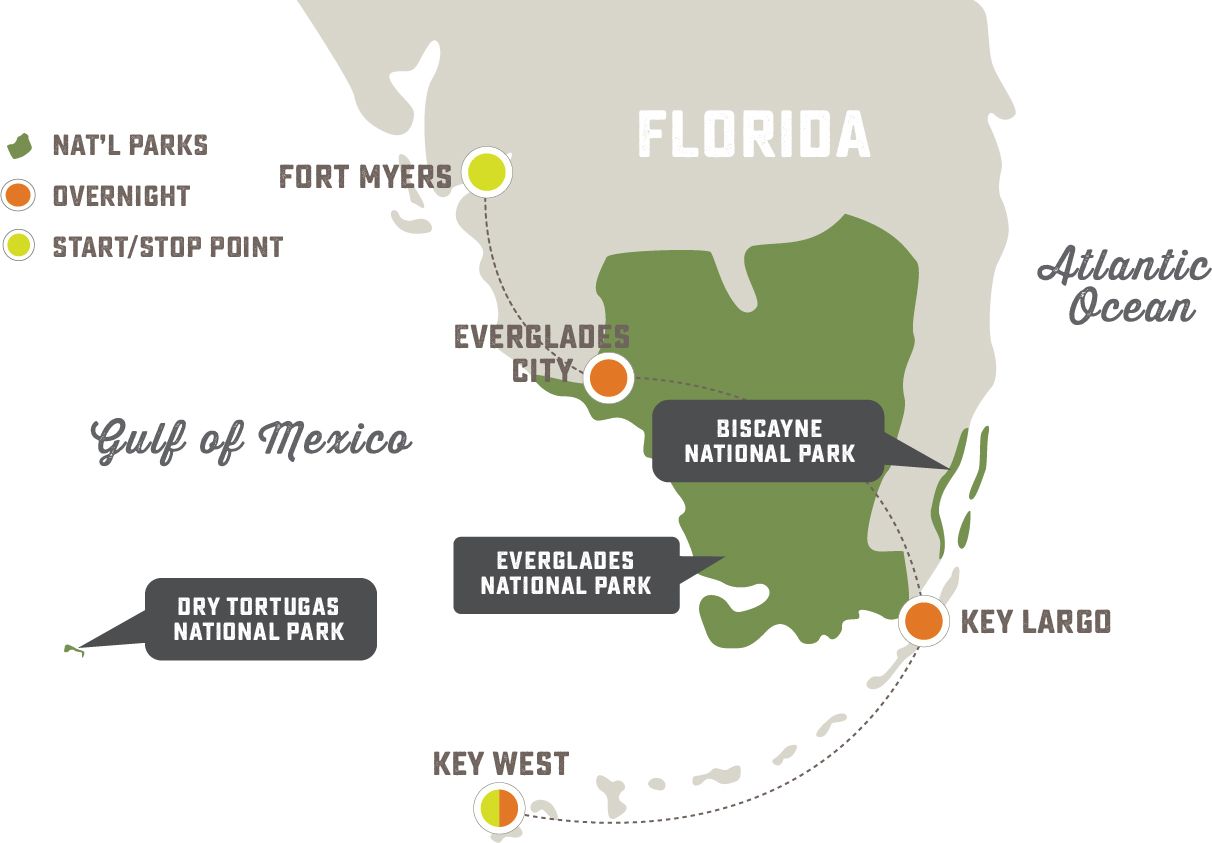 ---
To reserve space on any departure please contact our travel partner Off the Beaten Path at 800-445-2995 or travel@offthebeatenpath.com
Our tours feature tiered pricing, with a range of prices for each trip, with the price increasing as the departure fills to allow us to confirm departures as soon as possible.
Most tours run with a minimum of 2 participants and a maximum of 16 participants maintaining an 8 participant to 1 guide ratio.
NPCA Travel: 800-628-7275 or travel@npca.org
Check out NPCA's full tour lineup at www.npca.org/trips
Cost:

From $4,695 per person double occupancy; $1,350 single supplement
Learn More