Air pollution is among the most serious threats facing national parks, threatening visitors' health, clouding scenic vistas and altering our climate. To restore clean air to national parks, we work to defend the clean air laws that protect them.
Air pollution threatens the health of parks' visitors, ecosystems and surrounding communities, while cutting miles and miles off of scenic views. Most of the air pollution affecting national parks results from the burning of fossil fuels, especially by coal-fired power plants and oil and gas development, but vehicles and agricultural and industrial emissions are also contributors.
Ozone pollution is one of the most problematic sources of dirty air in our national parks. Fortunately, in 2016, the Environmental Protection Agency strengthened the ozone pollution standards based on scientific evidence that lowering the standard to 70 parts per billion is necessary to protect people, plants and wildlife. Sadly, though, these new standards are now at risk. The administration and Congress are attempting to significantly delay and weaken these standards through various legislative and administrative attacks. Moreover, some of these attacks would go even further to weaken the Clean Air Act itself, undermining the frequency of review and strength of setting such safeguards for ozone and other pollutants.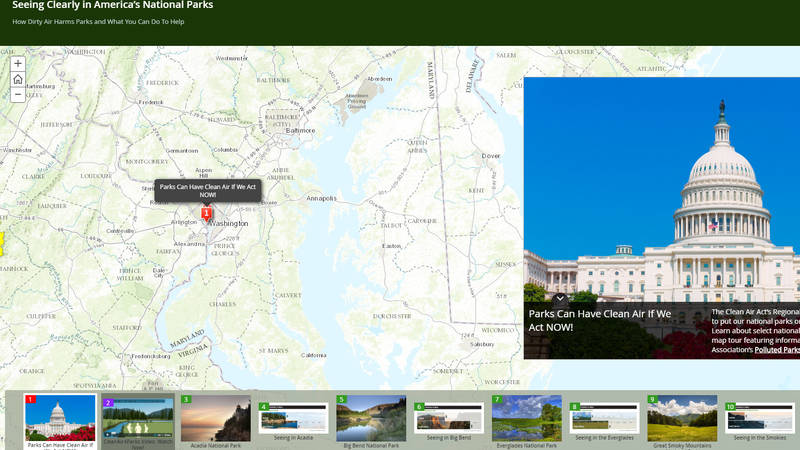 Map
How dirty air harms parks and what you can do to help.
See more ›
National Parks Conservation Association works every day to protect, defend and ensure implementation of these clean air protections to deliver critical improvements to air quality in our national parks and surrounding communities. We also work to guard park air from the threats of new pollution sources and to forward new clean air and climate policies that will help make our park's air healthy and clear.
To defend the laws that help protect our national parks from air pollution, we need your help. Please sign up to receive our news updates and action alerts today!
Learn more by reading NPCA's Polluted Parks report and Clean Air for Parks fact sheets.
Effort-to-date
More than 16,300 letters sent to the Obama Administration

Feb 2016

NPCA activists urged President Obama and EPA Administrator Gina McCarthy to close loopholes that prevent clean air in our national parks.

15,000 Comment on Revised Regional Haze Rule

Aug 2016

National park advocates urged the EPA to adopt strong revisions to the Regional Haze Rule to restore clean air and clear views to our national parks.

Hundreds Ask EPA to Keep Nebraska's Coal Pollution out of National Parks!

Oct 2016

More than 500 advocates urged the EPA to keep Nebraska's coal pollution out of national parks by requiring the cleanup of the Gerald Gentleman power plant.

More than 5,000 Defended Utah Haze Plan

May 2017

Park advocates spoke up for clean air by telling Congress to stop its attack on the Utah Regional Haze Plan.

More than 11,400 letters sent to Congress

Jul 2017

NPCA activists urged their representatives to vote NO on the "Smoggy Skies Act."
Sign Up
Get Action Alerts
Want national parks in your inbox? Sign up for NPCA email updates to receive news, features, and opportunities to make a difference! You can unsubscribe at any time.